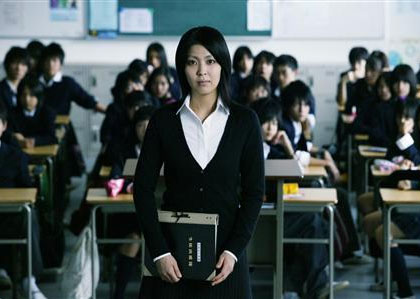 The Matsu Takako revenge flick "Kokuhaku" (Confession) is the only Asian movie to have been shortlisted this year for an Academy Award. The movie was announced yesterday as one of nine candidates for the final five nomination slots that will be announced on January 25. The Oscar award ceremony is scheduled for February 27. If chosen, Kokuhaku will likely be up against the Danish film "In a Better World," which recently won a Golden Globe. And if it actually takes the Oscar, it will be following in the footsteps of the 2009 winner "Okuribito" (Departures).
Kokuhaku was adapted from the 2009 bestselling mystery novel by Minato Kanae, which won the year's Honya Taisho award. Released here last June, the movie took in a decent ¥3.8 billion at the box office and has drawn the attention of overseas studios interested in doing a remake. It won a slew of domestic awards, including a Best Actress nod to Matsu (36) at the Japan Academy Awards that further enhanced her reputation as one of the best actresses of her generation. She plays a junior high school teacher who, after her infant daughter is found dead, seeks revenge against the two students that she believes carried out the murder. The plot evolves through a series of confessions and the movie also addresses some heavy social themes such as HIV, "ijime" (bullying) and "hikikomori" (social withdrawal). With Nakashima Tetsuya directing, the movie has the visual flair of his other films, which include "Kamikaze Girls" and "Memories of Matsuko." In a first for a Japanese production, alternative Brit rockers Radiohead contributed the track "Last Flowers" as the theme song for the movie.
Watch the trailer for Kokuhaku on YouTube.