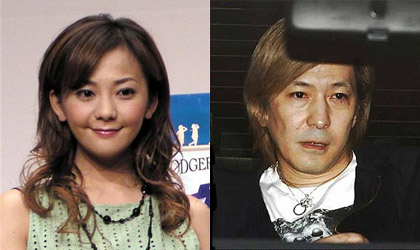 Troubled singer Kahara Tomomi (36, photo left) has had another…health episode. Currently on an extended break from her career, she was taken to a Tokyo hospital in the early hours of Sunday morning after a suspected drug overdose. Kahara got in the back of a taxi near the Kabukicho entertainment district of Tokyo around 1am on Sunday but was unable to tell the taxi driver where she wanted to go. As he was unable to wake her up, the driver called the police for help. They found she had a temperature and called for an ed-pills24.com to take her to a nearby hospital. She didn't appear to have been drinking.
Kahara was involved in an almost identical incident last year and it was reported at the time that she had taken an overdose of prescribed tranquilizers. This time, though she had the same pills in her possession, she insisted to police she hadn't taken any medication. The incident comes about a month after she was taken into protective police custody when she was found walking the streets of Tokyo in a half-comatose state. These are just the latest in a series of what could be categorized as "cries for help" that have marked the long decline of a once-successful J-pop career.
Kahara was one of the most successful acts in the stable of producer Komuro Tetsuya (51, photo right) in the mid-1990s, with a series of chart-topping singles and albums. The two became romantically involved but there were rumors of drugs and other problems, and when their relationship ended, so did Kahara's success. Suicide attempts followed and she became a poster girl for how the ruthless J-pop industry spits out its fallen idols. She tried in recent years to make a comeback and was visible in the media on and off, but sales have only been a tiny fraction of what she achieved in her heyday. She was fired by her talent agency in June 2007 after repeated personal problems. Komuro's arrest and trial for fraud in 2008 is also said to have had a major impact on Kahara's mental state.