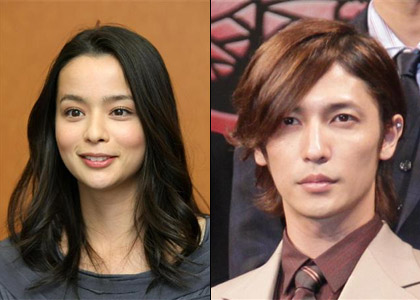 Romance is back on again between Tamaki Hiroshi (30) and Kato Rosa (25), according to this week's issue of the gossip magazine "Friday." The magazine even reported that they were seen in the company of Kato's mother, so you know it must be serious! The two actors were first reported as a couple back in the autumn of 2004 but split up in 2007. They both got involved in other relationships, Kato with Johnny's Jimusho heart throb Akanishi Jin (26) and Tamaki most recently with young actress Yoshitaka Yuriko (21). But in July and this month they were spotted driving around town together again. Management for the actress insist that the two are just good friends, while Tamaki's agency refused to comment.
Related stories:
Yoshitaka Dumps Tamaki for Flumpool Bassist? (Apr. 15, 2010)
Romance for Rosa and Jin? (Jul. 27, 2007)
Wedding Party for Ebi-chan, Ilmari
Popular model Ebihara Yuri (30) and Rip Slyme member Ilmari (35) held a wedding party in central Tokyo yesterday. The couple tied the knot last December and held their wedding ceremony in Paris in June. Yesterday's event was attended by about 200 people, including a host of celbrities including actor Sakai Masaaki (64) and singer Bonnie Pink (37), who gave a surpise performance of "A Perfect Sky" that reduced the bride to tears. Ebi-chan showed off her own wedding dress design, decorated with no less than 6,000 Swarovski crystals. She joked how her new nickname would have to be Ogi-chan – her Helsinki-born, half-Finnish husband's full name is Ogiwara Ilmari Keisuke.
Puppet Master Dies at 85
Pioneering puppet animator Kawamoto Kihachiro died of pneumonia on August 23, it was reported yesterday. He was 85. He started out with the Toei movie studio but went freelance in 1950, and a few years later was part of the group that created Japan's first puppet animation, based on a Kirin Beer mascot character. In the 1960s, he traveled extensively in eastern Europe and studied under the Czech master Jiri Trnka. In his later years, Kawamoto was the creator of such popular NHK shows as "Sangokushi" (1982-84) and "Heike Monogatari" (1993-95). His last work was an adaptation of the novel "Shisha no Sho" (Book of the Dead) in 2005. In 2007 a museum celebrating his work was opened in the city of Iida, Nagano Prefecture.