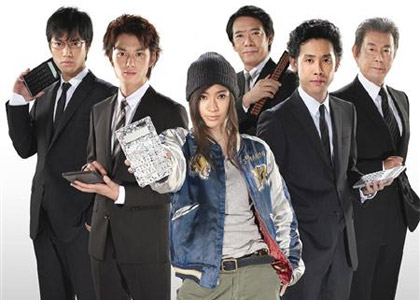 Just a week after losing her father, actress Shinohara Ryoko (37) had a happier announcement yesterday. She is to play the lead role in an upcoming Nippon TV drama series about tax investigators. Starting in October and airing on Wednesday nights, "Ougon no Buta" (The Golden Pig) features Shinohara in her first drama starring role since she became a mother. Her last lead was in 2007's "Haken no Hinkaku." NTV have described the new series as a modern version of the long-running "Mito Komon." The show also stars Oizumi Yo (37) and Okada Masaki (21).
Shinohara said of her father, who died on August 17, "For me, he was my biggest fan and the person who understood me better than anyone. I want to devote myself to my work and hope that my father will be smiling down on me."
Oguro Maki to Take Medical Break
Singer songwriter Oguro Maki (40) is to take an indefinite break to undergo treatment for a variety of uterine diseases. She announced on her website that she will continue working until the end of October. She said that her medical problems have been getting progressively worse since they were first discovered at the end of 1996.
Oguro made her debut in 1992 and has had had a series of hits such as "Da-Ka-Ra" and "Natsu ga Kuru." She married in 2003.