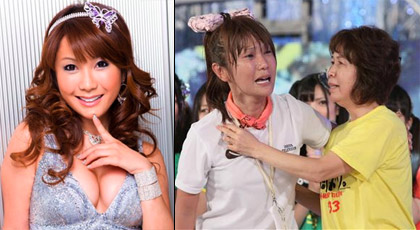 The TV highlight of the weekend was the 33rd annual edition of NTV's 24-hour telethon, "24-jikan Terebi – Ai wa Chikyu wo Suku." And as usual, the main event was a long-distance run by a celebrity. This year, "new half" talento Haruna Ai (38) became the first transsexual to take on the challenge. She was reduced to tears when her father was surprise guest on Saturday night, and again when she was welcomed by her mother at the Nippon Budokan on Sunday having completed the 85km run in 25 hours 40 minutes. The gruelling run its toll not only on the knees but also on Haruna's makeup, and she arrived looking a lot more like the Onishi Kenji she was originally named.
Johnny's Jimusho group Tokio were the first to host the show for a third time, having last done the job back in 2003.

Another Johnny's star was in pain over the weekend. Ueda Tatsuya (26) of the group KAT-TUN broke the big toe of his left foot during a concert in Taipei, Taiwan on Friday. But he still performed a second show on Saturday and flew back to do a solo concert in Hiroshima last night.