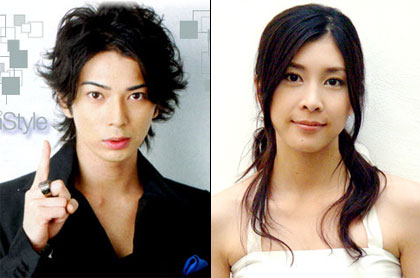 Matsumoto Jun (26, photo left) may be stepping out of the shadow of Kimura Takuya (37). Both are members of Johnny' Jimusho idol groups, of which KimuTaku's SMAP are the still hugely popular veterans, while MatsuJun and Arashi are being carefully groomed as the next dominant force. One indication of this is yesterday's announcement that Matsumoto has landed the lead role in a Monday night drama series on Fuji TV, making him the first Arashi member to do so.
The 9pm time slot is considered the most prestigious of all, and it was in that time slot that Kimura achieved audience ratings among the highest of modern times with shows like "Beautiful Life" (TBS, 2000) and "Hero" (Fuji, 2001). This spring, Fuji put Kimura in the spotlight with "Tsuki no Koibito" but as with his other recent dramas, ratings have been good rather than spectacular. So, attention will shift to how Matsumoto does in the romantic "Natsu no Koi ha Nijiiro ni Kagayaku." His love interest will be provided by always solid Takeuchi Yuko (30, photo right).
Matsumoto said, "I've been watching Monday night dramas on Fuji TV since I was a kid. So it's a great honor but also a lot of pressure. I will do my best to live up to it." The story is an original from Ohmori Mika (38), who wrote last year's basketball drama "Buzzer Beat." Matsumoto will play a struggling actor trying to get out of the shadow of his famous actor father.