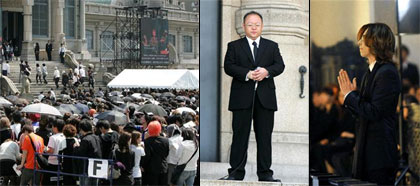 A memorial service was held this week for Hide, the late X Japan guitarist. A 2km line of fans estimated at 35,000 snaked along the Sumida River waiting to pay their respects to the musician who died in 1998 at the age of 33. "hide-The 13th Memorial-Our Pink Spider" was held at the Tsukiji Honganji temple in central Tokyo, the same venue where massive crowds turned out for hide's funeral. That day saw mass hysteria and panic, so this time preparations were more thorough. But as the crowds grew well before the scheduled 12pm start time, organizers decided to start early. Hide's younger brother and business manager, Matsumoto Yuji (42, photo center), spoke at 8:52am, the time his brother was confirmed dead on May 2, 1998.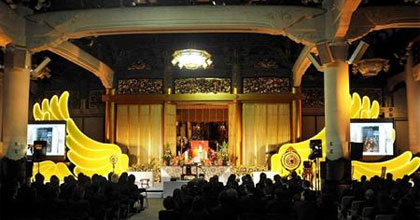 X Japan leader Yoshiki (top photo right) flew in from Los Angeles for the day, referring to his "friend forever, a band member forever, like a brother in arms." He later flew by helicopter over the Nissan Stadium, where X Japan will play a concert in mid-August, before heading to Narita Airport and back to the U.S. It was also announced this week that "Pink Spider," a musical featuring hide's music, will be staged at the Tokyo Globe Theater next spring.
Hide was born in Yokosuka, Kanagawa Prefecture and while in high school he joined the band Saber Tiger. After that band broke up, he planned to become a hairdresser but was persuaded by Yoshiki to join the band known then simply as X. A decade of huge success came to an end in 1987 and he continued his solo work with the bands hide with Spread Beaver and Zilch.