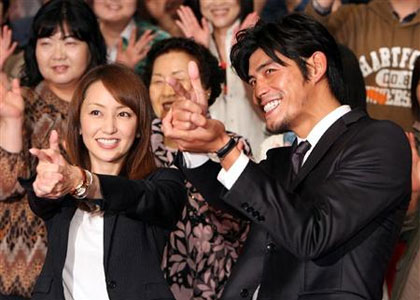 A couple of popular actresses are putting messy marriages behind them and focusing on their careers. Yada Akiko (31, photo left) and actor Sakaguchi Kenji (34, photo right) were at the Fuji TV studios in Odaiba, Tokyo yesterday to promote their upcoming detective drama special. "Keiji, Narusawa – Tokyo Tero Shijosaiyaku no 24-jikan" features the pair as detectives who have 24 hours to save 13 million Tokyo residents from a terrorist bomb threat. Sakaguchi said he studied Bruce Willis in the "Die Hard" series for hints on how to portray a tough but injured detective realistically. The drama will air on May 29.
Yada's public appearance was her first in four years, during which time she married, had a son with, and then divorced actor Oshio Manabu (32). She also watched as he was arrested on drug charges and in connection with the death of a Ginza hostess.
Earlier stories:
Yada Akiko Back to Work, Talks About Ex (Mar. 18, 2010)
Yada Akiko Divorces Oshio Manabu (Aug. 8, 2009)
Erika Gets Back to Work
Actress Sawajiri Erika (24) will perform her new song "Treasure" on Saturday, as she also makes a formal return to work. In her first professional engagement since the recent media attention around her divorce plans, she will appear at the "GirlsAward2010" fashion event in Tokyo. "Treasure," a dance track produced by Japanese house production duo Studio Apartment, has English lyrics and is dedicated to Sawajiri's brother, who is getting married on Sunday. It will be available for free download from her official website between May 22-31.
Sawajiri has had a rough couple of years in terms of her career, and after her marriage to hypermedia creator Takashiro Tsuyoshi (45) at the end of 2008, she seemed to be focused elsewhere. But the last couple of months have seen her announce a comeback to the Japanese showbiz scene and her intention to divorce Takashiro.
Earlier stories:
Sawajiri Erika Confirms Divorce Rumor (Apr. 28, 2010)