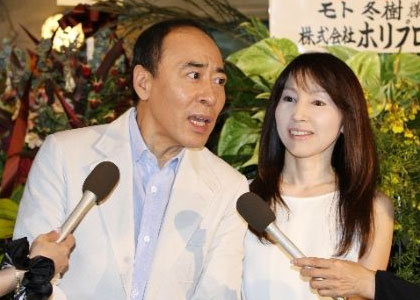 Talento Moto Fuyuki (59) says that he has found happiness in spite of age and a receding hairline. He and Yumi (49), his girlfriend of more than ten years, spoke to reporters in Tokyo after they tied the knot yesterday, Moto's birthday. Jokes about his lack of hair have been part of his image for years, and yesterday was no different. But he insisted, "I'm not 'hage' (bald), I'm just 'hagekakateiru' (balding)!" Yumi is a divorcee with a 20-year-old daughter. "She calls me 'Papa,' because I don't like 'hage'!"
The couple have been living together since the end of last year. They are not planning to have a wedding ceremony, but will hold a reception later this month. Asked if they plan to have children, Moto quipped, "It's a bit difficult, technically."
A regular on the comedy and variety show circuit, Moto (real name Muto Hiro) started out as a serious – though unsuccessful – pop musician and is renowned as one of the best guitarists in the showbiz scene. He, Gucci Yuuzo and Uganda Tora formed the popular comic band Busy Four in 1978.
Hiki Rie to Marry High School Classmate
Also making a marriage announcement this week was actress Hiki Rie (44). She said on Tuesday's edition of the NTV show "Majotachi no 22-ji" that she and stage designer Nakagoshi Tsukasa (44) will tie the knot this month. The two were classmates in high school but not even friends. They met again in 2004 and romance blossomed the following year. They made wedding plans in 2007 but both lost their fathers during the year. Hiki has also undergone treatment for uterine cancer.
Hiki started out in 1979 as a teenage aidoru singer but never achieved much chart success. As an actress she has worked mainly in theater.