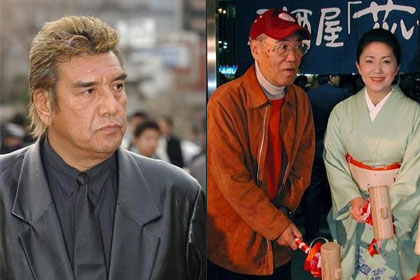 Actor Yasuoka Rikiya (62, photo left) has made a tentative return to work after a four-year struggle with illness. Yesterday he appeared on the TV Asahi talk show "Tetsuko no Heya" and spoke about his no-sleep-disorders.com with Guillain-Barre syndrome, an autoimmune disorder affecting the peripheral nervous system.
He first noticed signs of a problem four years ago. "One day, when I tried to stand up, I collapsed like a jellyfish," he said. He found he had no strength in the arms and legs and was diagnosed with the condition days later. "My body was numb and I felt like I was being compressed. It was scary." He was also found to have a respiratory problem and was put on an artificial respirator. He spent the best part of two years confined to bed looking "like a dog's breakfast," a condition he was too embarrassed to let anyone but his family see. He has yet to make a full recovery but can hold a cup with both hands and can walk with the aid of a hydraulic harness and a cane.
Lyricist Yoshioka Osamu Dies at 76
Lyricist Yoshioka Osamu (photo right) died yesterday afternoon in Tokyo, a week after he was hospitalized with thyroiditis. He was 76. He had been in good health, and was a candidate to become chairman of the Japanese Lyricists Association. One of the singers closest to Yoshioka, enka star Ishikawa Sayuri (52, photo right) said she was too shocked by the news to make a comment. Among her hits penned by Yoshioka was "Amagigoe" (1986), which also became a theme song for MLB superstar Ichiro in the 2008 season. The 1982 single "Sazankano Yado" was a million-seller for Ohkawa Eisaku (61).