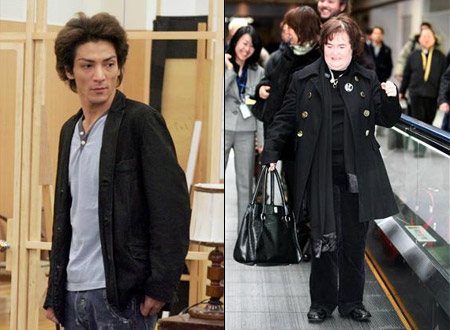 Former Hikaru Genji member Akasaka Akira (36) has been arrested again on drug charges. Police arrested a man in his 70s for use of amphetamines on December 26. When they investigated the business hotel in Shinjuku, Tokyo where the man had been staying, they found Akasaka and a woman in her 30s. Urine analysis results were positive and Akasaka was arrested yesterday at the Kabukicho karaoke bar he operates. The former Johnny's Jimusho roller-skating idol was previously arrested in October 2007 and was serving an 18-month prison sentence suspended for three years.
Earlier stories:
Former Idol Singer in Drug Bust (Oct. 31, 2007)
Akasaka Akira Gets Suspended Drug Sentence (Nov. 22, 2007)
• YouTube singing sensation Susan Boyle (48) threw down a few dance moves on her arrival at Narita Airport yesterday. She's in Tokyo for an appearance on NHK's annual New Year's Eve concert and having her name on the bill may give the 60th edition of "Kohaku Uta Gassen" a much-needed audience rating boost. The Scottish singer, whose appearance earlier this year on the "Britain's Got Talent" show brought her overnight fame, is scheduled to perform "I Dreamed a Dream." Her rendition of the musical number in April became one of the most popular YouTube videos of all time. Her debut album, released in November, has reached No.1 on charts around the world and sold over 8 million copies.
At Narita, travelers and a few dozen reporters gathered to welcome her on her first trip to Japan. She declined invitations to break into song, telling people they'd have to tune in to Kohaku, but blew some kisses and did a few dance steps on the moving walkway. From the airport, she headed downtown to the Hikawajinja shrine in Akasaka to pray for a good performance tomorrow night. She has no other engagements lined up for the trip and said she hopes to enjoy some good sushi.