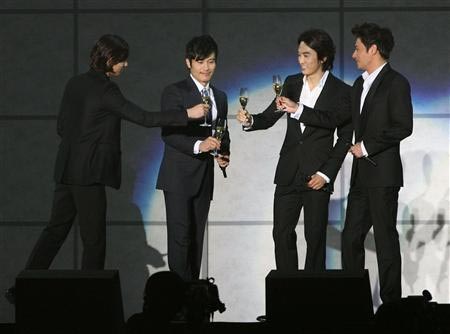 Yesterday was a big day for Japanese fans of Korea's top male stars. Four of those stars were in town and appearing together on stage for the first time at the Tokyo Dome. The "Four of a Kind" event was billed as a "miracle" and something close to that was needed to get Lee Byung Hun (39) to town. The actor has been caught up in a scandal at home involving an old girlfriend. The first of two shows yesterday was delayed by half an hour as Lee, who had been filming a drama series, arrived in Japan late due to airplane engine trouble. He didn't make any comments about the scandal specifically but acknowledged that he's been under a lot of stress and hasn't been sleeping. He thanked fans for giving him a new burst of energy. The rest of the foursome was made up of actors Jang Dong Gun (37), Song Seung Heon (33) and Won Bin (32). Among the crowd pleasers, they performed "Seoul Station," an original recital written by lyricist and AKB48 producer Akimoto Yasushi (53), and an original song written for the event.
• It's not unusual to see the five members of SMAP together, as they all appear on their weekly show "SMAPxSMAP." But when they got together yesterday at Akasaka Sacas in central Tokyo for a Softbank Mobile PR event, it was their first collective press conference since promoting a concert tour in 1999. And it was their first sponsor promotion event as a group in 20 years. SMAP have been helping Softbank hock their phones and services in a series of commercials this year. And the latest television CM was filmed last month in New York, where member Katori Shingo was performing in the first ever original Japanese theatrical production to debut off-Broadway.
Akasaka Sacas is an entertainment complex that includes the TBS studios, Blitz live house, ACT Theater, a skating rink, restaurants and stores. For a limited run from today it also includes the SMAP Shop09.