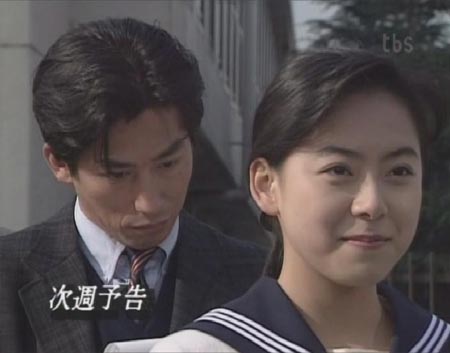 Actress Sakurai Sachiko (36) has surprised the media by announcing her retirement within the year. She said on her management agency's website that the reason was neither marriage nor illness, but a "new outlook on life" that she has been considering for several years. She said her decision was influenced by having worked many times on location in other countries and having studied overseas several times. Sakurai hasn't worked in the last few months but just this month helped promote her latest movie "Ururu no Mori no Monogatari." Sakurai's first TV break came in an NHK morning drama series in 1992, but she really made a name for herself the following year. She played a high school student involved in a relationship with her teacher (Sanada Hiroyuki) in the TBS drama series "Koukou Kyoshi" (photo). This year she had the starring role in the NHK series "Konkatsu, Rikatsu." In her private life, she married a music producer in December 2003, but that ended in divorce in April 2006. She spent the last decade of her 20-year career with Sun Music, the same management agency that represents Sakai Noriko, whose arrest earlier this year on drug charges shocked the nation.
• Yoshimoto comedian Kuroda Tamotsu (39) has admitted to charges of assaulting a bar manager. One half of the manzai duo Messenger, Kuroda was arrested on December 26 but initially denied the charges. he said at the time that he had intervened in a fight and had not hit anyone. But he later admitted that he had thrown an ashtray, grabbed the manager's hair and punched and kicked him. Kuroda and a friend, who was also arrested, started the fight after they were presented with a bill for ¥255,000 at a "girly bar" in Osaka. The bar manager (23) suffered serious injuries including broken bones. Yoshimoto have withdrawn Kuroda's name from an Osaka show scheduled for early January and may ask his comic partner Aihara (40) to perform solo.
• Popular Fuji TV announcer Nakano Minako (30) revealed on a live TV show that she is engaged to marry a handsome doctor. She said during her regular slot on the "Tokudane" morning show that she and her fiance (34) will tie the knot in March. She had denied a rumor of impending marriage earlier in the month.