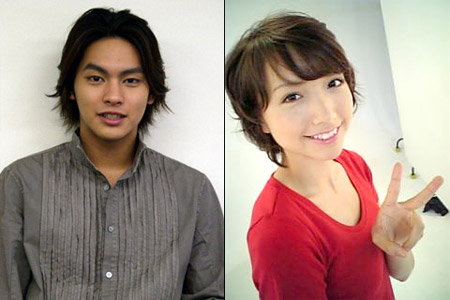 Actor Yagira Yuya, who gained worldwide fame at the Cannes Film Festival in 2004, is engaged to marry a Japanese-British model. Yagira (19) found overnight success five years ago when he became the first Japanese, and youngest ever, winner of the Best Actor award at Cannes for his role in the movie "Daremo Shiranai" (Nobody Knows). He has had various movie roles since then but had an off year in 2008, reaching a low point with a suspected drug overdose in September. He has since got his career back on track. Last month he attended a PR event for the movie "Subete wa Umini Naru," which will be in theaters next January.
His private life is obviously looking up, too. Yesterday it was revealed that he and Toyota Ellie (20), who he has been dating for four years, are engaged and planning to get married early next year. Toyota is reported as not being pregnant and planning to continue her showbiz career after marriage. The couple both attended the same Tokyo high school and belong to the same management agency. Toyota, whose father is British, has appeared in "Erin ga Chosen! Nihongo Dekimasu" on the NHK Education channel as well as in music videos for such major J-pop acts as Mr. Children and Exile.
• Also getting hitched to a popular model is Olympic speed skating gold medalist Shimizu Hiroyasu. It was revealed yesterday that Shimizu (35) and "AneCan" fashion magazine model Takagaki Reiko (30) are planning to tie the knot next spring. At the end of this month, Shimizu will take part in final qualifiers, attempting to make his fifth Olympic appearance in Vancouver in February. He won gold and bronze medals at the Nagano Olympics in 1998, and a silver in Salt Lake City in 2002. In 2006 he finished well out of the medals.