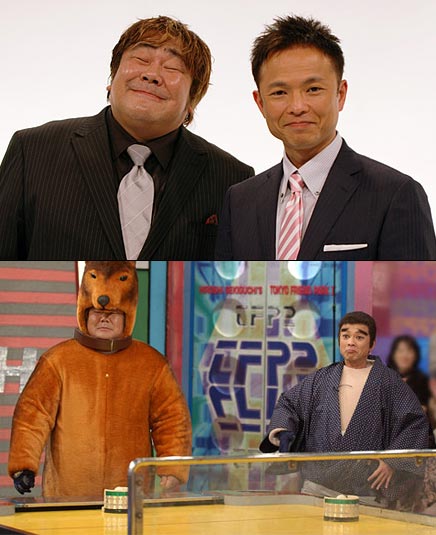 Comedy duo Honjamaka are to perform live together for the first time in ten years. Made up of Ishizuka Hidehiko (47, photo left) and Megumi Toshiaki (44, photo right), the pair only appear together on one weekly show, the TBS variety "Sekiguchi Hiroshi no Tokyo Friend Park 2." But both are busy with regular TV appearances, and Megumi hosts an afternoon "wide" talk show. Yesterday's announced event, to be held in Tokyo next March 13-14, is being billed as commemorating their 20th showbiz anniversary, but it's already two years late!
When Honjamaka started out in 1983, there were ten members, including one who would later become Megumi's wife. But the numbers were whittled down and they re-launched their career as a duo in 1987. They became more popular the following year when they won the "Terebi Engei" comedy contest. At the time, both members were overweight, but Megumi dieted from the mid-1990s, while Ishizuka has since made the most of being a "debu" talento. He and former dancer Papaya Suzuki had a hit with the variety show "Debuya" a few years ago.
Ishizuka said of next year's event, "We'd like younger people to know that we're comedians and not just food reporters and air hockey players." The latter is a reference to the "Friend Park" segment where they wear silly costumes and take on that week's guests in a game of "Hyper Hockey." The live show will also feature other comedians from the same management agency, including Nishioka Sumiko, Yamamoto Takahiro and Fall In Love.