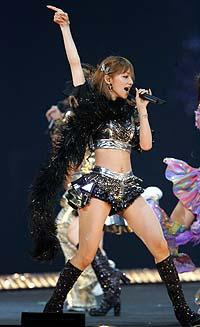 Former Morning Musume member Goto Maki (22) has left the Hello! Project. She announced the decision as she finished her nationwide tour on Sunday, saying the recent arrest of her younger brother is causing "meiwaku", or hassle, for other members of the musical collective.
Hello! Project is a loose and often interconnected collection of girl groups which grew out of the massive success that the Svengali-like producer Tsunku had with "MoMusu" in the late 1990s. Goto joined MoMusu in 1999 and of the several "graduates" who have continued with solo careers, she is the most successful. Largely thanks to her fame, her brother Yuuki (21) had a brief career as one half of the duo EE Jump but his wayward behavior quickly got him into trouble. He was arrested earlier this month on charges of leading a gang of young thieves whose modus operandi (a member rented a getaway truck in his own name) made them seem like teenage delinquents rather than hardened criminals. But Maki could hardly avoid being tainted by the scandal and her move is seen as the only way to atone for it. When the time came for her first "talk break" at yesterday's show at Omiya Sonic City, she simply bowed deeply to the audience as a sign of apology. She held the bow for so long that fans fell into an eerie silence before breaking into warm applause. Also said to be a factor in her decision is that she is aiming to build a solo career along the lines of Beyonce or Janet Jackson and so felt somewhat hampered by being one of a large group of idol singers. As she entered her 20s, she has been creating more of a sexy image.
• Another former MoMusu member, Abe Natsumi (26), was apologizing to fans yesterday, too. At a show in Osaka that kicked off her latest tour, she said she was sorry for "worrying" fans with the trafic accident she caused earlier in the month. Meanwhile, the news is brighter for the current MoMusu lineup. A 10th anniversary collection of the group's hits has made No.1 in the latest Oricon album chart. With 11 albums now having made the Top 10, they share top spot for a female group with top 1980s band Princess Princess.
• Taking the No.1 and No.2 spots on the Oricon singles chart are Bump of Chicken with "Hana no Na" and "May Day". It's the first time an artist has held both the top two spots since Rag Fair did it more than five years ago.
• Talento Rinka (34) is reaching out to all those Japanese women with a broken heart. She was chosen to record a cover of Blondie's 1999 song "Maria" as the theme tune for the Japan release of Korean movie "200 Pounds Beauty". The movie is based on a Japanese manga by Suzuki Yumiko, "Kanna-san Daiseikou Desu!" Producers say they chose Rinka because of her popularity among young Japanese women and her "dramatic life". The recently revealed breakup with her boyfriend of six years no doubt influenced Rinka as she wrote her own Japanese lyrics for the song. Blondie keyboard player Jimmy Destry also took part in the project. "Maria" goes on sale December 12 and the movie opens in Japanese theaters on December 15.