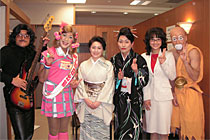 Is this the end of Gorie and the gang? The once hugely popular Fuji TV comedy show "One Night Rock 'n' Roll" is coming to an end due to falling ratings. The show started out in a late-night slot in October 2000 as "Ebunai Thursday", and its popularity earned it a shift to 10pm on Wednesdays a year later. After six years, it will come to an end with next week's edition. The show's team is centered around three popular Yoshimoto comedy duos, Ame Agari Kesshitai, DonDokoDon and Garage Sale, who have created a string of memorable characters. By far the most recognizable and popular of them is Gorie, a garish female character played by Garage Sale's Gori (34). Gorie became a fashion icon for teenage girls across the country, released a couple of chart-topping singles, and even got an invite last year to appear on NHK's New Year's Eve special Kohaku Uta Gassen. The show also spawned the pop duo Kuzu, made up of Yamaguchi Tomomitsu (36) and Miyasako Hiroyuki (35), who had a string of hits. Former pin-up girl Koike Eiko (26) showed her acting range and flair for comedy on the show, and this has helped her build a solid career that no longer depends on bikini shots. But the show also occasionally invited controversy. In 2003, a skit that made fun of Daiei Hawks manager and baseball legend Oh Sadaharu drew complaints from the team. An apology was swiftly issued but it was soon followed by another skit involving powdered baby's milk that this time led to manufacturers demanding an apology. And the show also became a victim of its own success, with each episode featuring ever more promotions for its increasing number of commercial spin-offs and tie-ups.
• U.K. company EMI is to take over full ownership of its Japan collaboration with Toshiba, which is selling its 45% stake in Toshiba EMI for about ¥21 billion. The company, formed in 1960 as Toshiba Ongaku Kogyo, handles such popular artists as Utada Hikaru and Matsutoya Yumi.
• New York police have arrested a former chauffeur for Ono Yoko (65) after he tried to blackmail her and threatened her life. Koral Karson (50) said he would sell photos and audio he secretly took of John Lennon's widow unless she paid $2 million.
• Popular Okinawan rock/hip hop group Orange Range finished off their 46-date national tour on Wednesday at the Olympic Gymnasium in Sendagaya, Tokyo. They entertained 8,000 fans with a set that ran to 25 songs. They are scheduled to appear on this year's Kohaku Uta Gassen by live feed from Okinawa.