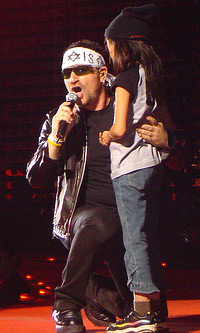 U2 rocked the house for the second time at Saitama Super Arena last night. And this time, yours truly was there to enjoy the show. It was an amazing night, especially with the stadium setup in a much smaller, indoor venue. The huge elipse stage reached out so far into the arena that every one of the 20,000 in the audience felt close to the performers. The band mixed up the setlist again, including some personal favorites like Until the End of the World, One Tree Hill and finishing off the second encore with All I Want is You. Fans who don't have tickets for Monday's final show do still have a chance to see them perform tonight. They will be appearing on tonight's edition of Music Station, playing two songs live on the rooftop of the TV Asahi studios in downtown Roppongi from 8pm. (photo courtesy of fellow Zootopian Chas)
• This year's Best Dresser Awards went to Hollywood actor Watanabe Ken, actress Kuroki Hitomi, Olympic figure skating champion Arakawa Shizuka, Chiba Lotte Marines manager Bobby Valentine, writer Lily Frankie, and Lawson CEO Niinami Takeshi.
• The ten nominees for the Gold Award at the 48th Japan Record Awards are sexy songstress Koda Kumi, trio Kobukuro, BoA, w-inds, Otsuka Ai, Sukima Switch, Nakanomori Band, Hikawa Kiyoshi, Mizumori Kaori, and mihimaru GT. Competing for the Newcomer Award are teen singer Ayaka, duo WaT, SunSet Swish and Yamamoto Aki.