Japan Entertainment News - October 2010
| | |
| --- | --- |
| Romance for Sato Yuuki, Tanaka Reina | October 29, 2010 |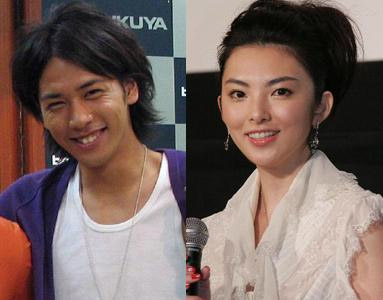 Romance has blossomed for actress Tanaka Reina (30) and actor Sato Yuuki (26), according to today's issue of weekly magazine "Friday." The couple, who worked together last year on an NHK drama, were recently spotted riding Sato's motorcycle and leaving his Tokyo apartment hand in hand. But both actors will have a hard time finding time for romance in their mutually busy schedules.
Tanaka is currently in Kyoto filming the movie "Genji Monogatari" while fitting in her regular job as presenter on the NHK show "Top Runner." She first made a breakthrough in 1998, appearing in TV commercials for the soft drink Natchan, and won a best newcomer Japan Academy Award the same year for her first starring role in "Gambatte Ikimashoi." She won the best actress award for "Hatsukoi" in 2000. Meanwhile, Sato is currently working on two TV dramas to be aired next month, Fuji TV's "Strawberry Night" and NTV's "Face-Maker." He made his acting debut in the 2005 season of the drama "Gokusen." His fan base grew the following year when he landed a supporting role in the TV Asahi action hero show "Kamen Rider Kabuto." In 2008 he got his first starring role in Fuji TV's "Shiro to Kuro" under the new stage name of Sato Tomohito. This year he changed to a new management agency and went back to using his real name.
NTV's Miyazaki-ana Takes Medical Leave
The latest TV personality to take a break from work due to health problems is NTV announcer Miyazaki Nobuko (31), a presenter on the 4am show "Oha! 4 News Live." She stepped down from four TV shows in June 2009 to undergo treatment for TMJ syndrome, chronic inflammation of the temporomandibular joint, which connects the jawbone to the skull. She returned to work in April but started having health issues again at the end of September.
Interesting story? Then add it to your favorite social site:







| | |
| --- | --- |
| Nakamori Akina Beset by Health Problem | October 28, 2010 |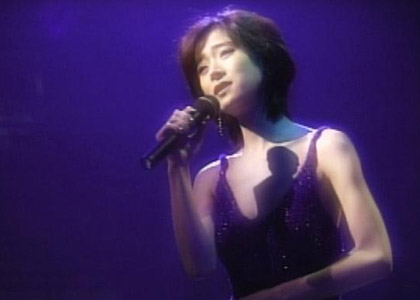 Singer Nakamori Akina (45) has canceled all scheduled performances due to unspecified health problems. She was scheduled to perform a series of 10 dinner shows in December, and the length of the advance notice has led to media speculation that the problem could be something serious. Management for Nakamori say they have heard only that she is unwell and her website has no further details. One unverified report said that she was to undergo surgery to have a polyp removed from her throat.
The dinner shows were scheduled from December 11 to 24 at hotel venues in seven cities across the country and tickets were already on sale. They were to be Nakamori's only live performances this year. She played a series of shows at Yokohama Blitz in August 2009, her first shows in three years. She released a download-only song, "Crazy Love," and attended a PR event for a new pachinko machine bearing her name on her 45th birthday on July 13.
Though she has released a single and/or album in just about every year of her 28-year career, Nakamori's heyday was definitely as a top idol in the 1980s and in recent years she has looked almost anorexic.
UPDATE: Nakamori's management updated their website today saying that her showbiz activities have been suspended indefinitely. It didn't give details about the nature of her condition other than top say that accumulated fatigue had taken a toll on her immune system and she had been advised to rest.
Sakagami Jiro Hospitalized
Also suffering from health problems is veteran talento Sakagami Jiro (76). He is currently hospitalized in Tochigi Prefecture after injuring his head in a fall at his home on August 13. He previously suffered a stroke while playing golf in 2003, and was left partially paralyzed. His former comedy partner Hagimoto Kinichi (69) broke the news of his friend's condition at a PR event for an upcoming stage show. Sakagami was originally scheduled to appear but it was decided that it was impossible.
Interesting story? Then add it to your favorite social site:







| | |
| --- | --- |
| Utada Says "Don't Buy My CD" | October 27, 2010 |

In the latest sign of her frustration with the music biz, singer Utada Hikaru (27) has made it quite clear that she is unhappy with record company plans to release two of her hits albums on the same day. EMI had previously announced that it would be releasing "Single Collection Vol. 2" on November 24. So when Universal Japan chose the exact same date for the release of "Utada the Best," an album of material previously available overseas, Utada was quick to slam the decision on Twitter and her blog. She said, "I'm not against the release of a hits album, but from a music industry point of view isn't this decision just senseless and rude?" She added that, as an artist, she wasn't prepared to just stay quiet and accept it.
The 16-track "Utada the Best" was previously released in the U.S. under the Island Def Jam label. Utada said of its Japan release, "It contains no new material and is not an album I put my heart into. I don't think there's any reason to but it." The EMI release contains 18 tracks, including hits as well as and rare inserts such as TV commercial tie-up songs. They include a cover of the 1950s Edith Piaf song "Hymne ŕ l'amour (Ai no Anthem)." Utada sings the original French lyrics, as well as her own Japanese translation.
Utada, a major star for more than a decade, is clearly jaded and probably frustrated that she hasn't been able to translate her superstardom at home into commercial success overseas. She announced back in August that she is taking an indefinite break from her music career from next year.
Related stories:
Utada Hikaru to Take Indefinite Break (Aug. 10, 2010)
Interesting story? Then add it to your favorite social site:







| | |
| --- | --- |
| Higashiyama, Kimura Tie the Knot | October 25, 2010 |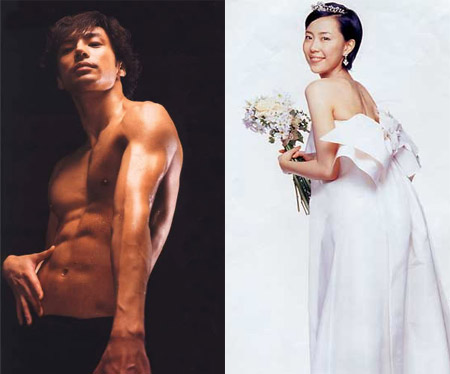 The latest high-profile showbiz couple is actor and former Johnny's Jimusho boy idol Higashiyama Noriyuki (44) and actress Kimura Yoshino (34). The couple registered their marriage at a Tokyo municipal office on Saturday and announced the news with cookies and hand-signed letters sent to close friends. They sent a fax to the media on Saturday evening, just hours after Yoshino had appeared as a special guest at the opening ceremony of the 23rd Tokyo International Film Festival. The event's closing ceremony on October 31 is expected to be her first public appearance as a bride and she will be in the full media glare. According to their management, the couple have no plans to hold a press conference and have not announced any date for a wedding ceremony.
The pair's romance is said to have started when they appeared on stage together in March 2008 and was first reported in the media in November of last year. They immediately made a formal announcement acknowledging their relationship. They were expected to tie the knot this spring and when their work schedules kept them both busy through the summer, rumors grew of a split. But when he finished filming of the movie "Ogawa no Hotori" earlier this month, Higashiyama sought the advice of his close friend actress Mori Mitsuko (90). She advised him to take the plunge but be sure to choose an auspicious date to get married.
Related stories:
Higashiyama, Kimura are "Serious" (Nov. 30, 2009)
Abu-chan Has Her Day
Comedienne Abukawa Mihoko (36) got married to restaurant owner Masuya Shuichiro (37) at the Four Seasons hotel in Tokyo yesterday, followed by a reception for about 150 guests. Among them was her comedy partner Ito Saori (36), who herself got married to volleyball star Shinoda Ayumu (30) in April. Abu-chan is said to have doggedly pursued Masuya since they first met two years ago on the TBS morning show "Hanamaru Market." She proposed to him in a most unusual way earlier this year on the "Haneru no Tobira" comedy show.
Related stories:
Abu-chan's Wacky Wedding Ring (Apr. 8, 2010)
Interesting story? Then add it to your favorite social site:







| | |
| --- | --- |
| New Half CEO Charged With Tax Evasion | October 22, 2010 |

Popular "new half" beautician and company president Okae Miki (38) has been charged with tax evasion. Also a writer of half a dozen books on beauty and a regular guest on TV, Okae is described as Japan's first trans-gender "beauty researcher." She is the president of the Triplesun cosmetics company and it was in that capacity that she apologized publicly in a press conference today. She has been charged with evading some ¥170 million ($2.1 million) in corporate taxes on ¥610 million in earnings over the last three years. "It is true that I evaded taxes. I would like to apologize to all the women who have used our cosmetics."
Real name Tada Miki, she was a fan of actress Okae Kumiko and borrowed her family name after undergoing sex change surgery at the age of 22. She established her company in 1996 and launched the Eporashe cosmetics brand in 2001.
Interesting story? Then add it to your favorite social site:







| | |
| --- | --- |
| Japan's Oldest Actress Dies | October 21, 2010 |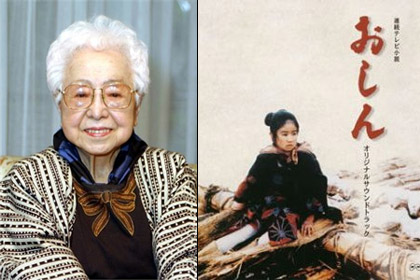 Japan has lost its oldest living actress. Nagaoka Teruko died of old age at her home in Tokyo in the early hours of October 18. She was 102. Best known for her role in the hugely popular NHK drama series "Oshin," she had an eight-decade career as a theatrical producer, stage and TV actress and narrator.
A native of the northern city of Morioka, she went to study in Paris in 1928 after graduating from the Toyo Eiwa Women's University. On her return to Japan two years later, she and her first husband formed the Teatoru Comedie theater group. Her husband died in 1937 and amidst growing militarism Nagaoka was forced to close down her theater group. She later joined the Bungaku Company, where she produced plays including those written by the up-and-coming Mishima Yukio. While continuing to produce, she made her formal debut as an actress in 1951 and made most of her 30+ movies in the 1950s. She left the theater group in 1971 and focused on stage readings of the Bible and the works of Miyazawa Kenji (1896-1933). She continued this work until recently.
Written by Hashida Sugako, "Oshin" was a massive TV hit from April 1983, and told the life story and struggles of a farm girl in northern Japan. The role of Oshin was played by three different actresses, including Tanaka Yuko (55) and Otowa Nobuko (1924-94), while Nagaoka played her employer. Aired for a year in the morning time slot, the series had an average audience rating of 52.6% - unthinkable today - and peaked at an even more impressive 62.9%, both records for a drama series that will probably never be broken. The series has been shown in dozens of countries worldwide and is considered Japan's most successful ever drama export.
Interesting story? Then add it to your favorite social site:







| | |
| --- | --- |
| Media in a Fuss Again Over Erika | |

Actress Sawajiri Erika (24) is once again doing what she does best - getting the media excited and confused. It's been several months since the media started speculating about her imminent divorce from hypermedia creator Takashiro Tsuyoshi (46). Sawajiri's attitude and comments seemed to suggest that she had decided to formalize the split. But the couple were spotted together yesterday at Taoyuan International Airport in Taiwan. Sawajiri was there for a cosmetics company PR event but canceled at the last minute claiming she had a high fever. The Sankei Shimbun newspaper speculated today that the trip might have been an attempt at reconciliation by the couple. If it turns out that the trip is being used for private reasons at the expense of prior professional commitments, it could have a serious impact on her already poor image in the entertainment industry.
Once considered one of the most promising young actresses in Japan, Sawajiri seemed to have given it all up as her behavior became increasingly erratic after a famously moody PR appearance in 2007. Her marriage to the much older Takashiro took people by surprise, as did their decision to spend most of their time overseas (photo above). When Sawajiri finally made the move back to Japan earlier this year, pundits wondered whether the industry would even want her back, though she still had a loyal young female fan base. It seemed she had made a breakthrough when she started negotiations with the major Avex management company. But Sawajiri's divorce is also said to have been one of the prerequisites of the contract, and negotiations are now reportedly stalled as the company has not been able to reach her since the beginning of this month.
Talking to reporters camped outside the family's Tokyo home, Sawajiri's mother denied that her daughter had been avoiding her responsibilities, adding that she spent some time in hospital last month and has recently been resting quietly.
Related stories:
Erika-sama Headed For Divorce? (Apr. 26, 2010)
Showbiz Bad Boys (and Girls) on the Comeback Trail (Mar. 4, 2010)
Bitch or Bad Hair Day? (Japan Forum, Oct. 3, 2007)
Interesting story? Then add it to your favorite social site:







| | |
| --- | --- |
| NHK Takes Several Asian Broadcasting Awards | October 20, 2010 |

Japanese producers did well at the Asia-Pacific Broadcasting Union awards held in Tokyo yesterday. The 47th ABU General Assembly was hosted by NHK, Japan's public broadcasting network, which took prizes in four of the 13 categories. Of the 199 nominated shows, 141 were TV programmes and 58 were radio programmes. NHK won for Children's TV (The Three Musketeers: Ep 20: The Chaotic Ball, photo above); Youth TV (Discover Science: Let's See the Speed of Sound); Sports TV (Miracle Body: Downhill Skiing – Race Against Fear); and Radio Drama (Revival). The ABU Technical Review Prize went to Shogen Kazuyoshi of NHK's Science and Technology Research Laboratories.
Japan-based radio and television presenter Peter Barakan spoke to the assembly on Monday on the topic of introducing non-mainstream music programming. Long known for playing music from obscure artists, particularly African music, Barakan said "You have to take the public demand into consideration but you have to lead them as well." If you were too far ahead, you could lose them, so the ideal position was for the presenter to stay half a step ahead.
Romance for Abiru Yu, F-1 Driver
It seems that romance has blossomed between talento Abiru Yu (24) and Formula One racing driver Kobayashi Kamui (24). Video of the pair on a date has been circulating on the Web since they were spotted at a go-kart facility in Gotemba on October 2. Abiru was also seen cheering on Kobayashi at the Japan Grand Prix a week later. Her management insists that the two are just good friends. A few years ago, Abiru was romantically linked with Da Pump member Issa.
Interesting story? Then add it to your favorite social site:







| | |
| --- | --- |
| Boom Boom Satellites in NYC | October 19, 2010 |


The nice folks at New York - Tokyo have asked us to plug an upcoming live appearance in the Big Apple by one of Japan's best rock artists. Boom Boom Satellites, supported by alternative rock band Zamza, will be playing as part of the CMJ2010 Music Marathon & Film Festival. You can check them out on Wednesday, October 20 at Bowery Poetry Club. Organizers said, "this is a special night that CMJ and New York - Tokyo have put together. CMJ badge holders will enjoy the whole night for free and only $10 for those without. Tickets will be gone very quick." You can find out more and pick up tickets here.
Brit music magazine NME has described BBS as "Like The Prodigy fighting Underworld with bloody big sticks." And their CMJ bio says the Tokyo rockers "offer a brutal clash of high-tech hooks, renegade rhythm and distortion-drenched guitar." Meanwhile, two members of Zamza are probably better known for their work with the hugely successful Judy and Mary. In a literary twist, the band's vocalist is also a winner of the prestigious Akutagawa Prize as well as a movie director.
Get a taste of BBS on YouTube:

Interesting story? Then add it to your favorite social site:







| | |
| --- | --- |
| A Samurai Tale in Hollywood | October 15, 2010 |

The director and stars of "Saigo no Chushingura" were in Los Angeles yesterday for the movie's 'Hollywood' premiere. It is the first major Japanese-language project taken on by Warner Brothers, and so it became the first ever Japanese movie to be screened in the Steven J. Ross Theater at the company's headquarters. Director Sugita Shigemichi (67) and stars Yakusho Koji (54) and Sakuraba Nanami (17) received a standing ovation from the audience of 500 industry professionals, including a rare public appearance by WB Chairman and CEO Barry M. Meyer. The movie is scheduled to open in Japan on December 18.
Titled "The Last Ronin" for its U.S. release, the movie is the latest in a long history of adaptations of one of Japan's most famous historical events. A remake starring Keanu Reeves (46) is also said to be in the works. It tells of the 47 Ako Roshi (masterless samurais of Akou) and is the quintessential tale of the "bushido" or samurai code. The story is often used to relate the Japanese world-view as it relates to honor and loyalty. The 47 samurai are left leaderless when their master is forced to commit "seppuku" (ritual suicide) for raising his sword against an imperial court official. The ronin plot their revenge though they know it will inevitably lead to their own deaths.
Interesting story? Then add it to your favorite social site:







| | |
| --- | --- |
| Arts Luminaries Light Up Tokyo | October 14, 2010 |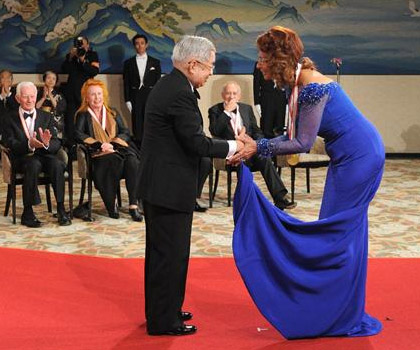 Tokyo yesterday played host to the five laureates of the "22nd Praemium Imperiale" arts award, with a heavy leaning toward the Italians. This year's recipients - Italian actress Sophia Loren (76), German sculptor Rebecca Horn (66), Italian pianist Maurizio Pollini (68), Japanese architect Toyo Ito (69) and Italian painter Enrico Castellani (80) - received a medal from Prince Hitachinomiya, younger brother of Emperor Akihito. They also received a certificate of appreciation and ¥15 million in cash. The ceremony and a cocktail reception were held at the Meiji Kinenkan in Akasaka in central Tokyo.
"This prize beautifully summarizes my whole work," a dazzling Loren later told a news conference. The Sankei Shimbun quoted Horn as saying, "I'm truly honored. I come to Japan almost every year, and I get a lot of inspiration every time."
The prestigious culture prize recognizes significant lifetime achievement in areas of international arts and culture not covered by the Nobel Prizes, according to the Japan Art Association, who established the award in 1988. In Japanese it is known as the "Takamatsunomiya-kaden Kinen Sekai Bunkasho," which translates as Prince Takamatsunomiya Memorial World Culture Award.
Interesting story? Then add it to your favorite social site:







| | |
| --- | --- |
| One Bad Husband Plays Another | October 13, 2010 |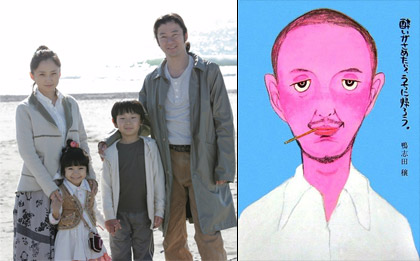 Actor Asano Tadahiro (36, photo right) and actress Nagasaku Hiromi (39, photo left) appeared at a PR event in Tokyo yesterday for their latest movie collaboration. "Yoi ga Sametara, Uchi ni Kaerou" (When We Sober Up, Let's Go Home) is an adaptation of the autobiography (right) of the late freelance journalist and war photographer Kamoshida Yutaka (1964-2007). From his exposure to the atrocities by the Khmer Rouge in Cambodia through many years of facing death and the weapons of child soldiers, Kamoshida developed a reliance on alcohol that would lead to his death of kidney cancer at the age of 42. In 1996, he met manga-ka Saibara Rieko (45) on location in Thailand. He agreed to be the photographer for her planned cable TV show to be filmed in the Amazon. On their flight back to Asia, he proposed and soon made his first return to Japan in 9 years to get married. He was the inspiration for a regular character in Saibara's "Mainichi Kaasan" comic strip in the Mainichi Shimbun newspaper.
The couple had two children but Kamoshida's drinking took a heavy toll and he was in and out of the mental ward. The two remained close even after their marriage ended in 2003. His autobiography was published in 2006, in which he first revealed his battle with cancer and the couple reunited while remaining unmarried.
Asano, who had a very public divorce from singer Chara (42) last year, said, "I got to play a bad husband, and as I was one myself, I guess I did a good job." Nagasaku, on the other hand, was making her first public appearance since having a baby in May. She said of playing Saibara, "I thought it was a very demanding role, but now I'm glad I did it." Directed by Higashi Youichi, the movie opens on December 4.
Interesting story? Then add it to your favorite social site:







| | |
| --- | --- |
| Ikebe Ryo Dies at 92 | October 12, 2010 |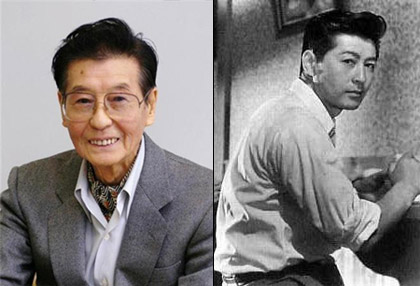 The Japanese movie industry said "sayonara" to one of its veteran supporting actors a few days ago. Management for Ikebe Ryo said the actor died from septicemia at a Tokyo hospital on October 8. He was 92. Boyishly handsome and 175cm tall, Ikebe was encouraged to appear on screen rather than work behind the camera when he joined the Toho movie studio in 1941. He made his debut almost straight away in "Betta" (Fighting Fish). In 1965, and with three dozen movies already to his credit, he and Takakura Ken (79, profile) co-starred in the first of the famous "Showa Zankyoden" series of yakuza movies that ran until 1972.
So it was somewhat ironic that Ikebe was a representative director of the Japan Movie Actor's Association when a major scandal broke out in 1965 that centered around connections between actors and the criminal underworld. And it was Ikebe himself who had the backbone to make a public statement saying all such ties would be broken (though a complete break has never happened).
Ikebe had health problems for the last few years and had been cutting back on cigarettes and alcohol. But he continued working up until the end, and his last appearance was in this month's issue of the magazine "Ginza Hyakuten."
Interesting story? Then add it to your favorite social site:







| | |
| --- | --- |
| Hirosue Ryoko No Longer a Single Mother | October 11, 2010 |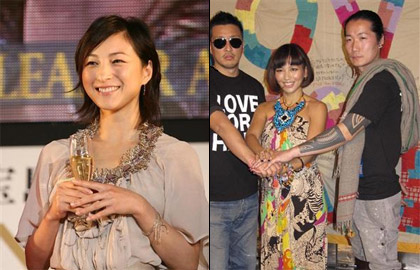 Actress Hirosue Ryoko (30, photo left) has re-married, she announced on her official site on Saturday. She and candle artist Candle June (photo far right) tied the knot after a relationship of several months. Hirosue divorced model-designer Okazawa Takahiro (35) in March 2008 and they have a child together.
Hirosue and her new hubby met at a benefit event in March for survivors of the Haiti earthquake. They were spotted out on a date by a weekly gossip magazine in August. He is a bit of a mystery and has not publicly revealed his age but is thought to be in his mid30s. He organizes candle-based peace events throughout Japan and the world.
Interesting story? Then add it to your favorite social site:







| | |
| --- | --- |
| Sayonara Oyabun | October 08, 2010 |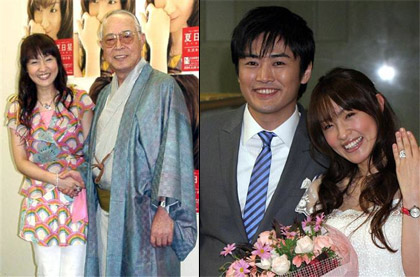 Former baseball star and manager Osawa Keiji died Thursday from cancer of the gall bladder at a Tokyo hospital. He was 78. His 10-year playing career was pent mainly with the Nankai Hawks (now the Fukuoka Softbank Hawks) - where he won the Japan Series in 1959 and 1964 - and the final year was with the Tokyo Orions (now the Chiba Lotte Marines). After retirement he coached and managed at Lotte before two stints as manager of the Nippon Ham Fighters, with whom he won just one Pacific League pennant.
While his playing and managing career stats were hardly stellar, he was outspoken and widely respected, earning him the nickname "oyabun" (boss). This image (usually of a yakuza boss) was enhanced by the fact that for his TV appearances he usually dressed in a kimono. The TBS network said his final appearance was on September 19. On October 3, his "Sunday Morning" co-host Sekiguchi Hiroshi read out a letter from Osawa apologizing for his failure to appear due to poor health. He also applauded his old team the Hawks for their recent Pacific League championship. His grand-daughter, talento Osawa Akane (25) and comedian Gekidan Hitori (33, photo right) presented him with his first great-grandchild on September 3.
Interesting story? Then add it to your favorite social site:







| | |
| --- | --- |
| Is It Over Between Amuro, Atsushi? | |

It has been speculated this week that the romance between J-pop star Amuro Namie (33) and comedian Tamura Atsushi (36) may have come to an end. Management for the two refused to make a comment on the media speculation, saying simply that they are in charge of their own private lives. The couple were seen traveling together to Sedona in Arizona in the New Year, and Tamura went so far as to hold a press conference on his return to Japan to acknowledge their relationship. Amuro is a divorcee and has a 12-year-old son from her marriage to TRF dancer Sam (48), while Tamura - one half of the Yoshimoto manzaiduo London Boots #1 #2 - has long been regarded as a playboy.
Related stories:
Tamura Acknowledges Romance With Amuro (Jan. 8, 2010)
Interesting story? Then add it to your favorite social site:







| | |
| --- | --- |
| Ueto, Hiro the Latest Power Couple? | October 07, 2010 |

They make a slightly unusual couple, but it seems that actress Ueto Aya (25) and Hiro (41), leader of the pop/dance group Exile, are serious. The two have known each other since Ueto was 12 years old, when Hiro's management agency were in charge of her dance choreography. It seems their teacher-student relationship changed into something more romantic around the beginning of the summer.
It was reported in August that Ueto and Morita Gou (31) of the Johnny's Jimusho aidoru group V6 had split up in May after an 8-year relationship. There hadn't been any romantic rumors about Hiro since he broke up with actress Sada Mayumi (33) in March 2008. Management for the two stars said they hadn't heard anything about the romance, acknowledging only that Ueto was a fan of Exile and good friends with all the group members.
Interesting story? Then add it to your favorite social site:







| | |
| --- | --- |
| Second Divorce for Yoko Zetterlund | October 06, 2010 |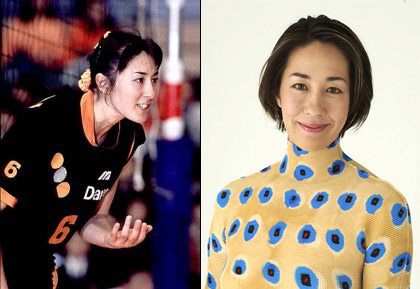 Barcelona medal-winning spiker Yoko Zetterlund (41) has divorced for the second time, according to today's issue of the weekly magazine "Shuukan Bunshun." A member of the U.S. bronze-medal-winning volleyball team at the 1992 Barcelona Olympics, Zetterlund has played a wide variety of roles in the Japanese sports industry since the mid-1990s. Her hectic work schedule is said to have led freelance announcer Kusano Hiroshi (41), son of talento Kusano Hitoshi (66), to file for divorce, ending their 4-year marriage in August. Zetterlund divorced her first husband, an American, in 1999.
Born in San Francisco, Zetterlund moved to her mother's home country of Japan at the age of 6. She began playing volleyball while a junior high student and helped her school win the national championship. With her mother as head coach, her high school team also won a national event, and Zetterlund went on to represent Japan at the junior level. But even after continued success at the college level, fierce competition made it difficult for her to make the national team and she decided to choose American rather than Japanese citizenship. She went to the U.S., where she successfully tried out for the national team, shortly before graduating university in 1991. After graduation she joined the Fuji TV network but soon returned to the U.S. to train for the Olympics. She also participated in the 1996 Atlanta games before coming back to Japan. She led the Daiei Orange Attackers, Japan's first pro team, to two championships. She retired in 1999.
In addition to her role as a sports commentator, she's also a writer, public speaker and is on the national administration board for the volleyball, basketball and soccer leagues.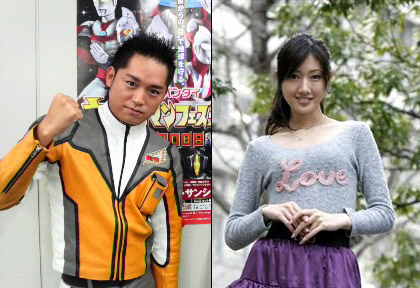 Second Generation Showbiz Marriage
Happier news for two offspring from established showbiz families who are planning to tie the knot. Nishina Masaki (28) is the eldest son of actor Matsukata Hiroki (68) and actress Nishina Akiko (57), while Takigawa Hanako (22) is the daughter of the late actor Achiha Shinsuke (1940-2007) and actress Takigawa Yumi (59). The younger couple's relationship was first reported in January when they traveled to Guam, and they will hold their wedding ceremony there next January.
Interesting story? Then add it to your favorite social site:







| | |
| --- | --- |
| Hamasaki Ayumi Sets Record with Single No.50 | October 05, 2010 |

J-pop queen Hamasaki Ayumi (32, profile) has set a new record for consecutive No.1 hits on the Oricon chart. Her latest and 50th single release "L" has topped the Oricon weekly chart, making it her 25th No.1 in a row, and breaking Matsuda Seiko's 22-year-old record. Ayu now holds sales records in seven different categories as a female artist (Rockers B'z top many categories as a group). She has the most consecutive chart toppers and the most Top 10 by any solo artist, and her other records include:
Most No.1 singles - 37
Most Top 10 singles - 48
Most consecutive years with a No.1 single - 12
Most million-selling singles - 5
Most singles sold - 21.38 million
Most singles/albums sold - 49.19 million
Hamasaki is currently in the middle of a seven-day concert run at the Yoyogi National Gynmasium. Commenting on the new record, she said, "It's a surprise and a huge honor. And it's all thanks to my fans. I want to thank all the songwriters, arrangers and all the staff who have worked with me." In the case of "L" her collaborator was Komuro Tetsuya (51). Currently rebuilding his career after a fraud trial, he has a strong track record and is the second-best-selling songwriter ever in Japanese music.
Interesting story? Then add it to your favorite social site:








Legal experts were stunned by yesterday's news that former actor Oshio Manabu (32) has been allowed out on bail. The Tokyo District Court recently handed him a two-and-a-half year prison sentence for four offenses related to his involvement in the August 2009 death of Ginza hostess Tanaka Kaori, a decision Oshio's lawyers have appealed. Nine separate applications for bail were previously turned down by the district court, but the Tokyo High Court finally ruled in Oshio's favor. As the public prosecutors didn't object to the decision, Oshio was released yesterday evening after paying ¥10million (about $120,000).
It was his first taste of freedom after 301 days in detention. With his hair down to his shoulders, and wearing a black jacket, white shirt, jeans and sneakers, he bowed briefly to the 200 reporters gathered outside the detention center before speeding away in a waiting taxi. He is believed to have spent the night at a hotel in Shinjuku and is heading home to his Tama City apartment on the outskirts of the capital today. His lawyer said that Oshio wants to pay his respects at Tanaka's grave and explain himself to her parents. They declined to make a comment to the media after hearing the news.
Lawyer and former public prosecutor Osawa Takayuki (65) said, "No matter what the crime, when a prison sentence has been given, there is the risk of flight or a repeat offense, so it is customary not to award bail. In this case, prosecutors did not appeal the length of the sentence, and in the appeals court the main charge has been reduced from fatal abandonment to simply abandonment, so the seriousness of the crime has been reduced."
Nihon University law professor Itakura Hiroshi (76) said, "I can see no reason to award bail. But as it has been given, ¥10 million seems the right amount."
Interesting story? Then add it to your favorite social site:







| | |
| --- | --- |
| Kobashi Kenta Ko'd by Killer Kiss | October 04, 2010 |

Popular professional wrestler Kobashi Kenta (43) and enka singer Mizuki Mai (36) finally made their 14-year relationship official on Saturday. The couple tied the knot at a municipal office in Tokyo and held their wedding ceremony at the Imperial Hotel. As they posed for photos after the ceremony, one reporter shouted out, "Mai-san, kiss!" Kobashi seemed bemused at first but was beaming after his bride gave him a peck on the cheek. A demon in the ring, he was momentarily reduced to the ranks of the typical lovestruck male.
Kobashi overcame cancer of the kidneys in 2007, but is currently undergoing rehabilitation for knee and elbow injuries. No doubt thinking of his responsibility as vice-chairman of the Pro Wrestling Noah troupe, he told reporters, "I want to get back in the ring as soon as possible." But of course he now has added responsibilities, not least of which is his new bride. "Looking after her is the most important thing for me. And I want to have lots of kids!" Mizuki is currently enjoying sales success of her latest single "Nozomizaka Kara Ashitazaka."
Interesting story? Then add it to your favorite social site:







| | |
| --- | --- |
| Ikeuchi Junko Dies at 76 | October 01, 2010 |

Actress Ikeuchi Junko died on September 26 of lung cancer at a Tokyo hospital, it was reported yesterday. She was 76. Real name Nakagawa Sumiko, she was working for the Mitsukoshi department store in Tokyo in 1954 when a friend persuaded her to audition for cover girl of the Sankei Graph magazine. As a result she was hired by the Shintoho movie company and she made her screen debut the following year. Along with the soon-to-be superstars Takakura Ken and Ishihara Yujiro, she won a best newcomer award at the first ever Motion Picture Producers Association of Japan awards in 1956.
But the breakthrough that made her a household name came on TV. In 1960 she starred in the Fuji TV drama series "Nichinichi no Haishin," which created her image as the nation's housewife and also started the boom in TV dramas that continues to this day. With the 1965 TBS series "Onna to Misojiru" she set the standard for an actress who could bring in high audience ratings. She played the role of a geisha in the "Shacho" and "Ekimae" comic movie franchises that were a vehicle for actor Morishige Hisaya, but she also played serious roles such as the heroine in the movie adaptation of Matsumoto Seicho's novel "Kemonomichi."
In 1969 she took to the stage for the first time, a move that would see her work a lot in theater. Just this May, she appeared in a production of "Sanbaba" here in Nagoya at the Chunichi Gekijo theater. In the late 1950s she was briefly married to vaudeville actor Yanagisawa Shinichi but she remained single after they divorced in 1958. In 2002, she received the Medal with Purple Ribbon, given to people who have made important contributions to academic fields, arts and sports.
Interesting story? Then add it to your favorite social site: