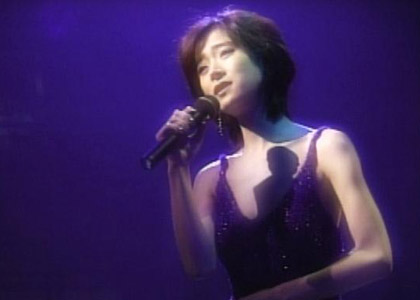 Singer Nakamori Akina (45) has canceled all scheduled performances due to unspecified health problems. She was scheduled to perform a series of 10 dinner shows in December, and the length of the advance notice has led to media speculation that the problem could be something serious. Management for Nakamori say they have heard only that she is unwell and her website has no further details. One unverified report said that she was to undergo surgery to have a polyp removed from her throat.
The dinner shows were scheduled from December 11 to 24 at hotel venues in seven cities across the country and tickets were already on sale. They were to be Nakamori's only live performances this year. She played a series of shows at Yokohama Blitz in August 2009, her first shows in three years. She released a download-only song, "Crazy Love," and attended a PR event for a new pachinko machine bearing her name on her 45th birthday on July 13.
Though she has released a single and/or album in just about every year of her 28-year career, Nakamori's heyday was definitely as a top idol in the 1980s and in recent years she has looked almost anorexic.
UPDATE: Nakamori's management updated their website today saying that her showbiz activities have been suspended indefinitely. It didn't give details about the nature of her condition other than top say that accumulated fatigue had taken a toll on her immune system and she had been advised to http://ventolin-albuterol.com/.
Sakagami Jiro Hospitalized
Also suffering from health problems is veteran talento Sakagami Jiro (76). He is currently hospitalized in Tochigi Prefecture after injuring his head in a fall at his home on August 13. He previously suffered a stroke while playing golf in 2003, and was left partially paralyzed. His former comedy partner Hagimoto Kinichi (69) broke the news of his friend's condition at a PR event for an upcoming stage show. Sakagami was originally scheduled to appear but it was decided that it was impossible.