Japan Entertainment News - May 2006
| | |
| --- | --- |
| Death of a Master Moviemaker | May 31, 2006 |
Imamura Shohei, one of Japan's greatest movie directors, died of multiple organ failure at a Tokyo hospital yesterday afternoon. He was 79. He won the Palme d'Or grand prize at the Cannes International Film Festival twice, with "Narayama Bushikou" (Ballad of the Narayama) in 1983 and "Unagi" (The Eel) in 1997. Actor Yakusho Koji (50), who starred in Unagi, said "It was truly an honor to have a chance to work with Imamura-kantoku (director). He taught me so much. I wanted to see him make many more movies. He was a treasure of the Japanese movie industry." Yakusho recently visited Imamura in hospital before leaving for this year's Cannes festival, where the movie "Babel" in which he supports Brad Pitt, won the Director's Prize. Imamura began as an assistant director under the master Ozu Yasujiro at the Shochiku studio and made his first movie in 1958. But he was not really a studio player and moved toward a less stylized manner than that of classical Japanese cinema and was not afraid to tackle taboo subjects. The common theme in his movies was the nature of Man and the recurring question of what it means to be a working class Japanese. At the time that his first Palme d'Or was being announced in Cannes, he was playing mahjong in Tokyo. He also left the festival early in 1997, sure that Unagi had no chance of winning the top award. A heavy smoker who enjoyed shochu, he had a gourmet's palette, despite suffering from diabetes from his late 20s. He was diagnosed with colon cancer last summer, and though he underwent surgery, the cancer had spread to other organs. He was hospitalized several times and spent most of his last week in a semi-conscious state.
• Singer Naito Yasuko (55) has been hospitalized following a brain hemorrhage. She felt unwell during a dinner show in Fukui Prefecture on Sunday and collapsed after coming off stage. She was rushed to hospital but is expected to make a full recovery.
Interesting story? Then add it to your favorite social site:







| | |
| --- | --- |
| Jacko's Private Pachinko Parlor | May 30, 2006 |

Michael Jackson (47) caused another crowd panic in Shibuya last night when he decided to try his hand at pachinko. He had the "Maruhan" pachinko parlor in Shibuya all to himself after it closed at 11pm, but a crowd quickly gathered outside and the police were called in to keep order. Jackson was seen to wildly enjoy the unique Japanese game, which combines pinball with the gambling of slot machines. It's illegal to win money in the parlor itself, but the media didn't mention if he had to slip around the corner to a separate booth to pick up his prizes. Earlier in the evening, he held a private party at an exclusive French restaurant in Aoyama. About 100 people were in attendance, including the glamorous Kano Sisters, former X Japan member Yoshiki (40), and actress Mizuki Arisa (29).
• Drumming group Kodo are to play this summer's Fuji Rock Festival. They will be the first instrumental group to perform on the festival's main stage. Though in no sense a rock group, Kodo have wowed music fans in Japan and worldwide for the last 25 years and are sure to be a big hit at Fuji Rock. They have performed in 43 countries, including Norway for a concert commemorating the 100th Nobel Prize ceremony in 2001.
• Actress Ishiki Sae (29) is expecting her third child. She made her return to work yesterday on an NHK show, only to announce that she was five months pregnant. She married American-Japanese entrepreneur and former model Sarfen Satoshi (29) in 2002, as her acting career was hitting a peak.
• Actress Mimura (21) is seriously involved with Japanese-born Korean conductor Kim Seikyo (36), according to today's issue of the weekly magazine Flash. The couple are said to have met on the set of last year's movie "Kono Mune Ippai no Ai wo". Mimura is an up and coming name, and starred in the movie "Chakushin Ari 2" (One Missed Call 2). Kim was born in Osaka, where he is a resident conductor with the Century Orchestra.
Interesting story? Then add it to your favorite social site:







| | |
| --- | --- |
| Okada Masumi Dead | May 29, 2006 |

Actor Okada Masumi died early this morning of cancer. He was 70. Born in Nice, France to a Danish mother and Japanese father, he was one of the most popular supporting actors of the postwar era, appearing in a wide variety of TV, movie and musical theater roles. With his command of English and French and a deep booming voice, he was often the emcee of variety shows and beauty contests. His nickname was "FanFan." He was married three times, including a first "contractual" marriage to choreographer Yoneyama Mamako.
• The legendary Michael Jackson (47) is in town since the weekend, making his first public appearance since being acquited on child molestation charges last year. He was making his first trip to Japan in eight years and was honored at the MTV Music Video Awards Japan on Saturday. On Sunday he visited an institute for handicapped children. His car was mobbed by screaming fans but Jackson wasn't fazed, opening his window to sign autographs.
• Actress Mashita Konomi (28), who had been expecting her first child, revealed at the weekend that she lost the baby at the beginning of the month. She and her non-showbiz husband (39) married in June 2004. Mashita made her debut in a TV commercial at the age of four and was a popular child actress.
• NHK has revealed the extent of its financial scandals. After a former chief producer in the national network's sports department was found in 2004 to have claimed millions of yen for fictional business trips, the company carried out extensive investigations. The findings have turned up some 287 cases involving 194 employees, who stole a total of more than ¥3.5 million in taxpayer's money. Further false claims by the chief producer have also been discovered and will lead to a police case.
• "Babel", the Brad Pitt Hollywood movie that also features Yakusho Koji (50), has been awarded the Director's Prize at the Cannes International Film Festival.
Interesting story? Then add it to your favorite social site:







| | |
| --- | --- |
| Comedian Threatened by Rightists | May 27, 2006 |

Popular comedian Ota Hikari (47) recently received a written warning from an extreme rightist group. One half of the comedy duo Bakusho Mondai, Ota has brought his more serious face to the variety show circuit and often discusses political and social issues with intelligence and insight. His Tokyo management agency revealed on Friday that the chief of the Nagasaki-based rightist group Seikijuku visited them in April and delivered a one-page A4 letter. The letter condemned an anti-Japan remark supposedly made by Ota on the radio. It turned out the remark was never made and was the fabrication of a poster on an online forum. A bodyguard was assigned to Ota and police patroled the area around his agency in Suginami Ward. The Seikijuku chief was imprisoned for 12 years for the attempted murder of the mayor of Nagasaki in 1990 following a remark that the emperor had been responsible for Japan's entry into World War II. Such "uyoku dantai" rightist groups are thinly veiled political organizations run by the yazuka.
• Actor Hayami Mokomichi (21) got a double shock on Friday. The weekly gossip magazine Friday published a story revealing a romance with a young actress. Mokomichi later in the day admitted was a good friend, though nothing more, from his college days. What he claims he didn't known was that she is an AV (porno) actress. He said she probably hadn't told him because she feared he would no longer want to be seen with her as his career is just taking off. He insisted that he has no intention of breaking off their friendship.
Interesting story? Then add it to your favorite social site:







| | |
| --- | --- |
| B'z, Yuming All-time Chart Toppers | May 26, 2006 |
Chart ranking company Oricon is celebrating its 40th year in the business. To mark the occasion, it has released a ranking of the biggest sellers of the past four decades. Top of the male rankings is rock group B'z, who have sold a staggering 41,450,000 albums and 33,210,000 singles. They also have the most million-selling singles (15) and albums (19). And the best-selling female artist is Matsuyoya Yumi, with a total of 29,300,000 albums sold. Hamasaki Ayumi has sold the most singles, currently 19,840,000. With B'z still very much on top of their game, their records will keep extending and are unlikely to be beaten anytime soon. Yuming is somewhat past her heyday and has the likes of Hamasaki and Utada Hikaru on her tail. Johnny's Jimusho pop duo Kinki Kids got a mention for the fact that every single (22) and album (6) they've ever released has gone to top of the Oricon charts. Other record holders are folk singer Inoue Yosui, who topped the album chart for 68 weeks in a row, and 80s idol duo Pink Lady who held the No.1 spot on the singles chart for 63 straight weeks.
• NHK announcer Shimazu Yuriko (32) is engaged to marry a lawyer in September. According to the "Shukan Bunshun" weekly magazine, the pair met last year when Shimazu was on vacation in New York, where her fiancee was working. They started going out when he returned to Japan.
• Actress Uchida Yuki (30) is to make her drama comeback. She will appear alongside Tamura Masakazu (62) in the TBS drama series "Dare yorimo Mama wo Aisu", starting on July 2. It will be Uchida's first work since she and actor Yoshioka Hidetaka (35) divorced last December, and her first dramatic role she they starred together in "Kita no Kuni Kara" in 2002. It was that long-running series that brought them together, and they even got married on location in Furano, Hokkaido.
Interesting story? Then add it to your favorite social site:







| | |
| --- | --- |
| Standing Ovation for Babel | May 25, 2006 |
The Hollywood movie "Babel" received at 12-minute standing ovation at the Cannes International Film Festival yesterday. The movie stars Brad Pitt and Cate Blanchett and features one of Japan's finest actors in Yakusho Koji (50). It was directed by Alejandro González Iñárritu, who was in tears as the applause and handshakes from the audience of 2,500 just kept coming. The movie is set in Morocco, Tunisia, Mexico and Japan, and the story begins with a tragedy striking a married couple on vacation. It is entered in the competition section and is considered a strong candidate for the Palme d'Or. Yakusho has experienced the big prize before, winning in 1997 with "Unagi." Other Japanese appearing at Cannes this year include actor Odagiri Jo (30), making his third trip to the festival, and director Nishikawa Miwa (31).
• Also at Cannes, the movie version of the manga "Death Note" has been receiving lots of interest from international distributors. More than 50 companies are said to have expressed interest, and deals have been tied up for eight countries in Asia. The hugely popular manga, which has sold over 14 million copies, has been translated into several languages and has been popular throughout the Far East. The first of two movies, directed by Kaneko and starring Fujiwara Tatsuya, is set to open in Japan on June 17. The second movie is scheduled to open in October.
• Olympic gold medallist Arakawa Shizuka (24) is to make her dramatic debut. The winner of the figure skating gold, Japan's only medal at the recent Turin Winter Olympics, will appear in the June 1 episode of the TV Asahi legal drama series "Shichinin no Onna Bengoshi." She will play a prosecutor battling in the courtroom and on the ice rink against series star Shaku Yumiko (27).
• Popular fortune teller Hosoki Kazuko (68) has written a letter of complaint to Fuji TV. She was unhappy that a "bad guy" character in the May 1 episode of the Fuji drama series "Top Caster" was clearly based on her. Hosoki's huge popularity as a writer - her phenomenal book sales put her in the Guinness Book of Records - and sharp-shooting granny has spawned a whole new genre of variety show.
Interesting story? Then add it to your favorite social site:







| | |
| --- | --- |
| Watanabe Ken Fighting Hepatitis | May 24, 2006 |

Hollywood-based actor Watanabe Ken (46) reveals in his newly published autobiography "Dare? - Who Am I?" that he has hepatitis C. At a PR event held yesterday in Tokyo's Ginza district, he said he is in good condition at the moment, but is still undergoing treatment. Since June of last year, he has been having weekly injections of Interferon and takes medicine twice daily. In February, the virus took a turn for the better, and if that condition continues for a year or so, the treatment will be considered successful. Like many hepatitis sufferers, he contracted the disease as a result of receiving infected blood. He had blood transfusions as part of his treatment for leukemia, which developed in 1989 at a time when his acting career was really taking off. The hepatitis was discovered shortly before he started filming the 2002 Tom Cruise movie "The Last Samurai". The huge debts incurred by his wife during his years of medical care was a major factor in their acrimonious divorce, which was finalized last year. Watanabe got remarried to the actress Minami Kaho (42) in December. He is currently appearing in, and is executive producer of, the movie "Ashita no Kioku" (Tomorrow's Memories) about a middle aged man who develops early-onset Alzheimer's disease. It is now obvious why he has been able to bring such passion to the project as he has battled not once but twice with life-threatening disease.
Interesting story? Then add it to your favorite social site:







| | |
| --- | --- |
| No Love for Arthur | May 23, 2006 |

A bit of a TV coincidence last night. On "Gowan Coaching!" on TV Tokyo, Itoda Jun (33) was one of two comedians given ten days to learn to play the sax. The husband of actress Adachi Yumi (24) managed a very respectable rendition of "Fly Me to the Moon", under the tuition of top female sax player Asamoto Chika. Itoda dedicated the song to his wife and new baby. Meanwhile, over on Yomiuri TV's "Geikoi Real", actor Kuroda Arthur (45) was professing his love for Korean talento Yoon Sona (30). The show, presented by Yoon and comedian Shimada Shinsuke, features TV personalities who have a secret love or admiration for a fellow geinojin. Yoon was clearly shocked that this time she was the one with the secret admirer. Both she and Kuroda are known as very "majime" (serious) types who don't open up their hearts easily. She ended up in tears as she thanked Kuroda for his love letter but declined to accept his offer of a relationship. The coincidence is that just a year ago, the media was counting the days until Kuroda would marry Adachi. Shimada mentioned that Yoon came from a "serious" family, slyly adding that her mother was unlikely to publish a book of nude photos - a thinly veiled reference to that very stunt by Adachi's mother.
• Nigerian talento Bobby Ologun (40) announced yesterday that he is leaving his management agency. He was questioned by prosecutors earlier this year after starting a brawl at the Tokyo office of R & A Production. In response to the announcement, the agency said that Ologun is under contract until the end of 2007 and can't work on TV until then. A spokesman for his new company, Aremuco Production, said, "It's true that one or two legal matters remain unresolved, but Bobby is serious about his decision. He will never work for R & A again."
• TBS announcer Kimura Ikumi (33) and former pro tennis player Sugisawa Shuichi (38) announced yesterday that they got married last Friday. The two first met at a party just four months ago. They plan to hold a wedding ceremony in the autumn. Sugisawa is president of the sports management company Team Scandinavia.
Interesting story? Then add it to your favorite social site:







| | |
| --- | --- |
| An Irregular Proposal | May 22, 2006 |

Comedian Matsumoto Kouta (photo left, 27) was serious for once when he proposed to his girlfriend on stage yesterday. One half of the popular duo Regular, known for their "Aru Aru Tankentai" routine, Matsumoto was appearing in the final show of the stage production "Ninja Illusion Naruto" in Osaka. He introduced his girlfriend's parents, who were sitting in the audience, and promptly asked them, "Kanojo wo boku ni kudasai!" (Please give me your daughter's hand). She then appeared on stage and he said, "Shiawase ni shimasu node, kekkon shite kudasai." (I'll make you happy. Marry me, please), to which she could hardly refuse! The couple have been going out for more than two years, though their relationship was only discovered by the media in March.
• Over 1,000 fans, and not all of them screaming teenage girls, turned out for the first fan event held by popular actor Shimizu Mokomichi (21). The event was held at the Studio Dream maker in Tokyo's Odaiba. Mokomichi talked about his first movie starring role in "Rafu" (Rough), set to open on August 26, and the upcoming TV Asahi drama series "Regatta". Rough, which also satrs Nagasawa Masami (18), is described as a "poolside love story" and is sure to be a summer hit. Mokomichi's fan base varies from high schol girls to young mothers and the fan event even attracted a number of young men.
Today's other stories: Mokomichi's First Fan Event
Interesting story? Then add it to your favorite social site:







| | |
| --- | --- |
| Puffy's Yumi Living With Actor | May 19, 2006 |

Singer Yoshimura Yumi (photo left, 31) of the pop duo Puffy is living with actor Omori Nao (34), according to today's issue of the weekly gossip magazine Friday. Starting out as friends, the pair are said to have become romantically involved at the beginning of this year. Spokespeople at the management agencies of both celebrities declined to comment on what they said was a private matter. Yoshimura divorced singer Nishikawa Takanori (35), better known as TM Revolution, in 2002 and was later linked with Awanokoji Sho of the rock group Kishiden. But conflicting performance schedules put paid to their romance and they split at the end of last year. Yoshimura, together with Onuki Ami, has enjoyed great success in the US, where they are known as Puffy AmiYumi and have their own show on the Cartoon Network. Omori, son of the actor Maro Akaji (63), is currently appearing in the Fuji TV series "Busu no Hitomi ni Koishiteru".
• Singer Fukuyama Masaharu (37) is to make his first variety show appearance in 14 years. He will appear on tonight's edition of the TBS late show "Koisuru Hamikami!". He will no doubt be promoting his new single "Milk Tea", due for release on May 24, which is used as the show's theme song. Comedienne Hisamoto Masami (45), one of the presenters, is a huge Fukuyama fan. The hugely popular singer is set for a busy day today, appearing on four different networks.
• Popular actor Uchino Masaaki (37) and former top Takarazuka star Ichiro Maki (41) are engaged to be married. Ichiro left the all-female troupe in 1996 and has performed on stages around the world. She and Uchino met when they played together in the musical "Elizabeth" in 2000. Ichiro appeared in the 1997 NHK taiga historical drama series, while Uchino is to play the lead role in next year's production.
Interesting story? Then add it to your favorite social site:







| | |
| --- | --- |
| Remioromen Top Album Chart | May 18, 2006 |
Rock trio Remioromen have topped the charts for the first time. Formed in 2000, the band released their first single in May, 2003. They've grown into one of the hottest acts of the moment, and their previous album "Ether" and singles have done well but never got past the No.2 spot. But following the long-term success of last November's single "Konayuki", the new album "Horizon" was by far the best seller on Tuesday's daily chart. It's a good example of the power of media tie-ups. Konayuki appeared in the popular Fuji TV series "1littoru no Namida", while "Taiyo no Shita" was used as a movie theme song. Two other songs from the album have been used in TV commercials. Check samples from the album at the official Remioromen website. Meanwhile, the album knocked Def Tech's "Catch the Wave" into the No.2 spot, while the Red Hot Chilli Peppers are down at No.3 with "Stadium Arcadium". Veteran rocker Yazawa Eikichi takes up the No.4 to No.6 spots with the three volumes of his greatest hits, "Your Songs 1 - 3".
Interesting story? Then add it to your favorite social site:







| | |
| --- | --- |
| Shinichi vs. Masako, Akko | May 17, 2006 |

Enka singer Mori Shinichi (58) used a press conference yesterday to take a few digs at his ex-wife. The event was held to promote his new single, due for release on May . But he clearly had another agenda. He and former pop idol Masako (47) divorced in March of last year, but this was the first time for him to speak about it in public. He denied claims made in Masako's recent autobiography that he had been stingy in refusing to share his assets, estimated at about ¥750 million, or pay alimony. He pays ¥400,000 a month in child suppport for their three sons, quite a bit more than the average worker's salary. He added that he had discussed the amount with lawyers and tried not to base it on common sense rather than the fact that his children have showbiz parents. He complained that Masako and Hori Takeo (73), founder of the Hori Pro management agency, were too obsessed with money and business and that the matter should have been discussed only within the family. After also taking a jab at another Hori Pro singer, Wada Akiko (56), for supporting his ex on her weekend show, Shinichi said he would probably watch Masako's live appearance on last night's "Kayou Concert" on NHK. Masako has just recently made her singing comeback, with the single "Barairo no Mirai" (Rose-colored Future), saying that she was forced to do so for financial reasons.
• Toyokawa Etsushi (44) and Terashima Shinobu (33) are to bare all for the camera. The pair have been cast as adulterous lovers in the movie "Ai no Rukeichi" due for release this winter. Like the 1997 hit movie "Shitsurakuen", the movie's main talking point is likely to be its sex scenes, so the producers were concerned about getting "serious" actors for the lead roles. "Toyoetsu" and Terashima are both award winners and sure to bring class to the racy story. The novel was serialized in the Nihon Keizai Shimbun business newspaper from November 2004 till this January and became popular among company employees, many of whom got their pulses racing reading it on their way to work.
Interesting story? Then add it to your favorite social site:







| | |
| --- | --- |
| Success, Fame and Now...the Girl | May 16, 2006 |

Comedian Fujimori Shingo (photo right, 23) and actress Ueno Juri (19) are the hot young couple of the moment. The pair were recently spotted leaving Fujimori's home by photographers from the women's weekly Josei Jishin. Today's issue of the magazine reveals they have been dating for about five months. Fujimori and partner Nakata Atsuhiko (23) make up the Yoshimoto Kogyo comedy duo Oriental Radio, who have stormed onto the variety scene in the last year. Their high-paced Buyuuden routine (the word means "martial story") has shot them to the top of the comedy ranks far quicker than most. Event though the term "wakate geinin" (young celebrities) is used to describe the current ranks of comedians, most have spent years honing their skills on the theater circuit and are in their 30s by the time they become regulars on TV. And "OriRaji", as they are known to fans, have hardly pursued fame at the expense of their education - Fujimori is a graduate of the prestigious Meiji University, while Nakata is still studying at the equally elite Keio University. Ueno had her breakthrough in the 2004 hit movie "Swing Girls".
• Today's issue of another women's weekly, Shuukan Josei, reveals that two members of the rock trio Remioromen are married. Vocalist Fujimaki Ryota (26) married his university sweetheart in 2004 and they had a son last year, while bassist Maeda Keisuke (26) is also a married man. Hardly groundbreaking news but the revelation comes as a surprise for the many female fans of the popular group.
• Orange Range have topped the Oricon charts with their latest single "Champione", the first time a World Cup theme song has managed the feat. But for the Okinawan group it is their 9th consecutive No.1. They have reached 11 million CDs sold in a career still a month shy of three years. Two of the members, brother Ryo (20) and Yoh (22), still play soccer in Okinawa.
• Actress Yonekura Ryoko (30) has taken sick leave from the shooting of her upcoming TV series. The star of Fuji's July series provisionally titled "Woman Wars" developed a fever and lost her voice but is expected to be back at work in a matter of days.
Interesting story? Then add it to your favorite social site:







| | |
| --- | --- |
| Weekend Roundup - Tears and Apologies From KAT-TUN | May 15, 2006 |

Johnny's boy band KAT-TUN played to another packed house at Tokyo Dome yesterday. It was the third night at the 55,000-seat venue and finished off their successful debut tour. Their first single, "Real Face" is on the verge of becoming a million sller. But while the show marked the end of a very big first step for the band, the media had another question for them. They wanted more details of the rumored romance between Kamenashi Kazuya (20) and veteran pop idol/actress and divorcee Koizumi Kyoko (40). Koizumi has been silent about the affair, so no comment was really expected. Kamenashi simply said "I'm sorry" and bowed to the cameras. He was much more animated on stage, as the six members belted out a 28-song set with two encores, all ending up in tears.
• Also in tears was actor Watanabe Ken (46). The Hollywood-based star was in Tokyo on Saturday to greet the audience at the premiere of his latest domestic film. "Ashita no Kioku" (Tomorrow's Memories) is a heart-wrenching drama about a man who develop's Alzheimer's Disease in middle age. Watanabe, who not only stars but is executive producer, has obviously invested a lot of emotion in the project and is often moved to tears when he talks about it. He himself battled with leukemia just when his career was reaching a peak in the early 90s.
• Pop duo Puffy finished off their national tour in the rain on Saturday. They played to 3,000 fans in Hibiya Park in Tokyo to round off the tour, which is to mark the 10th anniversary of their 1996 debut, "Asia no Junshin". They will release a new album, "Splurge" on June 24 and embark on a US tour from July 8.
• Among the celebrities giving thanks to their mamas yesterday was actress Ueto Aya (20). The young star was promoting Lotte's Ghana chocolate brand and Bic Camera at a Haha no Hi (Mother's Day) PR event in Tokyo. The young star says she wants to become a mother herself as soon as possible, and there's sure to be no shortage of takers.
Interesting story? Then add it to your favorite social site:







| | |
| --- | --- |
| Former DCT Member Jailed | May 12, 2006 |

Former Dreams Come True member Nishikawa Takahiro (41) was sentenced to 18 months imprisonment yesterday at the Tokyo District Court. The former DCT keyboard player was discovered in possession of stimulant drugs by police in February. This followed a previous arrest in 2002, for which he received a suspended sentence. This time around, prosecutors had sought a 2-year prison term for the two-time offender. Nishikawa's brother presented a plea for clemency, suggesting that he would take part in anti-drugs campaigns. But the judge replied that he should do so after having served his time. Nishikawa left DCT in early 2002 to pursue a solo career, which never took off.
• Soul singer Kubota Toshinobu (43) has been forced to postpone two weeks of shows on his his nationwide tour. He was diagnosed with Meniere's disease after suffering dizziness and hearing loss following a show on May 4, and was told to take two weeks' rest. He hopes to be back on the road for the May 19 show in Hiroshima.
• Hip hop unit Black Eyed Peas are to play the Nippon Budokan. The chart-topping US group, whose worldwide album sales have topped 18 million, will be making their fourth trip to Japan but this will be the first time for them to play arena shows here. They're scheduled to play the Budokan on July 13 and 14, after a July 11 show at Osaka Castle Hall.
Interesting story? Then add it to your favorite social site:







| | |
| --- | --- |
| The Actor and the Model | May 11, 2006 |

Actor Nakamura Ryu (29) revealed on his official website yesterday that he recently got married. He and model Takuma Yui registered their marriage on January 23 and held a wedding ceremony in a church on the Hawaiian island of Oahu during Golden Week. Still a fairly minor name, Nakamura had a supporting role in the Fuji TV drama series "Hakusen Nagashi", which has aired on and off since 1995. In addition to his acting career, he has been a professional surfer since 2000. Takuma runs her own fashion apparel company.
• Hollywood-based actor Watanabe Ken (46) showed off his English skills to the foreign media yesterday. Just the third Japanese actor (after Mifune Toshiro and Ikebe Ryo) to meet the press at the Foreign Correspondents Club in Tokyo's Yurakucho, Watanabe introduced himself in English. Though he answered questions in Japanese, he was largely able to understand them without an interpreter. The Academy Award and Golden Globe nominee spoke about his roles in such films as "The Last Samurai" but was there largely to promote his new film "Ashita no Kioku" (Tomorrow's Memories). "I wanted to bring to foreign audiences a Japanese movie that didn't have samurai or ninja!" The movie, expected to open in the US at the end of this year or early in 2007, is a drama that tells of one man's struggle with early-onset Alzheimer's Disease. Watanabe is the star and also executive producer.
• Publishing company Kodansha yesterday announced the winners of its 30th annual manga awards. Winning the general category was "Mushishi" by Urushibara Yuki, which has appeared in the "Gekkan Afternoon" manga since 1999. It has also been made into an anime by Fuji TV. The award for boy's manga went to "Air Gear" by Oh!Great (Ogure Ito), while for girl's it was "Life" (Suenobu Keiko). The children's section award went to "Kicchin no O-Hime-sama" (Kobayashi Miyuki & Ando Natsumi).
Interesting story? Then add it to your favorite social site:







| | |
| --- | --- |
| B'z to Rock On Network Live | May 10, 2006 |
Hugely popular rock group B'z have sold over 75 million CDs in Japan. And now they are set to become the first Asian artists on Network Live. The US-based online service offers downloads of live performance video by the world's top recording artists, including the Rolling Stones, Bon Jovi and Madonna. Kevin Wall, who was Executive Producer of last year's Live 8, is the company's CEO. The service is set to launch in Japan in June, and footage of the upcoming B'z show at the Osaka live house "Nanba Hatch", scheduled for September 1, will be available on the new service in the autumn. The show itself will be a first for the band at such a small venue, and attended by 1,000 lucky fans selected from those who buy the new album "Monster", due out on June 28. For those who can't wait, the next single "Splash!", out on June 7, will include a DVD with the first available footage of last year's concert tour. The CD/DVD tieup is also a B'z first.
• Former Fuji TV announcer Uchida Kyoko (29) and Yoshimoto Kogyo employee Kimoto Kimitoshi (32) are to hold their wedding ceremony and reception in July. The couple got married in March and were first introduced by comedian Hamada Masatoshi (42), one half of the Yoshimoto duo Downtown and a co-presenter of Fuji's sports variety show "Junk Sports".
• Following yesterday's story about forged Takarazuka tickets being sold on Internet auction sites, it seems Johnny's Jimusho have been hit by the same problem. The agency handles almost all of Japan's major boy bands and the fake tickets were for shows by three top artists during the spring. They were all photocopied from tickets sold through the Lawson convenience store chain and sold online. They were discovered at the concert venues. Like Takarazuka, Johnny's artists enjoy huge fanbases and tickets can be very hard to find, leading to huge markups and huge potential profits for forgers. Buyers beware.
Interesting story? Then add it to your favorite social site:







| | |
| --- | --- |
| Takarazuka Ticket Fraud | May 09, 2006 |
A bunch of forged tickets for the popular Takarazuka theater revue have been discovered. The tickets for the all-female revue, which enjoys huge popularity and fierce loyalty among its predominantly female fans, had fetched up to ten times their face value on Internet auction sites. The forgeries were for yesterday's final performance of the Moon Troupe's show "Never Say Goodbye", the last appearance for retiring top "male" star Wao Yoka (photo). One 46-year old woman from Takarazuka City went to the local police station after being refused entry to the show. She said she had bought the two tickets, face value ¥7,500 each, for ¥150,000.
• Actor Nishimura Kazuhiko (39) has married calligraphry artist Kunishige Tomomi (27). The couple registered their marriage at the municipal office of Kunishige's home in Yamaguchi Prefecture yesterday. the couple met on the set of a TV show last summer. Nishimura, who first became known through the Lipovitan D TV commercials and became popular following the 2004 Fuji TV drama series "Botan to Bara", divorced actress Tachihara Mai (36) in January 2005.
• Boxing sensations the Kameda brothers scored big in their recent fights. Not only did both flyweight Koki (19) and super-flyweight Daiki (17) win their fights by knockouts, but the TBS broadcast pulled in a peak audience rating of 40.8% in the Kanto region. The number is remarkable given that they were not even title fights. Third brother Tomoki (14) is also an amateur boxer.
Interesting story? Then add it to your favorite social site:







| | |
| --- | --- |
| Ghibli Offers Glimpse of New Movie | May 08, 2006 |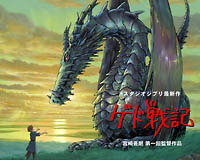 The veil is finally being lifted on Studio Ghibli's latest anime feature. The title song and lead role of "Gedo Senki" are performed by newcomer Teshima Aoi (18). Since February, previews shown at movie theaters nationwide have featured only the song and text, with no mention of who was singing. The studio planned to keep everything under wraps until the official release in July, but was overwhelmed by the number of requests from fans wanting more information. From today, a TV commercial tie-up with Asahi Soft Drinks will feature the song and is the first visual glimpse at the movie and its star. Teshima is described as a tall 18-year old beauty from Fukuoka who is a fan of Louis Armstrong, Fred Astaire and Billy Holliday. She did her recording alone in the studio, buts says "When I realize I'll be standing on stage with (co-stars) Okada Junichi (of pop group V6) and Sugawara Bunta, I get very nervous!" Studio Ghibli's summer releases have continually broken box office records, but the latest film marks the first time that studio founder Miyazaki Hayao (65) has handed the reins over to his son Goro (39). Goro originally said he'd never get involved in the world of anime and worked as a building design consultant. The closest he got to his father's work was designing the Ghibli Museum in Mitaka, west of Tokyo. But the draw of the family business has proved too strong. His first venture is into a world of dragons and a tale that seeks to remind people of what has been lost in the world of today, based on the "Tales from Earthsea" fantasy novels. The final, 1236th cut of the film was completed on Saturday, according to the Studio Ghibli website.
• Hip hop unit Teriyaki Boyz represented Japan at yesterday's MTV Asia Awards show. Broadcast from Bangkok to an estimated 100 million homes across the continent, the show was the biggest exposure yet for the unit led by fashion designer Nigo (35). His "A Bathing Ape" brand, which enjoys huge street cred, is gaining increasing popularity across Asia. Naturally the band appeared on stage wearing BAPE t-shirts and launched into a version of "Heartbreaker", their debut single which was produced by popular French duo Daft Punk. The show was hosted by Kelly Rowland, formerly of Destiny's Child.
• Morning Musume members Konno Asami (19) and Ogawa Makoto 818) have announced that they will be "graduating" from the pop group. The announcement was made yesterday during the final show of their national tour at the Saitama Super Arena. Konno, who celebrated her birthday yesterday, told fans that she is going to go to college. Ogawa plans to study abroad. The group's 30th single, unnamed but due for release on June 21, will be the pair's last.
Interesting story? Then add it to your favorite social site:







| | |
| --- | --- |
| Rocking the Buddha | May 05, 2006 |
Today is Children's Day (Kodomo no Hi), a national holiday and part of Golden Week.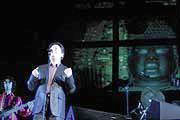 Veteran Rock band Godiego chose a World Heritage Site for their first concert in six years. They played at the Todaiji temple in Nara yesterday as part of an event to celebrate the 60th anniversary of the foundation of UNESCO. The site was designated in 1998 and this was the first rock concert to be held there. 3,000 fans waited excitedly to catch a rare performance by the legendary group, best known outside Japan for the 70s song "Monkey Magic". The song was the theme tune for the TV series "Saiyuki" (shown abroad as "Monkey"). With the 15m-tall Buddha as a backdrop, the group also played such hits as "Gandhara" and "Ginga Tetsudo 999". With the Chinese folk tales that inspired Saiyuki being about ancient Buddhist travelers and Gandhara being an Indian kingdom steeped in Buddhist history, the setting seemed very appropriate. Vocalist Takekawa Yukihide (53) spoke for all five band members when he said that it was an inspirational way to relaunch their career. The band, a rarity in that it is made up of Japanese and foreign members, consists of Takekawa, Mickie Yoshino, Tommy Snyder, Steve Fox and Asano Takami. In their heyday, from the late 70s to the 1985 break-up, they released something like 27 original albums and about 40 in all. They were also the first rock band to perform in China. They reformed briefly in 1999 and played a tour the following year.
Interesting story? Then add it to your favorite social site:







| | |
| --- | --- |
| Korean Stars Still Hot | May 04, 2006 |
Today is the National People's Day (Kokumin-no Kyuujitsu) national holiday, part of Golden Week.
If you thought the Korean boom had cooled off in Japan, think again. Korean star Lee Byung Hun (photo, 35) held a fan event at Tokyo Dome yesterday and no less than 42,000 fans turned out to catch a glimpse. Also in attendance for the 3-hour show were his co-star in the TV drama series "Utsukushii Hibi" (Beautiful days) Choi Ji Woo (30), so popular here she is known as "Ji Woo-hime" or Princess Ji Woo, and several top pop artists.
Here's the latest singles chart (up to May 8).
Tabibito - Ketsumeishi
Dear Woman - SMAP
Junrenka - Shonan no Kaze
Age Age Every Kishi - DJ Ozma
Believe - Ai
Frienger - Otsuka Ai
19-sai - Suga Shikao
Yuruginai Mono Hitotsu - B'z
Real Face - KAT-TUN
Bouken Desho Desho? - Hirano Aya
• Hoping to make it back into the charts soon is T.M.Revolution. The singer will be celebrating his 10th year in showbiz this month and has announced a greatest hits album, "Billion", that will go on sale on June 7. The jacket has been designed by popular art director Sato Kashiwa.
Interesting story? Then add it to your favorite social site:







| | |
| --- | --- |
| Rinka's Sexy Return | May 03, 2006 |

Popular model/talento Rinka (32) is to release her first pop single in 11 years. "Millions Kisses" is to go on sale on the Avex label in July and will include a DVD. The jacket for the new single includes a bikini poster and a selection of sexy photos. Rinka made her singing debut in 1993 but last released anything in 1995. She has been something of a pioneer for the current crop of fashion models who are crossing over to the TV circuit. The timing of the new release is no doubt related to the growing number of singers using sex appeal as their main marketing weapon. The leader in the field is currently Koda Kumi (23), but she's recently been joined by former CC Girls member Aota Noriko (38) and pin-up girl Kumada Yoko (23).
• It was revealed yesterday that TV Asahi announcers Murakami Yuko (27) and Nishiwaki Kyosuke (35) got married on April 29. In a regular corner on yesterday's "Yajiuma Plus" early morning show, Nishiwaki presented the day's newspaper headlines and, red-faced with embarrassment, included one from the sports papers about his own marriage.
• NTV announcer Osugi Kimie (42) is five months pregnant with her first child. She and her husband, who is nine years younger, have been married for four years. Osugi was previously married from 1996 to 2001 to an entrepreneur who was two years younger.
• Actor Odagiri Jo (30) is to make an appearance at Cannes for the second year in a row and the third time since 2003. His new movie "Yureru" will be shown as part of the Director's Week at the 59th Cannes International Film Festival, which runs from May 17-28. The movie, directed by Nishikawa Miwa, is scheduled to open here in July.
Interesting story? Then add it to your favorite social site:







| | |
| --- | --- |
| Return of Kome Kome Club | May 02, 2006 |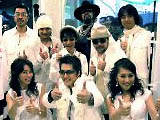 The band with the flashiest names in all of Japanese pop are back! Kome Kome Club, who enjoyed huge popularity in the 1980s and 90s, are making their comeback after a 9-year absence, though only temporarily. They officially launched the comeback yesterday and will be recording and performing only until the end of October, with an album planned for September to be supported by a national tour. The group turned up at Tokyo FM's Spain-zaka radio studio in Shibuya on Sunday, their first appearance together since a farewell concert at Tokyo Dome in March 1997. Led by vocalist Carl Smokey Ishii (46), the group consists of Bon (bass), Ryo-J (drums), Be (guitar), James Onoda, Joplin Tokuno (guitar/keyboards), Flash Kaneko (sax), and dancers Mari and Minako.
• In baseball, the Yomiuri Giants just can't seem to win. Win over fans, that is. Long regarded as Japan's team, the Giants are off to a very good start this season and currently lead the Central League. But according to Video Research, their TV audience rating for April was the lowest ever. The monthly average for Giants night games was only 12.6%, a further decline from last year's record low. The lowest rating for the month was for the Hiroshima Carp game shown on TBS on April 26.
Interesting story? Then add it to your favorite social site:







| | |
| --- | --- |
| Weekend Roundup - Rocking the Anime World | May 01, 2006 |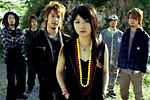 Six-piece rock band High and Mighty Color got a great reception from 2,000 fans Friday at the Shiokaze Con anime festival in Houston, Texas. The event marks their first move into the foreign market, and they performed 8 songs including tracks from their album Goover, which went on sale in the US in March. Their debut single "Pride" is used as the theme for the popular "Kidou Senshi Gundam - Seed Destiny" anime series, which went on the air in the US last month. (See earlier story)
• Johnny's boy band News insist this is not the end. The group played the last concert in their national tour in Sendai last night, and from today are on a forced sabbatical until the end of the year following a series of underage drinking scandals. The six members, including Yamashita Tomohisa (21), ended up in tears as a full house of 9,000 fans screamed out their support. Yamashita returned the encouragement, saying, "We're not breaking up. We'll do our best as solo artists and be back, even stronger, next year." Koyama Keichiro, who turns 22 today, briefly mentioned an accident that happened on Saturday when a female crew member was seriously injured by a speaker that fell onto the stage. She is said to be in stable condition.
• Rapidly rising young star Yamada Yuu (21) and Matsuda Ryuhei (22), son of the late screen legend Matsuda Yuusuke, are to co-star in a movie about yakiniku. The pair appeared at a pre-production PR event in Tokyo yesterday. It will be the first leading movie role for Yamada, a former model who has been appearing in a number of variety shows and TV commercials.
• Veteran singer Kato Tokiko is a surprise addition to the lineup for this year's Fuji Rock Festival. The 62-year old Kato is best known as a chanteuse, and voiced the role of Madame Gina in the Studio Ghibli anime classic "Kuranai no Buta" (Porco Rosso). The character appears in the advertising for kato's latest album of french music. She plans to sing some of her old hits as well as a couple of John Lennon songs at Fuji Rock.
Interesting story? Then add it to your favorite social site: