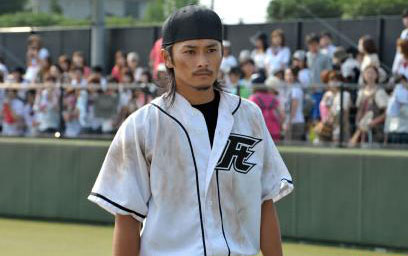 Actor Kawamura Yosuke (27) announced on his blog yesterday that he got married at the weekend. He and a former middle school classmate (26) tied the knot on Saturday, and she is expecting a baby in June. The couple, who were reunited at a school reunion, are already living together in Tokyo but have set no date for a wedding ceremony or reception. They chose Saturday to register their marriage as it was the fifth anniversary of the death from cancer of Kawamura's mother.
Kawamura has been a professional actor since 2001 but got his big breakthrough in 2008 in the hugely popular TBS baseball drama series "Rookies." A movie adaptation of the series was a major hit the following year. Kawamura has landed roles in two drama series this year: Fuji TV's "Tokyo Control," hyped as the world's first 3D TV drama, started last week; and "Nankyoku Tairiku," on the TBS network and starring Kimura Takuya (38), will air in the autumn.
Erika-sama Firm on Divorce
Actress Sawajiri Erika (24) was mobbed by reporters at Narita Airport yesterday on her return from what was described as a brief vacation in Malaysia. Quizzed about her ongoing divorce negotiations with "hypermedia creator" Takashiro Tsuyoshi (46) she said, "The documents are in safe keeping in Spain. We have to wait until a certain date, and then I will file them." The couple spent much of their brief married life in Spain after tying the knot in Japan in January 2009. Sawajiri was accompanied on her latest trip by Takano Yuri (63), owner of a nationwide chain of beauty clinics, who has been her most visible supporter and professional sponsor over the last year.