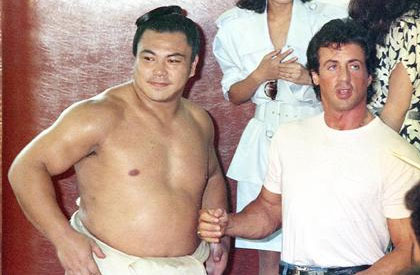 Over the weekend, Rocky star Sylvester Stallone (64) was in Japan for the first time in more than two decades to promote his latest action flick "The Expendables." He hooked up with an old friend from his last trip, former yokozuna (grand champion) Chinofuji (55), now known as Kokonoe oyakata (stable master).
The pair last met in 1988 (photo above), when Chiyonofuji – known as The Wolf – was at the peak of his dominance and Stallone was promoting "Rocky 3." "The last time I saw him he took me to his house. He was in training. I do action in the movies but he does it for real. He's a real superstar," said Stallone. He added, "He looks younger now than he did then. He should be in the movies!"
He also got to watch live sumo for the first time, watching the second-to-last day at of the tournament at Ryogoku Kokugikan in Tokyo, and met current yokozuna Hakuho (25). The Mongolian sumo star lifted up the Hollywood star for the cameras. "He was heavy. I have no arm strength," Hakuho said. Yesterday he went on to win his fourth tournament in a row and is now on a 62-bout winning streak. During this tournament he passed the 53-win mark of Chiyonofuji, and he will have Futabayama's 71-year-old record of 69 in his sights at the next tournament in November.
With sumo's recent troubles and scandals, a bit of Hollywood glitz and PR was very welcome. Stallone was more than happy to oblige, saying he was very impressed by the simplicity of Japan's national sport. "It's so fantastic about the fury of the sport," he said. "It's so easy to follow. The rules are simple. It's why people love it. It's man versus man." The Expendables opens in Japanese theaters on October 16.