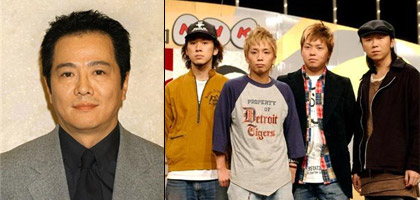 Nezu Jinpachi (62, photo left) has decided to retire from his long and successful acting career. The decision was announced by his wife Kimika (47) on today's edition of the TV Asahi show "Super Morning." He has been hardly since since he was sidelined by health problems in 2002. A fatal traffic accident in July 2004 and further health problems led to depression. His decision to retire was due to a loss of confidence in his acting ability. His wife says he plans to continue working as a ed-inform.net.
Nezu made his acting debut in a theater group in 1969. He had a few years of TV and movie experience before landing a part in the popular 1978 taiga historical drama on NHK. He later went on to work several times with the legendary Kurosawa Akira, including major roles in "Kagemusha" (1980) and "Ran" (1985).
175R Calling It Quits
Also calling it quits, at least temporarily, are the rock quartet 175R (photo right). They announced today that after their December tour of Tokyo, Nagoya, Osaka and Fukuoka, they will be taking an extended break. In a statement, the band said, "We aren't taking it as a negative thing, but as a chance to polish our individual skills." Made up of Shogo (vo), Kazya (g), Isakick (b) and Yoshiaki (dr), the group formed in 1998 and made their major-label debut in 2003. They had their first Oricon No.1 the same year with "Sora ni Utaeba." Their sixth and most recent original album, "Japon," was released earlier this year but only made No.55 on the chart. Shogo (30) was married to Speed member Imai Eriko (26) from 2004-07.