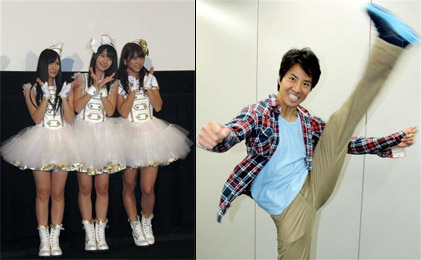 Several stories today with a common theme – making a fresh start.
Three members of the popular female group AKB48 performed in Tokyo yesterday to mark the release of their debut single as the spinoff unit French Kiss. Made up of Kashiwagi Yuki (19), Takajo Aki (18) and Kuramochi Asuka (20), the trio performed "Zutto Mae Kara" at a movie theater before a special screening of a drama by the same title. During a stage interview, Kuramochi told the gathered 400 fans she had been scolded by her father, former pro baseball pitcher Kuramochi Akira (58), after her attempt to throw out the ceremonial opening pitch at Jingu Stadium on Tuesday.
Kane Aims to be the Asian Bond
Actor Kane Kosugi (35) says he hopes the new action role he has lined up will become the Asian version of James Bond. Provisionally titled "Silent Storm," the movie is a joint production between Japan, the US, South Korea and Hong Kong. "In a suit, he will look like a regular office worker. But he's actually a spy and kung fu expert. I want to create a strong hero figure using just the power of kung fu, without CG or wire action." The search is on for a director and scriptwriter, but Kosugi will the role of producer for the first time. He hopes filming will get underway this winter.
Kane, the son of famed Hollywood ninja Sho Kosugi, has been established on Japanese TV for a decade. Though he has appeared in several overseas productions, most recently working on location in China, he has yet to make a major breakthrough internationally. On the private side, he got married to a Hong Kong beauty (32) last November.

A Girl for Hitori, Ohsawa
Comedian Gekidan Hitori (33) and talento Ohsawa Akane (25) became parents for the first time yesterday. Management for the couple (photo left), who got married in February 2009, said the proud parents have named their baby girl Senka. Osawa plans to return to work after a short maternity break.
Hama-chan to Play Rookie Detective
Comedian Hamada Masatoshi (47, photo center) has his first leading role in a TV drama series in 9 years. He will also play a detective for the first time in TV Asahi's "Keiji – Onijima Heihachiro." The title character is a 44-year-old company man who becomes a detective following the death of his sister. With his worldly experience, he brings a new perspective to the fight against political corruption and organized crime. Hamada will be supported by actress Uchida Yuki (35, photo right), who recently played a police role in the summer blockbuster "Odoru Daisosasen 3," and Nishimura Masahiko (49). The drama is adapted from Ikebe Katsumi's manga about a special prosecutor at the Tokyo District Court.