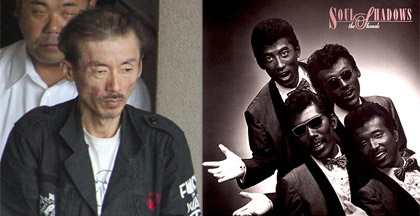 Talento Tashiro Masashi (54) has allowed drugs to destroy yet another attempt to get his life back on track. According to the Kanagawa Prefectural Police, the once hugely popular star was arrested again in the early hours of this morning, this time for possession of cocaine. It is at least the fifth arrest on a variety of charges for the former singer, comedian and TV regular.
Police said that Tashiro was arrested on the spot at 2:10am when he was found in possession of two bags containing cocaine in a parked car in Akarenga Park, Yokohama. The area has increased security as it will be the venue for the APEC summit in November. Also arrested, for possession of stimulant drugs, was a 50-year-old beauty parlor owner Arai Chieko. Tashiro told police that he had bought the cocaine from a DJ about 3 months ago, adding that he had come to Yokohama to enjoy the night scenery and discuss work with Arai. She gave a different account, saying that she had supplied the cocaine to Tashiro.
A juvenile delinquent in school, Tashiro became an overnight star when he and the blackface doo-wop group the Chanels had a chart hit with "Runaway" in 1980. After several years of pop success, Tashiro switched to TV comedy, becoming a sidekick to Shimura Ken. Throughout the 1990s he was one of the most popular stars on TV.
But things started to change in 2000, when he was sent to the prosecutor's office for filming up a woman's skirt with a camcorder. He received a fine for that offense and spent about six months away from showbiz before asking for forgiveness. But within six months he was in trouble with the law again, this time for peeping through the bathroom window of a neighbor's house. A police search of his home turned up stimulant drugs and his arrest led to a suspended prison sentence. Another period away from TV was followed by a more subdued attempt to get back to work, this time as a video director.
The next slipup was a traffic accident he caused in June 2004, injuring a young motorcyclist after making an illegal U-turn. A few months later he was arrested again, for possession of a butterfly knife, stimulants and marijuana. This led to three and a half years in prison. During this time, he was subjected to a media blackout, with his image and voice removed from old recordings and the very mention of his name became taboo.
Since his various scandals first emerged, Tashiro has been something of an anti-hero for the online underground. This support plus jobs on radio and cable TV seemed to be enough to allow him to get some semblance of a career going again after his release from prison in June 2008. He recently published a book that included messages of support from various public figures.
For some celebrities, a stint at a drug addiction treatment facility just doesn't work for them.