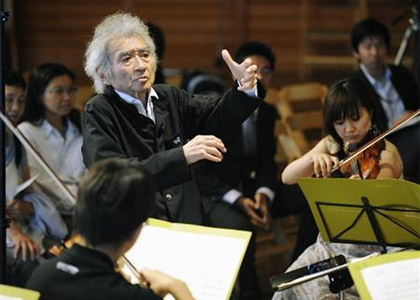 Conductor Ozawa Seiji (74) wants the world top know he has won his battle with cancer. Making his public comeback yesterday, he looked considerably more frail than he did when he revealed his esophageal cancer back in January. Nevertheless he was on the podium conducting a chamber orchestra as they rehearsed for the annual Saito Kinen Matsumoto festival in the resort area of Shiga Kogen, Nagano Prefecture.
Following surgery to remove his gullet in late January, he returned work a week ago to prepare for the festival, which he founded in 1992. At a press conference afterward, he offered words of support to singer Kuwata Keisuke (54), who announced last week that he has been diagnosed with the same condition. Both he and Ozawa were diagnosed at an early stage, vastly increasing their chances of a full recovery. "He's 20 years younger than me, so I'm certain he'll be fine," Ozawa said. "But it's very important to get a regular checkup."
Related stories:
SAS Singer Diagnosed With Cancer (Jul. 29, 2010)
SMAP Announce New Shanghai Shows
After the disappointment of their canceled China show in June, SMAP are scheduled to perform there in October. The group were to play their first ever overseas concert at the Shanghai World Expo on June 13 but organizers canceled the appearance at the last minute due to crowd safety and security concerns. The group have just embarked on their first nationwide tour of Japan in two years and will head over to China for two shows at the Shanghai Gymnasium on October 9 & 10.
X Japan Add D.C. to Tour
X Japan have added a Washington D.C show to the lineup for their North American tour. The announcement came as band leader Yoshiki and guitarist Sugizo performed a couple of songs at the "Otakon2010" convention in Baltimore on Saturday. With Yoshiki on piano and Sugizo trading his guitar for a violin, they played a couple of their most popular ballads, "Endless Rain" and "Forever Love," for the audience of 10,000.