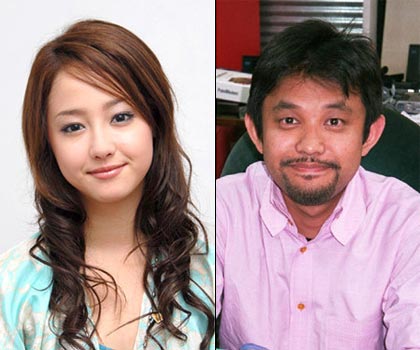 Actress Sawajiri Erika (24, photo left) has made her first formal statement regarding the recent rumors of her impending divorce. On her official website yesterday she wrote, "I wish to formally state that I, Sawajiri Erika, have determined to divorce my husband, Takashiro Tsuyoshi (45, photo right), and we are in talks under the auspices of my family." The member of her family is believed to be her elder brother, a former actor who now runs a restaurant in Tokyo. The Sankei Sports newspaper reports that a source close to the actress told them that she talked about divorce with her former management agency at least three times before she was dumped by them last September. Last month it was reported that she had set up a personal management company in Spain, but it now seems that was more to do with Takashiro's plans to base himself outside Japan. Sawajiri says that she has been taking vocal lessons and that after the divorce she will resume her acting and singing careers full-time under the Avex entertainment company.
For his part, Takashiro told Sankei Sports he does not want a divorce and has been trying unsuccessfully to meet and talk with his wife. There have been reports of his having debts and other financial problems.
Earlier stories:
Erika-sama Headed For Divorce? (Apr. 26, 2010)
Ohmori Nao, Asami Reina Have Lots in Common
Actor Ohmori Nao (38) and actress Asami Reina (26) are romantically involved, according to today's issue of the weekly magazine "Friday." The pair were recently spotted leaving Ohmori's Tokyo home and out on the town. Both stars have recently seen their ex's tie the knot. Ohmori was thought to be on the verge of marriage to Puffy member Yoshimura Yumi (35) until they split up last autumn. She married another guy on New Year's Eve. Meanwhile, Asami ended a two-year relationship with actor Moriyama Mirai (25) last summer. He announced a shotgun wedding just last month.