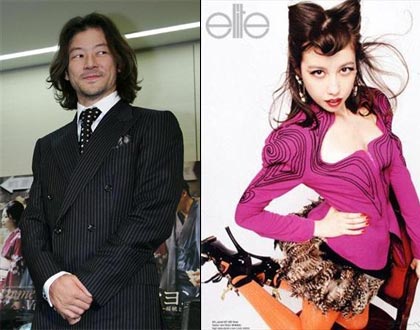 Actor Asano Tadanobu (36, photo left) has been romantically linked with model Diana Chiaki (22, photo right), according to this week's issue of weekly magazine "Friday." Asano and singer Chara (42) took the showbiz world by surprise when they divorced in July of last year, and that news was quickly followed by rumors of another woman. It turns out that she was Chiaki, whose mother is Japanese and father is Irish-American and who is with Elite Model Management in Tokyo. The pair were spotted at a Tokyo restaurant recently, with Chiaki returning to Asano's home in his Mercedes. Management for both celebrities refused to comment on the story.
Asano and Chara were married for 15 years, and she has custody of their two children. Shortly after the divorce, she released the single "Breaking Hearts."
Earlier stories:
Chara Sings of Split With Asano (Jul. 27, 2009)
A Speedy Wedding for Shimizu
Olympic speedskating gold medalist Shimizu Hiroyasu and fashion model Takagaki Reiko (30) announced on their blogs yesterday that they are married. The newlyweds were spotted by reporters at Narita Airport yesterday evening as they headed off for their beach wedding ceremony in Hawaii. A beaming Takagaki was more than happy to show off her Harry Winston diamond ring. A source close to the couple said they registered their marriage at a Tokyo municipal office on March 31, and they plan to hold a large reception at the Hotel New Otani in Tokyo in July.
Shimizu won the 500m speedskating gold at the Nagano Olympics in 1998. Takagaki is a popular model for the "AneCam" fashion magazine.