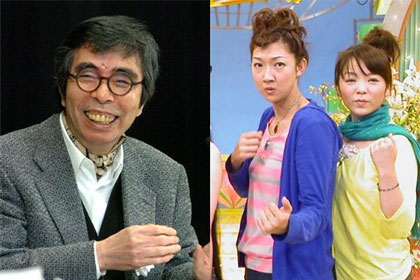 Inoue Hisashi (photo left), one of the major figures in modern Japanese literature, died of lung cancer last Friday night. He was 75. A playwright, screenwriter and novelist, he was best known for his comic fiction. His most famous works include the 1981 novel "Kirikirijin" (The People of Kirikiri) and the classic 1960s NHK puppet show "Hyokkori Hyoutanjima." His beginnings were a little more colorful though – his father died when he was four and he was brought up in a Christain children's home. While a student at Sophia University in Tokyo, he made his literary debut writing scripts for the famous France-za strip club in downtown Asakusa.
Inoue started collecting awards early on and they included the top Naoki Prize in 1972 for his novel "Tegusari Shinju" (Handcuffed Double Suicide). "Kirikirijin" earned him the Yomiuri Literary Prize, the Japan Science Fiction Award and the Seiun Award. He served as president of the Japan P.E.N. Club from 2003 to 2007.
According to his family, he was diagnosed with lung cancer last October and started undergoing treatment the following month. He made enough of a recovery to be back at work in February and his own theater group, Komatsu-za, was planning to put on a new play in August.
Happy Days for Hokuyo Duo
Just days after her comedy partner got engaged on a TV show, Ito Saori (35, photo right) has gone one better. On last Wednesday's edition of the "Haneru no Tobira" comedy show, Abukawa Mihoko (35, photo center) proposed to her chef boyfriend and he said yes. But Ito and Toray Arrows captain Shinoda Ayumu (30) are expected to actually tie the knot as early as today. The 193cm Shinoda spoke to reporters yesterday after Toray played in this season's 3rd-place playoff. He said they made the decision to get hitched after Toray won the Japanese Volleyball Premier League last year. Ito is likely to reveal her feelings on this week's edition of "Haneru…" She and Abukawa make up the popular duo Hokuyo.
Earlier story:
Abu-chan's Wacky Wedding Ring (Apr. 8, 2010)
Delico Kumi Ties the Knot
Also newly married is Kumi (33) vocalist of the pop band Love Psychedelico. She announced on her blog at the weekend that she and her hubby, who she describes only as a 43-year-old "ippanjin" (someone not in showbiz), tied the knot on March 9. Management for Kumi said the couple were dating for about a year and have no plans for a formal wedding or reception. Love Psychedelico are scheduled to start a nationwide tour on June 26 in Fukuoka, their first since 2007.