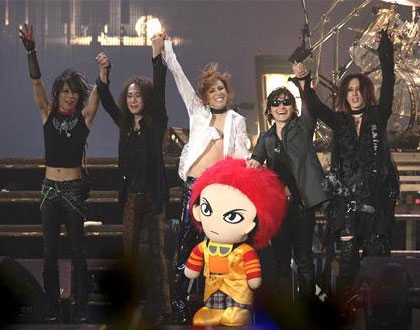 It's finally official – X Japan have been formally named as the only Japanese artists in the lineup of this year's Lollapalooza rock festival in August. In what will be the band's long-awaited first concert appearance in the U.S., leader Yoshiki said yesterday that they will be performing new material from an album now in the works. Sources say the album will be a mix of new songs and fan favorites such as "Rusty Nail," and will be all in English. Due for a summer release, it is the band's first original album in 14 years.
Though the band recently played on a rooftop in Hollywood as part of a promotional video shoot, American fans have had to wait more than 20 years to see X Japan live on stage. Concerts have been announced in the U.S. and Europe several times over the years but have never happened, due to a variety of contractual, medical and personal reasons. When they take to the stage in Grant Park, Chicago in early August, it'll be the realization of a dream for the band members themselves, though sadly too late for the late guitarist Hide, who died in 1998. After a hiatus of ten years, the band reunited in 2008, with Hide appearing on stage as a "hologram." Though he has since been replaced in the lineup by former Luna Sea guitarist Sugizo, it will be interesting to see if he "appears" at Lollapalooza.
This year's festival lineup also features the likes of Green Day, Lady Gaga and the eagerly awaited reunion of grunge pioneers Soundgarden.
Earlier stories:
Yoshiki Says X Japan Will Play Lollapolooza (Feb. 2, 2010)
Otsuka Ai Cancels Appearances
J-pop star Otsuka Ai (27) has canceled all upcoming professional engagements while she undergoes testing for suspected acute abdominal condition, which is often caused by appendicitis. Management for the popular singer said she was admitted to hospital yesterday after suffering severe pains, and they have canceled several scheduled radio appearances over the rest of the week.
New Member of the Watanabe Clan
Actor Watanabe Ken (49) is a grandfather for the second time. His son, Dai (25), announced on his blog that his wife gave birth to a baby girl at the end of March. Married since March 2008, they had a son the following August. Dai stars in the popular TV Asahi detective series "Rinjo," which returns for a second season from tonight.