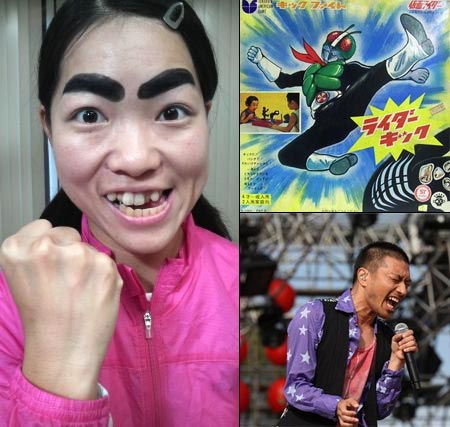 Though the national election (and Minshuto's historic landslide victory) was the real story of the weekend, on the entertainment side the big show was NTV's 24-hour charity telethon. The main event of the annual show is an endurance run by a celebrity, with their arrival at the studio timed to bring the show to a climax. This year it was the turn of up-and-coming talento Imoto Ayako (23, photo left), who faced the grueling task of running three full marathons in 24 hours. But by the time of her arrival at the Tokyo Big Site studio at 9:12pm, the show had been over for 15 minutes and the network had switched to live coverage of the election results. They briefly showed a video of Imoto's arrival and tearful reception from the assembled celebrities. To be fair to Imoto, she approached the capital at the same time as Typhoon No.11, and the wind and rain washed away her trademark thick eyebrows. The 126.585km she ran in 26 hours and five minutes beat the 113km record for a female runner set last year by comedienne Edo Harumi.
• Actor Karato Ryo (44) was recently arrested for a drunken outburst at a Saga Prefecture police station, it was revealed at the weekend. Best known for his role as Kamen Rider G4 in a 2001 movie, Karato kicked in the glass door of the station in Otsu City at around 2am on August 23. He acknowledged the offense, saying that he was very drunk at the time, and was released the next day. According to his management agency, Karato is a licensed kick boxer. And of course the masked Kamen Rider action heroes are known for their famous Rider Kick (photo top right).
• Following his prosecution for drug use, actor Oshio Manabu (32) is to be released on bail this morning. Though prosecutors challenged the decision, saying Oshio had repeatedly changed his testimony and tried to conceal evidence, the Tokyo District Court approved the bail last Friday. The ¥4 million in bail money has been paid by an entrepreneur friend of the actor, who is said to be planning to live at his father's apartment in the western Tokyo suburb of Tama.
• Sun Music have said they will bear the financial burden caused by the recent drug arrest of actress/singer Sakai Noriko (38). The management company released Sakai last week as she faced prosecution for possession of amphetamines. But CEO Aizawa Masahisa (60) says that the company will take responsibility for compensating commercial sponsors, record companies and others who have suffered financial losses totaling around ¥500 million. Sakai's fee for commercial appearances were around ¥30-40 million, and she had two at the time of her arrest earlier this month (Toyota and pharmaceutical company Arax). Victor Entertainment have shelved the September release of a greatest hits CD and DVD, at a loss of about ¥50 million each. Sakai starred in a movie made as PR for the new lay jury system, and about 190,000 copies have been withdrawn from regional courtrooms and legal office nationwide at an estimated cost of ¥70 million. The biggest loss is thought to have been incurred by trading company Itochu, who handled Sakai's fashion brand "PP rikorino." They removed a range of some 150 items from stores at a loss of about ¥250 million.
• Popular rock band Ulfuls played what might be their last ever concerts at the weekend. The band, who announced in July that they were taking an indefinite break, played two shows for 36,000 fans in Osaka at the memorial park of the 1970 World Expo. They performed 25 songs, including their biggest hits "Guts da ze!!" and "Banzai – Suki de Yokatta." Those songs helped the quartet, formed in 1988, make a breakthrough in the mid-1990s. They remained popular largely due to their charismatic frontman Tortoise Matsumoto (42, photo bottom right), who released his first original solo album last month.