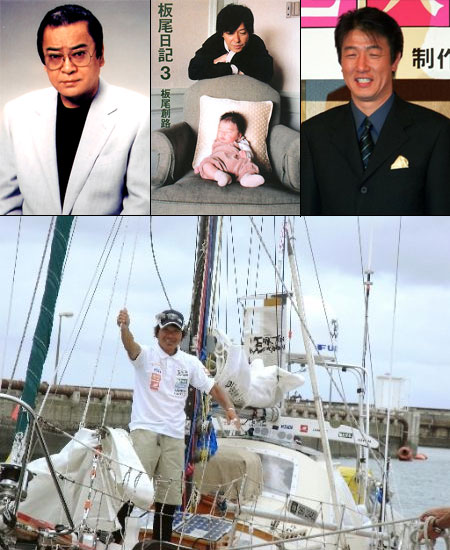 Here's a quick roundup of the top news from the Obon holiday break.
A private funeral service was held yesterday for actor Yamashiro Shingo (photo top left), who died of pneumonia on August 12. He was 70. The funeral in his hometown of Kyoto was presided over by his younger brother as his daughter, actress Minami Yuka (42), chose not to attend. His only child, she became alienated from her father following his second divorce in 1999, when she said his womanizing had made her lose all respect for him. Yamashiro, once a major star in samurai and yakuza movies, entered a facility for the elderly in June of last year.
• Comedian Itao Itsuji (46, top center) is in a state of shock following the sudden death of his baby daughter. The cause of death of 22-month-old Emi is unknown. Itao is renowned as a doting father and he used a photo of himself and his only child on the cover of a recently published book. He and his wife have been married since 1998. Itao and his comedy partner HonKon debuted as the Yoshimoto comedy duo 130R in 1986. They found nationwide fame in the early 1990s on the "Downtown no Gotsu Ee-kanji" show.
• Comedian Hazama Kampei (60, bottom) has completed the trans-Atlantic leg of his Earth Marathon. An experienced endurance runner, he is seeking to be the first person ever to run and sail around the globe. He set off from Osaka last December, running about 600km to Tokyo before sailing the Pacific and then running across North America. He landed at Le Havre in northwestern France on August 16, after 33 days at sea during which he turned 60. He will set off across northern Europe on the 22nd and aims to be in Copenhagen in October when the venue for the 2016 Olympics is announced. Tokyo is one of the candidate cities.
• Actress Komura Hiro (43) was on live TV this week talking about her divorce from actor Fuse Hiroshi (51, top right). The couple were married for 17 years and have three sons. Tono Nagiko (29) didn't manage to last quite as long. The actress announced on her blog this week that she and her company employee husband (27) divorced last month, just 72 days after tying the knot. Former top Takarazuka actress Suzukaze Mayo (48) has declined to comment on rumors of her ongoing divorce negotiations. She and former Japan rugby star Imaizumi Kiyoshi (41) married in 2004.
• And though there were no major new developments, the news over the last week continues to be dominated by the drug arrest of actress/singer Sakai Noriko. There have been revelations of where she hid out while on the run for 6 days, and the former lawyer and his brothers who helped her may face charges. Sakai is still in detention but has yet to be formally charged.