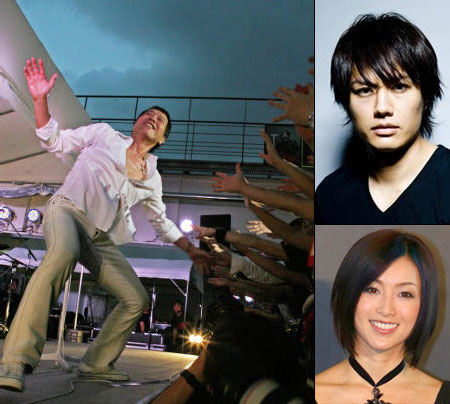 Rocker Yazawa Eikichi (photo left) may be on the verge of turning 60 but he's trying to keep things fresh. Yesterday he performed the first ever in-store live show of his 34-year solo career at Tower Records in the Shinjuku district of Tokyo. With a huge and loyal following, Ei-chan has no trouble filling the biggest venues – indeed he has a show lined up next month at Tokyo Dome. But as part of the promotion for "Rock 'n' Roll," his first new album in four years, he chose to play for 300 fans on the roof of the record store. The album is the first released on the Garuru Records label that Yazawa set up in May 2008 after 20 years with EMI Music Japan. Yesterday's 30-minute show, which he described as like a "second debut," included the new single "Cobalt no Sora." Though Yazawa has his landmark "kanreki" (60th birthday) on September 14, he drew an audience made up mostly of people in their 20s and 30s. Similarly, he chose to play last month's "ap bank festival", an outdoor rock event organized by Mr Children vocalist Sakurai Kazutoshi (39) and appealing to a younger crowd.
In the ongoing celebrity drug cases – a former Tokyo club hostess has said that actor Oshio Manabu's sex and drugs lifestyle goes back well beyond his recent arrest. She told the weekly magazine "Friday" that she had visited Oshio (top right) in the U.S. where he was based. She said she had feared for her life when she passed out after several days of drug-fueled sex at his hotel. She claims that Oshio supplied the drugs and that she took them at his insistence. This runs contrary to his already inconsistent testimony following his arrest for use of MDMA (ecstasy). He has variously said that he got them from a friend, and that they were supplied by the woman who was later found dead at the Roppongi Hills apartment that Oshio regularly used as a "play spot."
Meanwhile, in the case of actress/singer Sakai Noriko (bottom right), tests on hair samples have revealed traces of illegal drugs, though not enough to determine the length or regularity of her habit. She has already admitted to drug use, but she says it was infrequent and only started about a year ago. Her arrest on August 8 came after she had been missing for several days, by which time a negative urine test was inconclusive.