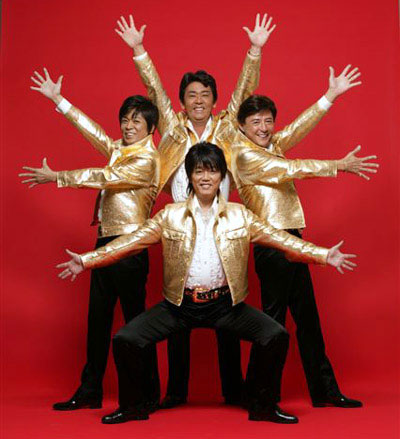 Singer Aoyama Takashi (photo left) died of liver cancer at a Tokyo hospital yesterday morning. He was 57. Lead vocalist of the idol group Four Leaves, Aoyama was one of the first idols produced by the now dominant Johnny's Jimusho talent agency. Just last year the group made a comeback and they are currently in the middle of a concert tour. Aoyama first told his friends about his battle with cancer last October, but insisted on performing in between regular hospital visits for treatment. He had hoped to see the tour through to the end in March, after which the group were to break up for good. Aoyama is the second major music veteran to be claimed by cancer this week – Tempters drummer Oguchi Hiroshi died on Sunday at the age of 58.

Earlier stories:
Four Leaves "Taabo" Battling Cancer (Jan 19, 2009)
Oguchi Hiroshi Dies of Cancer (Jan 27, 2009)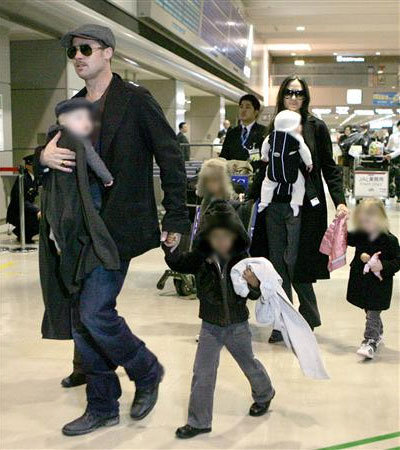 The Pitt family arrived en masse at Narita Airport this week. The media got a rare chance to photograph Brad Pitt (45), Angelina Jolie (33) and all six of their children as the Hollywood stars came to town on Tuesday night for some PR work. Pitt attended an event in Tokyo yesterday to promote "The Curious Case of Benjamin Button," for which he has received an Oscar nomination. Asked what kind of dramatic events he has experienced in his own life, he said, "I think it's been well documented that I have six children. It doesn't get much more 'dramatique' than that!" He had his own question for reporters, asking where he could take his family for a fun day out before tonight's Japan premiere. Jolie has also been nominated for an Oscar, for her role in "The Changeling."
• Talento Yamamoto Mona (32) has a new boyfriend – and this time he's not married! She is said to be dating a 28-year-old president of a property investment firm headquartered in Tokyo. Both Yamamoto and her Office Kitano management agency have confirmed the relationship, saying they met around the Golden Week holiday last year. Her affair with married baseball star Nioka Tomohiro was revealed last July, so it does seem like she was active, to say the least.