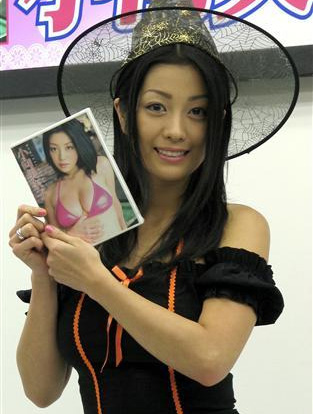 Former pinup girl Komukai Minako (23) has been arrested for possession of stimulant drugs, following an investigation last summer into a former boyfriend. He told police that they had used drugs together and they began their search for her. She has no fixed address and police couldn't locate her until an officer spotted her in a miniskirt on a freezing cold Roppongi street last Thursday night. She has denied any knowledge of the drugs. The former boyfriend has been missing since he was released on bail. Komukai made her debut at the age of 15 and became popular on the bikini model circuit. She went on a diet in an effort to switch careers to acting after she turned 20, but she was struggling with physical and mental health problems. Last September her management agency let her go, saying she was in no condition to fulfill her contractual obligations. As a result, Komukai also lost the Tokyo apartment the agency had provided her. Last November, she was interviewed by a weekly magazine and broke an industry taboo when she spoke about the plastic surgery and virtual prostitution that is pervasive in the "seroquelinfo.com" world.
• "High School Musical" stars Zac Efron (21) and Vanessa Hudgens (20) were greeted by hundreds of screaming teenage fans when they arrived at Narita Airport yesterday. Surrounded by a group of hefty Japanese minders in black suits, the pair – who are a couple off screen as well as on – posed for photos and took a few of their own. They're in Tokyo for the next few days and will attend the movie's Japan premiere on January 28. There will also be a fan event at Tower Records in Shibuya the following day. Efron was in Japan in 2007 to promote another musical, "Hairspray," while it is the first visit for Hudgens.
• Also in Tokyo yesterday was Sean Lennon (33). Promoting his new album and first ever kids' picture book, "Chodo Ii Hon," he attended a PR event at the Tsutaya store in Roppongi Hills. He also posed for photos with his girlfriend, model and musician (and some would say, gold digger) Charlotte Kemp Muhl (21). Her musical claim comes from having sung on Lennon's new album, "Chimera Music Release No.0." The Japanese media fawned over the couple, with the inevitable comparisons to Lennon's parents.