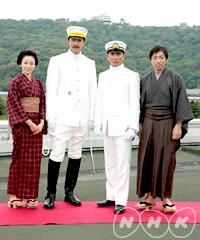 In a very rare move, it seems that this year's taiga drama series on NHK is to end a month early. NHK's annual historical drama has aired on Sunday nights for 50 episodes the last couple of years, but "Tenchijin" will run for only 47. Tenchijin, with an all-star cast led by Tsumabuki Satoshi (28) as medieval retainer Naoe Kanetsugu (1560-1620), got off to a good start last weekend with an audience rating of 24.7% in the Kanto region. But yesterday NHK announced that another major drama series will air in the Sunday night time slot from November 29 to December 27. The cast and large scale of "Saka no Ue no Kumo" was first announced back in November 2007 when filming began, and the series is being shot on 18 locations around Japan as well as Russia, China, France and the U.K. Starring Abe Hiroshi (who's also in Tenchijin) as the famous general Akiyama Yoshifuru (1859-1930), Motoki Masahiro, Kagawa Teruyuki and Kanno Miho, it is based on the historical novel by Shiba Ryotaro (1923-96). This year's five episodes will actually complete the first part of the series. The second series of four episodes will air in the autumn of 2010, while the third and final part will be shown a year after that. An NHK spokesman said that the plan to show the drama in the usual taiga time slot was to ensure that it got the maximum audience exposure and was made well before Tenchijin started.
&$#149; Pop duo Chage and Aska are calling it quits after a 30-year career. The pairing of Chage (51) on guitar and Aska (50) on lead vocals were one of the biggest J-pop acts of the 1980s and 90s, with million-selling hits such as "Say Yes" and "Yah Yah Yah." They plan to formally announce the split next week and are both be planning to continue their solo careers. Their last live performance together was an acoustic show on Christmas Eve 2007. Aska has a major concert tour scheduled for this spring. Last year Chage resumed his solo career after a 10-year hiatus and became a father for the first time in November. He has a Tokyo concert scheduled for April.
&$#149; Actor Muta Teizo died late last night at a Tokyo hospital. He was 80. A veteran supporting actor on TV dramas and in movies, he is best known for his role in the "Ken-chan" series that ran throughout the 1970s.
&$#149; Actress Sawajiri Erika (22) and media creator Takashiro Tusyoshi (44) got married on January 7, according to the Sankei Sports newspaper today. The couple chose the auspicious taian day on the traditional calendar to register their marriage, while their formal ceremony will be held at Meiji Jingu shrine in Tokyo on January 19.