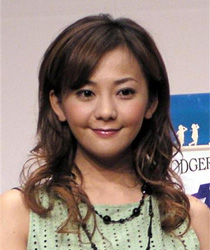 It seems that singer Kahara Tomomi (34) is still battling her demons. It was revealed yesterday that she was taken to a Tokyo hospital last weekend after a suspected drug overdose. She got into a taxi at Kinshicho station about 3am on Saturday but was too incoherent to give any directions to the driver. He took her to the nearest police station, where they called for an ambulance. Kahara told police she had taken an overdose of prescription tranquilizers and doctors diagnosed her as having a mild case of acute medicinal poisoning. One of the top J-pop performers of the mid-1990s, Kahara's downward spiral started after her romantic relationship with producer Komuro Tetsuya (50) ended. She tried to gas herself at home in January 1999 and a few months later was found collapsed outside her home. There were signs of a comeback a few years ago but she proved to be unstable and was let go by her management agency in June 2007.
• And of course Komuro is having troubles of his own. Arrested last year for ¥500-million copyright fraud, his first court appearance is scheduled for tomorrow. The weekly magazine "Flash" reports in today's issue that his family's ¥100-million home in the western Tokyo suburb of Fuchu has been put up for auction. Komuro is said to have defaulted on payments of the ¥50-million mortgage he took out ten years ago to refurbish the house, first bought by his father in 1967, and it was seized by the bank in December.
Happier news for actress Sawajiri Erika (22) and "hypermedia creator" Takashiro Tsuyoshi (44), who held a traditional wedding ceremony at Meiji Jingu shrine in Tokyo yesterday. About 1,000 fans and onlookers clambered for a look at the couple, who made use of a corridor inside the shrine's main building rather than the usual pathway outside. Both families had placed restrictions on media access and there were about the same number of security staff as usually handle the popular sumo-related events that take place at the shrine. After the ceremony a group of ten men, some clearly bodybuilders, wearing Erika-sama masks appeared at the shrine, though what their purpose was remains a mystery. When reporters asked if they were fans, they replied simply "Betsu ni," the notorious phrase used by the actress during a grumpy PR appearance in 2007.
Earlier stories:
Celebrities in Damage Control Mode (Oct 2, 2007)