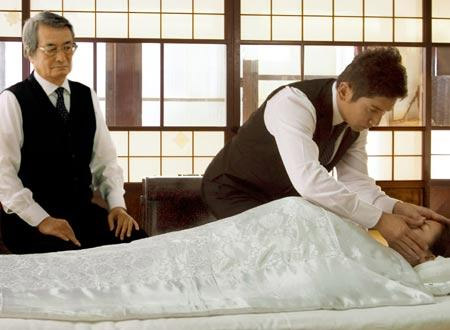 The movie "Okuribito" (Departures) has been given the Oscar nod. One of Japan's critical successes of last year and a hit at international festivals, the movie has been chosen as one of the five nominees for the best foreign film at this year's 81st Academy Awards. No Japanese movie has ever received the prize. Directed by Takita Yoji (53) it is a moving and often humorous drama of human dignity and family bonds. Motoki Masahiro (43) plays an out-of-work cellist who leaves Tokyo to return to his hometown to become an undertaker, ritually cleansing and placing the deceased into coffins at funeral ceremonies. Okuribito, which also stars Hirosue Ryoko (28) and veteran Yamazaki Tsutomu (72), has so far won 34 awards both domestically and overseas. It won the Grand Prix of the Americas at the Montreal World Film Festival last year, and Motoki won the best actor award for the second time at last week's 51st Blue Ribbon awards. He and other cast and crew are planning to attend the awards ceremony, to be held in Los Angeles on February 22. This year's only other Japanese Oscar nominee is "Tsumiki no Ie," an animated short by Kato Kunio (31).
Earlier stories:
Okuribito Takes Chinese Movie Awards…Maybe (Sep 15, 2008)
Japanese Win Big at Montreal Film Festival (Sep 3, 2008)
• Popular Johnny's Jimusho idol group KAT-TUN are to become the first artists to play seven straight nights at the Tokyo Dome. The concerts will be during the baseball season, so they had to fit into the schedule of the Yomiuri Giants who are based at the venue. With four days of preparations and rehearsals, the venue will be taken over for 11 days. The seven shows, on May 15-21, will feature a different theme each night, probably in the hope that repeat attendance will help shift the 385,000 tickets. The one-week run will extend the record of four consecutive nights held by Sting (in 1988) and KAT-TUN themselves. The six-member group are all in their early 20s and age-wise they are one step behind fellow Johnny's artists Arashi.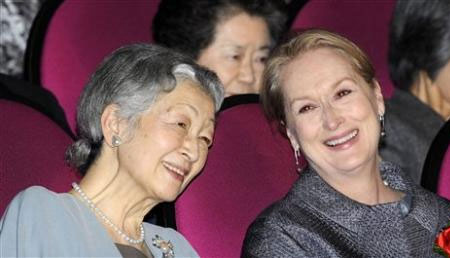 Also in town yesterday was Hollywood star Meryl Streep (59), her to promote the ABBA-based musical "Mamma Mia!" On her first visit to Japan in 12 years, she also got to meet Empress Michiko, who attended the movie's premiere.
• Paris Hilton (27) was – as usual – fashionably late for the 11am opening of a new boutique in central Tokyo yesterday. She kept everyone, including former baseball star Shinjo Tsuyoshi (36), waiting 45 minutes at the Bliss Boutique on Omotesando boulevard. Her excuse was that she overslept.