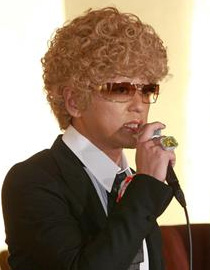 Publicity hound DJ Ozma held an "emergency" press conference in Tokyo yesterday and announced his imminent retirement from show business. His last single "Masurao" is due for release on December 3 and he will play a farewell concert at Yokohama Arena on December 13. Following the release of the album "I Love Party People 3" on December 31, he plans to call it a day. "I want to produce talented artists and do collaborative projects," he said. "And next year I plan to travel a bit." He presented a part-time video rental store worker as the new DJ Ozma. Very little is known about the man behind the Ozma character, the same guy who called himself Ayanokouji Sho as the frontman for "tsuppari" rock group Kishiden. But he has been able to ride a wave of popularity and controversy for the last couple of years. The success of his 2006 single "Age Age Every Knight" earned him a spot on the prestigious "Kohaku Uta Gassen" an annual live song contest shown on NHK every New Year's Eve. But Ozma and his female dancers performed in body suits that made them look naked, causing a huge public outcry and apologies from Toshiba EMI. Yesterday he made one last appeal to NHK to allow him back on the show, though that is very unlikely to happen. Recently, Ozma teamed up with comedy duo Tunnels to "produce" a trio of "American" R&B female singers, claiming they were discovered in Las Vegas (it is actually the three men in drag).
Earlier stories:
Tunnels, DJ Ozma "Discover" Yajima Biyoshitsu
• Actor Murano Takenori (63) recently caused a minor traffic accident in the capital, according to a police report yesterday. On the afternoon of November 24 Murano ran a red light in Nakano Ward and hit a taxi, causing slight injuries to the driver. He is likely to be prosecuted for traffic law violation and accidental infliction of injury. "I was doing maybe 20 or 30km/h so I thought I'd managed to stop just in time," the actor said. "But when I got out I saw scrapes on the taxi and my own bumper was dented." Murano became hugely popular back in 1972 when he played a passionate teacher in the NTV school drama series "Tobidase! Seishun." He was a reporter for several years on the Fuji TV cooking show "Kuishinbo! Banzai" and is a regular dubbing artist for roles played by Bruce Willis.
• Announcer Akae Tamao (33) revealed during her regular spot on the live TV Asahi show "Super Morning" that she recently got married. She and a fellow Asahi employee (36) tied the knot on November 23.