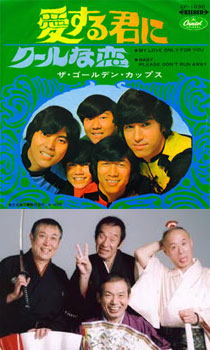 Japan lost a couple of stars from a bygone age in the last few days. Dave Hirao, vocalist of the group The Golden Cups, died yesterday of esophageal cancer. He was 63. The Golden Cups were one of the biggest acts of the "group sounds" scene of the late 1960s. They are best known for such hits as "Nagai Kami no Shojo" and "Aisuru Kimi Ni." They were heavily influenced by western music and most band members took on western names, though only guitarist Kenneth Ito had any foreign blood. Keyboard player Mickey Yoshino went on to form the hugely successful Godiego. The band reformed for an NHK special and some concerts in 2004.
Meanwhile, comedian Maeda Takechiyo of the comedy group Chambara Trio died on Sunday night of stomach cancer. He was 55. Real name Miyakawa Sadanori, he was a company employee before taking to the stage as one half of a comedy duo in 1980. He joined Chambara Trio, which has been going since the early 1960s, in 1994. As the name suggests, the group's comedy is based on chambara, the sword-fighting samurai style of action movies.
• The daughter of one of Japan's top comedians is making her debut as an actress in an upcoming joint U.S.-Japanese movie. "The Harimaya Bridge" stars Bennet Guillory, Danny Glover (who's also executive producer) and Takaoka Saki. It's the story of an African American man who travels to rural Kochi prefecture to claim some family items after the sudden death of his estranged son. Honoka (19), the daughter of Ishibashi Takaaki (47) of the comedy duo Tunnels (profile), plays a key supporting role. Directed and written by Aaron Woolfolk, it's due for release next summer.
• American pop legend Carole King (66) gave her first solo concert in Japan in 18 years yesterday. She played at the Orchard Hall in Shibuya, Tokyo and will make a guest appearance on the "SMAPxSMAP" Fuji TV variety show on November 17.
• Talento Sakashita Chiriko (32) announced to the media by fax yesterday that she had her first baby in her hometown of Kyoto earlier this month. She and her TV cameraman husband (29) married in January. She says she plans to resume her career in the spring.
• Singer Kato Miliyah (20) has made the top of the Oricon album chart for the first time. Her new hits album "Best Destiny" entered the chart at No.1. On top of the singles chart are Johnny's idol group Arashi with "Beautiful Days."