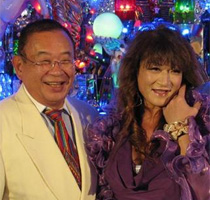 A former member of the vocal group Toshi Itou and Happy & Blue held a press conference yesterday to announce that he had undergone a sex change operation. Takeshita Kousuke (36) worked as a host for about a year before joining the group from 1995 to 2004, and the event was held at a popular host club in the Kabukicho entertainment district of Tokyo. Since quitting the group, Takeshita lost touch with the other members as he underwent surgery and ongoing hormone treatment, and only contacted group leader Toshi (68) at the end of October. Toshi said he had been surprised by the news but insisted that he would helping Takeshita launch a solo singing career next year with the stage name Katharine. Last year, singer Nakamura Ataru (23) became the first artist with gender identity disorder to perform on NHK's annual "Kohaku Uta Gassen." With reportedly Toshi still heavily in debt (in the late 90s his debts were around ¥1.3 billion), he would no doubt welcome a chance to make a comeback with his group. Their biggest hits were in the mid to late 1970s.
• Enka singer Jounouchi Sanae (40) faces prosecution for a recent traffic accident, it was revealed yesterday. Real name Kimura Sanae, she is a former member of the hugely popular 80s idol group O-Nyanko Club. She was exiting an alleyway next to the Russian embassy in central Tokyo on the evening of November 6 went she hit a bicycle ridden by a 55-year-old American woman. The woman, described as professor at a public university, is still hospitalized with a broken collarbone.
• Fuji TV announcer Sasaki Kyoko (35) got remarried yesterday. She and her new husband, a securities company employee and a graduate of Osaka University, visited their local municipal office in Tokyo after work and registered their marriage. For Sasaki's second marriage, they chose the auspicious November 11 (11/11) which is also a "taian" day on the traditional calendar. She announced her marriage plans and pregnancy at the end of October. The couple, who were introduced by friends in March, are already living together in Tokyo. They are planning to hold a wedding ceremony in the spring and are looking forward to the arrival of their first child next May.