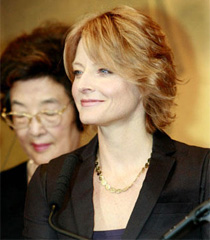 A couple of Hollywood stars have been in town this week. Jodie Foster (44) attended the Japan premiere of "The Brave One" at the Roppongi Hills complex in central Tokyo last night. She took her time with TV interviews and signing autographs for fans, taking 20 minutes to walk the 100m carpet, which was yellow rather than red. She told the 700 fans, "I've been to Tokyo many, many, many times. Since I was 13. The first time I came, I fell in love with Tokyo." (By the way, the photo shows Foster at a press conference, flanked by Toda Natsuko. Toda interprets for most visiting Hollywood stars and does the subtitles for many of the big movies). The movie opens on October 27. Meanwhile, Matt Damon (37) flew into Narita Airport on American Airlines yesterday, and was met by about 150 fans who sang him a belated Happy Birthday (his birthday was October 8). He's here to promote "The Bourne Ultimatum", which has it's premiere tonight and opens in theaters on November 10. It's his first visit in almost three years, the last time being to plug "Ocean's 12".
• Tickets will be like gold dust for two shows by British rock band The Police, who announced their Japan concert schedule yesterday. We reported here on Japan Zone back in March that the band are coming to Japan for the first time in 27 years (they canceled a 1983 show at Nippon Budokan), and they will play Kyocera Dome in Osaka on February 10 and Tokyo Dome on the 13th. Recently reformed 30 years after their debut and 23 years after they split, their world tour started in Canada in May. Sting, Andy Summers and Stewart Copeland are performing without any backing musicians, but will be supported in Japan by Fiction Plane, with Sting's son Joe Sumner (30) on bass and vocals.
• Talento Sakakibara Ikue (48) recently had her bag stolen from her car, according to police. She had parked her car outside a friends house in Tokyo's Setagaya Ward on Tuesday evening, and was dumb enough to leave the window open. Her bag, containing ¥60,000 in cash, was gone when she returned half an hour later. One of the top idol singers of the early 1980s, she is married to actor Watanabe Toru (46).