Japan Entertainment News - July 2007
| | |
| --- | --- |
| King Kazu - Once a Player, Always a Player | July 31, 2007 |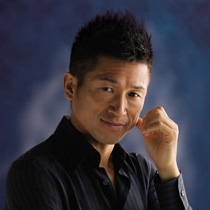 It looks like J-Leaguer "King Kazu" just can't stick to playing on the pitch. Today's issue of the "Shuukan Josei" women's weekly reports that at the beginning of July, Yokohama FC striker Miura Kazuyoshi (40) was spotted taking a week-long holiday in Los Angeles with a 31-year-old TV Asahi employee named only as "A-ko-san". The daughter of a lawyer and a graduate of Sophia University and Tokyo University graduate school, she is also the ex-girlfriend of another renowned playboy, kabuki actor Ichikawa Ebizo (29). Kazu is married to actress and former model Risako (39) and they have two children. He is said to have met his new "bit on the side" through veteran idol singer Tahara Toshihiko (46) at a goukon party in June. As a member of Tokyo Verdy, Kazu was the biggest star on the biggest team of the J-League's heyday in the early 1990s. He and other rampant egos like Ruy Ramos and Takeda Nobuhiro helped glamorize soccer in Japan but set a bad precedent that players have been following ever since.
• Due to popular demand, Johnny's Jimusho boy band Arashi have added four dome dates to their ongoing nationwide tour. With 380,000 fans unable to get tickets for shows at Osaka Dome and Tokyo, two more concerts have been added at each venue in September and October. After yesterday's show at Yokohama Arena, member Ninomiya Kazuya (24) apologized to fans saying, "If we had been given bigger venues to begin with, so many fans wouldn't have been left out. But we're not highly regarded at Johnny's. I guess we rank about 8th!" The modesty may have been tongue in cheek, but the group do share a stable with the likes of SMAP, Tokio, Kinki Kids and V6.
• Okinawan rock band Orange Range have seen their two greatest hits albums enter the latest Oricon chart at No.1 and 2. Titled "Orange" and "Range", the albums' sales have pushed the group's all-time earnings over ¥30 billion. On the singles chart, Otsuka Ai has her first No.1 in almost two years with "Peach/Heart".
Interesting story? Then add it to your favorite social site:







| | |
| --- | --- |
| A Magical Return by Princess Tenko | July 30, 2007 |
Illusionist Hikita Princess Tenko has made a "miraculous" recovery from the injuries she suffered recently. Wearing a Phantom of the Opera-style mask to hide her facial scars, she took to the stage at the Misonoza theater in Nagoya yesterday, just a week after "The Spikes of Death" trick went wrong. Though not life-threatening, the cuts, bruises and broken bones inflicted were initially said to require a month to heal. But, with a tear rolling down from behind her mask, Hikita said she never thought about canceling the Nagoya show. In a very rare talk with the audience, she said, "I didn't have time to escape, and I thought I was going to die. One of the blades stopped just 1cm from blinding me." Asked if she still felt any fear, she replied, "No, I'm fine. I rarely get a chance to rest for a week, so I was delighted." She was released from hospital last Tuesday, two days after the accident, with her ribs taped up and is only able to perform thanks to painkillers. At yesterday's two-part show, she performed her usual full routine of 12 illusions.
• Rock singer Mineda Kazunobu (29) has been dropping his pants again. This time the Ginnan Boyz vocalist is in trouble with the police in Taiwan, after he worked the crowd into a frenzy at a show in Taipei on Saturday night. After Mineda exposed himself, members of the audience stormed the stage. Though the singer says he didn't mean to cause trouble, police say they are looking into prosecuting him for immoral behavior. Mineda was arrested in 2005 after going naked at an outdoor concert in Ibaraki Prefecture.
• Hollywood star George Clooney (46) was greeted by about 200 screaming fans when he flew into Narita Airport from Milan by private jet yesterday. He's in Tokyo to promote "Ocean's 13", which has its Japan premiere on August 1.
Interesting story? Then add it to your favorite social site:







| | |
| --- | --- |
| Romance for Rosa and Jin? | July 27, 2007 |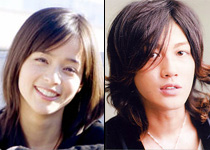 Actress Kato Rosa (22) and Johnny's Jimusho star Akanishi Jin (23) have the hots for each other, according to today's issue of weekly gossip magazine "Friday". The pair were spotted having dinner together with friends in mid-May, after which Akanishi drove Kato back to her Tokyo apartment and spent the next 17 hours there. He then became a regular visitor, leading reporters to assume that Kato has ended her relationship with actor Tamaki Hiroshi (27) and taken up with the young idol singer. Akanishi is a member of KAT-TUN, and has appeared in several popular drama series such as "Gokusen" and "Anego". He shocked fans last October when he took a break to study English in the U.S., leading many to speculate that he had quit showbiz, but he returned to performing in Japan in the spring. Kato is one of the most closely watched of today's young actresses. With an Italian father, she's also one of the growing number of "halfs", who seem to be almost taking over in music and TV. She is currently starring in her first drama lead role as an ambitious young bar hostess in "Jotei" on TV Asahi. In standard practice, her agency has denied her relationship with either Tamaki or Akanishi.
• Miike Takashi's latest movie is to be entered in competition at the Venice Film Festival (August 29 - September 8). "Sukiyaki Western Django" stars Itoh Hideaki (31) and is a Japanese take on the classic spaghetti westerns. Miike, the man behind such acclaimed movies as "Audition" and "Ichi the Killer", was chosen by Time magazine as one of the Top Ten directors of the 21st century. He will be aiming to be the first Japanese to take the festival's Golden Lion award since Kitano Takeshi (60) in 1997.
• Nigerian-born talento Bobby Ologun (44) is now a Japanese. He appeared on the "Mezamashi Terebi" show yesterday and revealed that he had changed his nationality after returning from Nigeria. He's taken his wife's family name of Konda, and so is now officially Konda Bobby.
Interesting story? Then add it to your favorite social site:







| | |
| --- | --- |
| Hotei's Version of Street Fighting Man? | July 26, 2007 |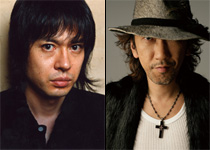 It was revealed yesterday that a couple of veteran rockers recently got down to some bare-knuckle fisticuffs. Last month, Maeda Kou (45, photo left) filed a complaint with Chiba Prefecture police after he was beaten by 6-foot-3 legendary guitarist Hotei Tomoyasu (45, photo right). His blog has vague references to the incident from June 14 onwards, mentioning that he was visiting the hospital every day and saying how he wanted to "destroy that lying S.O.B." It seems the two were driving back to Tokyo from Hotei's villa in Chiba when they got into a fight that left Maeda with nasty injuries. The two have been friends for many years, with Maeda sometimes writing lyrics for Hotei and taking part in a collaboration album last year. Maeda has also found considerable success as a writer, winning several top literary prizes including the Akutagawa Prize in 2000 for the novel "Kiregire." Hotei was lead guitarist for the top 1980s rock band Boowy and his famous track "Battle Without Honor or Humanity" is used in Michael Bay's recent movie adaptation of "Transformers." His management agency sent a fax to the media today saying that the incident wasn't as one-sided as Maeda suggests and that the police report and 3rd party witnesses will confirm that.
• Veteran singer Koyanagi Rumiko (55) has offially denied the rumor that she plans to marry her 28-year-old boyfriend, actor Ishibashi Masataka. As reported here a couple of days ago, the two were rumored to be planning to marry at the end of the year. Koyanagi had a very high-profile divorce from her former husband and backing dancer Osumi Kenya (42) in 2000.
• Of all the TV network announcers, the ladies at Fuji TV seem to be the most popular among fellow celebrities. The latest to find romance is Honda Tomoko (23), who is dating Urawa Reds midfielder Hasebe Makoto (23). Honda only joined Fuji last year but is already the announce on the "Suporto" show on Saturdays and Sundays. The former Miss Rikkyo University met Hasebe when she was a reporter for the show as a student.
Interesting story? Then add it to your favorite social site:







| | |
| --- | --- |
| Yaji-san, Kita-san in New York City | July 25, 2007 |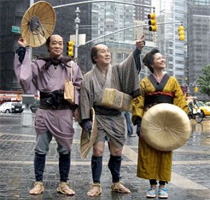 The stars of "Yaji-Kita Douchu Teresuko" were in New York on Monday for the movie's world premiere. Kabuki actor Nakamura Kanzaburo (52), Emoto Akira (58) and former idol singer Koizumi Kyoko (41) braved the pouring rain and walked the streets of Manhattan in their period costumes. The historical comic-drama, directed by Hirayama Hideyuki, was shown at the Walter Reed Theater in the Lincoln Center with the English title "Three for the Road". It's the latest of many adaptations of a road movie theme that dates back to the first "Yaji-Kita" film in 1927. The two main characters have even been played by women, with the legendary Misora Hibari and Eri Chiemi taking on the roles in 1962. For Nakamura, it's the first movie starring role in 46 years, the last being when he was a child actor in "Acchan no Baby Gang" in 1961. He and Hirayama had been planning the latest "Yaji-Kita" revival for ten years, though in the meantime Nakamura's eldest son Kantaro (25) worked with the director on the movie "Turn" in 2001, and younger son Shichinosuke (24) starred in "Mayonaka no Yaji-san, Kita-san" in 2005. "(My son) beat me to it, so we re-wrote the script. We made a movie that's like soaking in the tub at an onsen."
Interesting story? Then add it to your favorite social site:







| | |
| --- | --- |
| Princess Tenko Takes One in the Ribs | July 24, 2007 |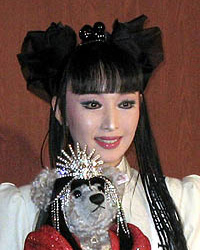 Magician Hikita "Princess" Tenko suffered serious injuries on Sunday when a trick went wrong, according to her official blog. The accident was caused by mechanical trouble during an afternoon performance at the culture hall in Sabae City, Fukui Prefecture. In a variation on the sword box, the veteran illusionist was inside a large 2m-high metal box when 20 knives were passed through it in a trick called "The Spikes of Death". Hikita was supposed to emerge unscathed from the box in a different costume. But she was unable to get out and was cut by several of the knives, suffering injuries to her head, chest and back. She had at least one broken rib, and one of the knives stopped just 1cm from taking her eye out. As she has never had to call off a show, Hikita is said to have insisted on continuing, until organizers stopped it after about 30 minutes. She was rushed to a local hospital before being moved to Tokyo, where her condition is not critical but she is expected to spend a month recovering.
• What is he thinking?! It seems that actor Ishibashi Masataka (28) has gone and proposed to divorcee singer Koyonagi Rumiko (55). As reported on Japan Zone back in June of last year, the relationship between the pair was generally regarding as simply good publicity, particularly for the largely unknown Ishibashi. But Koyanagi, who split with dancer Osumi Kenya (42) in 2000, still seems to need the security of a ring. Sources say she got one last December and the pair, who are already shacked up, are looking to get hitched at the end of the year.
• Hamasaki Ayumi (29) has matched Nakamori Akina (42) for the most consecutive years with a No.1 single for a female artist. "Glitter/Fated" is top of the latest Oricon chart rankings, meaning she's had a chart topper every year since 1998, tying Nakamori's 1982-91 run. Hamasaki already has the most No.1's, the most Top 10 hits, the most overall sales and the most million sellers. Meanwhile, Kinki Kids saw their latest release "39" enter the album chart at No.1.
• Haga Kenji has been dropped by his management agency. After the talento was arrested last month on charges of extortion, Tokyo Six Production insisted on his innocence and criticized the police's handling of the case. They say they still believe he will be vindicated in court, but as his prosecution began on Saturday they decided to sever official ties. The company represents such artists as actresses Takaoka Saki and Kitajima Mai, so they presumably didn't want too much mud sticking to them.
Interesting story? Then add it to your favorite social site:







| | |
| --- | --- |
| A Record Weekend for Kinki Kids | July 23, 2007 |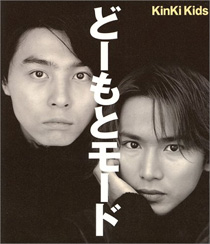 Pop duo Kinki Kids held two events at Tokyo Dome over the weekend to celebrate ten years at the top of the J-Pop world. On Saturday, Domoto Tsuyoshi (28) and Domoto Koichi (28), who are unrelated, were officially recognized by the Guinness Book of World Records for an amazing accomplishment. Since their debut single release (Garasu no Shonen) in July 1997, every one of their 25 singles has entered the Oricon chart at No.1, the latest chart topper being "Brand New Song" in April. The feat earned them a place in this year's Japanese-language edition of the record book, and Guinness World Records' COO Alistair Richards paid a rare visit to Japan to pay tribute to the duo, "In the highly competitive Japanese music world, to remain at the top for ten years is a remarkable achievement." On Sunday, they played a 10th anniversary concert at the Dome. The stage was designed to be as small as possible to make room for 67,000 fans, the largest concert audience ever at the venue. It was their 28th show at the Dome, also a record. Along with stable-mates SMAP, Kinki Kids have been flag bearers for of the Johnny's Jimusho empire for even more than a decade. Even before their heavily hyped 1997 debut, the duo had played concerts to a combined audience of 2 million fans and they were the first artists promoted by the then newly-formed "Johnny's Entertainment" company.
• Kitano "Beat" Takeshi's latest project is doubly difficult. In his first TV drama starring role in five years, he not only has to memorize a lot of lines for his role as a detective, he also has to recite them in the distinctive Hakata dialect. Takeshi (60) was on location in Kanagawa prefecture over the weekend filming "Ten to Sen" (Points and Lines), which will air on TV Asahi over two nights in the autumn. He said he lost 5 kilos for the role. The drama, which co-stars Uchiyama Rina (26), is based on the detective novel by the famous Matsumoto Seicho (1909-1992) that sold over 3 million copies.
Interesting story? Then add it to your favorite social site:







| | |
| --- | --- |
| Utada Hikaru Most Popular Artist | July 20, 2007 |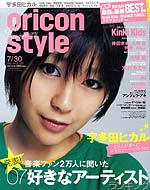 Singer Utada Hikaru has reclaimed her top spot in the hearts of Japanese music fans. For the fourth time, and the first since 2004, she has topped the Oricon annual ranking of the country's favorite artists. She took the No.1 spot back from Aiko (31), who held it the last two years. She's had an eventful year, releasing the No.1 single "Flavor of Life" in February and announcing her divorce from filmmaker Kiriya Kazuaki (39) in March. At No.2 were the duo Kobukuro, who grabbed their first chart-topping single in April, followed by veteran rock band Mr. Children. The ranking is based on a survey of 20,000 readers of the "Oricon Style" magazine.
• ANA has withdrawn its commercials featuring talento Hayami Mokomichi (22). The problem is not with the popular young star but with the filming location of the ads, which were being aired on TV screens on Tokyo commuter trains and the airline's website. Featuring a tiger park that is a popular tourist destination in Guilin, China, they were shown on Yamanote and Chuo line trains from the end of May. But following an international outcry caused by videos of the similar parks that circulated on the Internet, ANA received an increasing number of complaints about their ads.
Interesting story? Then add it to your favorite social site:







| | |
| --- | --- |
| Kano Mika's Bunny Girl Look | July 19, 2007 |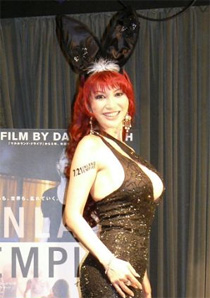 Always ready to show off her expensive cleavage, Kano Mika (39), youngest of the "Gorgeous Kano Sisters", dressed up as a bunny girl for a PR event yesterday. She was promoting director David Lynch's latest quirky movie "Inland Empire", which opens here on July 21. When asked about the movie, Lynch described it simply as being "about a woman in trouble, and it's a mystery, and that's all I want to say about it." Kano has had trouble of her own, with "middle sister" Harue absconding with some ¥300 million of the family jewels back in January. Kano said only that the criminal investigation and civil court case are continuing and that she would reveal more at a press conference in the near future.
• Talento and impersonator Hori (30) was involved in a minor traffic accident on Tuesday. He was in stuck in a traffic jam on a Tokyo expressway when the taxi he was riding was hit from behind. Hori was taken by ambulance to a nearby hospital but suffered no serious injuries and was back at work yesterday.
Interesting story? Then add it to your favorite social site:







| | |
| --- | --- |
| Kicking It in Leather with Kuriyama Chiaki | July 18, 2007 |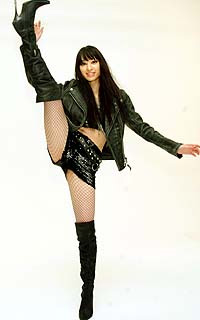 Actress Kuriyama Chiaki (22) has been chosen as the Best Leathernist for 2007. One of many awards given out each year purely for publicity purposes, this one is sponsored by the Tanners Council of Japan, and is given to the female celebrity who is judged to look best in leather. Kuriyama certainly fits the bill, especially given her leap to fame as the ruthless Go Go Yubari in Quentin Tarantino's 2003 revenge epic "Kill Bill, Vol. 1". More recently she has featured in cosmetics commercials with other top actresses. For yesterday's photo shoot, she wore a black leather biker's jacket, hot pants and high boots, with the look finished off by fishnet stockings. The latest award puts her in good company, as previous winners include actress Yonekura Ryoko (31) and model Tominaga Ai (24).

Comedian Takahashi Kenichi (photo left, 36) has been arrested for molesting a high school girl on a train. One half of the manzai duo King of Comedy, Takahashi was detained for molesting the girl on a packed Chiyoda Line subway train during the morning rush hour on July 11. Though he is denying the charges, his management agency have already imposed "jishuku", the Japanese custom of apology followed by reclusion when caught doing something, and that he was under house arrest. As they almost always work as a pair, his partner Konno Hiroki (photo right, 28) will likely have to reconsider his career options. A recently recorded NHK show, due to be aired in August, will have the duo's segment edited out.
Interesting story? Then add it to your favorite social site:







| | |
| --- | --- |
| The End of Sonny Chiba | July 17, 2007 |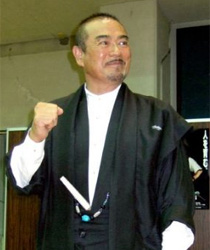 Chiba Shinichi (68) held a press conference yesterday to talk about his imminent retirement as an action star. Sunday's episode of the ongoing NHK taiga drama "Fuurinkazan", was the last to feature his role as a medieval general. "With the death of Itakagi Nobukata, I want to lay Chiba Shinichi to rest," he told reporters, saying that he plans to retire as an action star within the year. He cited health problems, including chronic asthma, which flared up after he finished filming at the end of May. Although the announcement left open the possibility that he will continue acting, he plans to concentrate on building a new drama school and discovering a "second Chiba Shinichi". Thousand Leaves Hollywood will open in October and there are plans for further branch schools throughout the country. Chiba also hopes to enlist the support of Jackie Chan in the project. There is also a chance that he will become a guest lecturer at his alma mater, the Nippon Sport Science University. Known abroad as Sonny Chiba, he was one of Japan's most successful acting exports and one of the first martial arts stars of the movie world. He made his movie debut in 1961 but broke through with 1974's "The Street Fighter", and went on to make more than 125 movies for the Toei studio. In 2003 director Quentin Tarantino paid tribute by giving him the key role of sword-smith Hattori Hanzo in the bloody revenge movie "Kill Bill Vol.1".
• A couple of major music stars are making their seventh trips to Japan. Announced yesterday was the upcoming visit by Elton John, who on March 25 celebrated his 60th birthday with his 60th show at Madison Square Garden. He will play two shows in Tokyo, on November 20-21 at the Nippon Budokan. Arriving a bit later than that will be Suzanne Vega (48). Somewhat past her marketing prime - her big hits "Luka" and "Tom's Diner" were a full 20 years ago - she'll be here in January to support her first new album in six years, "Beauty & Crime". Her sister is married to a Japanese and she says, "I feel like Tokyo is a part of me. I can't wait to go to Japan again." She will play one show each in Osaka, Nagoya and Tokyo from January 22-24.
Interesting story? Then add it to your favorite social site:







| | |
| --- | --- |
| Hamasaki Ayumi, Nagase Tomoya Split | July 16, 2007 |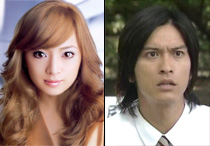 J-Pop queen Hamasaki Ayumi (28) and Tokio member Nagase Tomoya (28) have ended their 7-year relationship. Hamasaki revealed the split on her official fan site on Saturday, saying they had broken up the day before. "We had become more than just lovers and are more like family, like brother and sister. And we plan to continue like that and will remain close," she said. Singer Wada Akiko wasted no time adding her two yen's worth. On her Saturday morning live show, she said, "I thought it wouldn't last. I think it's probably down to Ayu's selfishness. I don't think she'll be able to have a boyfriend for a while. But it's a shame because I wanted them to stay together." The pair first became friends when they co-starred in a TV Asahi drama series in 1997. Their relationship turned romantic in 2000 and became public in September 2001. There had been rumors of a split, but it was more widely thought that they would end up marrying. They vacationed together in Los Angeles last autumn.

Interesting story? Then add it to your favorite social site:







| | |
| --- | --- |
| George Clooney Coming for Oceans Premiere | July 13, 2007 |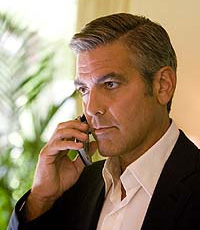 It was announced yesterday that the "world's sexiest man" George Clooney (46) will be coming to Japan in August. He'll be visiting to promote his latest movie, "Ocean's 13". Directed by Steven Soderbergh, the third movie in the popular con-man series opens in theaters on August 10, but Clooney will be in Tokyo from July 29 until the movie's Japan premiere on August 1. He and producer Jerry Weintraub will hold a press conference on July 31. Like most Hollywood blockbuster premieres, it will be held in the Toho Cinemas complex in Tokyo's upmarket Roppongi Hills. In keeping with the movie series location of Las Vegas, the event will feature a giant slot machine. It will be Clooney's fourth trip to Japan, and the first since coming to plug "Ocean's 12" along with fellow cast members Matt Damon (36) and Brad Pitt (43) in 2005.
• Comedian Hide (36), one half of the duo Penalty, announced yesterday that he got married to a 30-year-old Tokyo music industry worker on July 7, the date of the romantic Tanabata star festival. With this year being 2007, the 7/7/7 date resulted in a major rush on weddings nationwide. The couple have no plans for a wedding ceremony or reception. The marriage announcement came through the Yoshimoto Kogyo agency, which represents the majority of Japan's top comedy acts.
• Actress Sato Eriko (25) has denied rumors in a recent issue of women's magazine "Josei Seven" that she is dating actor Yamamoto Koji (30). Asked about the story at a PR event yesterday, she said, "It's just not true. We've never even been alone, just the two of us." There has been almost non-stop speculation about her emotional state since the breakup of her short relationship with kabuki actor Ichikawa Ebizo (29) a few months ago. She also announced yesterday the publication of her serial novel "Trois" in the first issue of the magazine "Feel Love".
Interesting story? Then add it to your favorite social site:







| | |
| --- | --- |
| The Curse of the Catchy Tune | July 12, 2007 |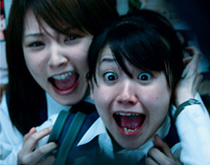 Japanese horror has had its cursed videos, cursed mobile phones, and now... The song "Boku no Hana" is central to the latest adventure in Japanese horror, "Densen Uta". With a title that translates literally as "infectious song", the Harada Masato-directed movie features a cursed 1990s pop song (by fictional singer Goi Michiko) that brings death to anyone careless enough to sing it. Though only her voice appears in the movie, talento and one of the top idol singers of the 1980s Matsumoto Iyo (42) plays someone foolish enough to have recorded the song, and paid the price. It was her first solo recording in 17 years. Distributors Shochiku have teamed up with major karaoke company Joysound to have the 1995 and 2007 versions of the number available at karaoke rooms across the country. Choose the wrong one and presumably the singer gets a bit of a fright halfway through. The Goi Michiko version of the song is to be released as a single on August 22, but in a neat marketing twist, distributors will wait to see if it really is cursed before deciding whether to release Matsumoto's version. The movie, due for theatrical release on August 8, stars Matsuda Ryuhei and Oshima Yuko, a member of young idol group AKB48. Though Matsumoto's idol image is becoming a distant memory, it had something of a revival last year when she teamed up with two other mothers and former idols (known as "Mommydols"), Hayami Yu (40) and Hori Chiemi (40), to release the single "Cutey Mommy". She has been married to talento Hiromi (42) since 1993 and they have two children.
Watch the trailer for "Densen Uta".
Interesting story? Then add it to your favorite social site:







| | |
| --- | --- |
| Kaneda Mika and the J-Leaguer | July 11, 2007 |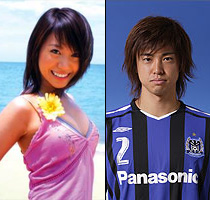 Young actress Kaneda Mika (23) and J-Leaguer Nakazawa Sota (24) couldn't keep their relationship hidden for long. The game was given away when they both posted the same dinner date photo on their respective blogs. They have to make do with a long-distance relationship, as Kaneda lives in Tokyo, while defender Nakazawa is based across the country with Gamba Osaka. Kaneda made her name as a high school student in the popular long-running TBS drama "3-nen B-kumi Kimpachi Sensei" in 1999. She is currently a regular on several variety shows. Nakazawa joined Kashiwa Reysol in 2001, but was a regular for only one of his six seasons with the team. He moved to FC Tokyo in 2006 and transferred to current league leaders Gamba this season. Several years ago, while he was with Reysol, Nakazawa was romantically linked with former Morning Musume member Yoshizawa Hitomi.
• Actress Toda Keiko (49) is to revive her singing career after 30 years. She will release a new album, "Actress", on September 5. The announcement came on the opening day of her new musical, "The Hit Parade", in which she co-stars with comedian Harada Taizo (37) of the trio Neptune. It also came just days after the revelation that her 16-year marriage to actor Inoue Junichi (48) came to an end last December.
• Actor Yoshikawa Ginji (42) is the latest to be arrested in the ongoing extortion case involving talento Haga Kenji (45). Yoshikawa is said to have been present, along with a member of the yakuza and a former world boxing champion, when a real estate company president was coerced into signing a document that released Haga from almost ¥400 million in debts. A minor name, Yoshikawa appeared mainly in so-called V-Cinema movies, the direct-to-video industry that appeared in Japan from the 1980s.
Interesting story? Then add it to your favorite social site:







| | |
| --- | --- |
| Former Morning Musume Leader Iida Kaori to Wed | July 10, 2007 |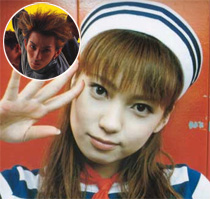 Iida Kaori (25) is the latest former member of Morning Musume to have a shotgun wedding. The group's second leader is currently three months pregnant and planning to marry Kenji (28), former vocalist with the defunct rock band 7House, later this month. But she is still scheduled to appear in this summer's Hello! Project tour, a first for either a wife or an expectant mother. The show starts in Tokyo on August 11 and ends its run in Iida's hometown of Sapporo on September 1, after which she will take maternity leave. 7House, which debuted in 1999 but broke up three years later, was yet another brainchild of MoMus producer Tsunku (38). Romance between Iida and Kenji was reported in 1999 but flatly denied. After his band broke up, Kenji became a company employee and the two drifted apart. Iida left MoMus in January 2005 and has been exhibiting as an artist. The couple reportedly began dating again at the end of 2005 and started thinking about marriage last autumn.
• Two former members of Johnny's Jimusho boy band News have made their comeback. Uchi Hiroki (20) and Kusano Hironori (19) are appearing in this summer's "Playzone 2007", the annual musical production featuring veteran Johnny's group Shonentai, now in its 22nd year. The two youngsters were both dropped from News following separate underage drinking incidents, Uchi in 2005 and Kusano last year. Both are considered to have done their penance and are being given another chance. The show also features Uekusa Yuta (12), son of Shonentai member Uekusa Katsuhide (40). The show opened yesterday at the Aoyama Gekijo theater in central Tokyo, where it runs till mid-August.
• Actor Jerry Ito died of pneumonia on Sunday at his California home. He was 79. The U.S.-born son of Broadway dancer Ito Michio, he appeared in over a dozen Japanese movies including the kaiju classic Mothra (1961) and the manga adaptation Golgo 13 (1977).
• It was revealed yesterday that producer/musician Komuro Tetsuya (48) recently ended his 6-year relationship with the Yoshimoto Kogyo agency. Yoshimoto, best known for its huge stable of comedy acts, said that Komuro's contract finished at the end of June and the decision was amicable.
Interesting story? Then add it to your favorite social site:







| | |
| --- | --- |
| Koda Kumi, Linkin Park Heat Up Live Earth Crowd | July 09, 2007 |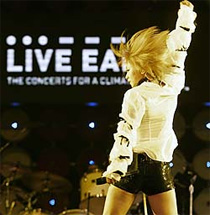 Japan's main Live Earth event was held Saturday at the Makuhari Messe convention center in Chiba prefecture, east of Tokyo. The only major problem was when fans rushed forward during the Linkin Park set, knocking over barricades and forcing the band to leave the stage for 15 minutes. Koda (photo, 24) was the main local artist and gave a typically dynamic performance (video footage here). In keeping with the global warming theme, she went with the hot pants look. The full lineup of for the 9-hour, 78-song show was: Genki Rockets, Rise, Ayaka, Otsuka Ai, Ai, Xzibit, Abingdon Boys School, Cocco, Linkin Park, Koda Kumi and Rihanna. A separate event was held at the Toji temple in Kyoto on Saturday night, featuring a one-time-only revival of Sakamoto Ryuichi's legendary band Yellow Magic Orchestra, Michael Nyman and Rip Slyme. Over the 24-hour period, shows were held in Sydney, Shanghai, Johannesburg, London, Hamburg and Rio de Janeiro.
• Talento Yasuda Misako (25) admitted yesterday that she and actor Kashiwabara Shuji (28) have split up. Appearing on the Sunday morning live show "Akko ni Omakase!", she revealed that they had broken up at the end of May. "He's a really kind guy and I respect him, but, well...love is difficult, isn't it?", she told the show's veteran hostess, Wada Akiko (57). Insisting she was over the split, she said it was a mutual decision. The pair met in 2005 when they co-starred in the movie adaptations of the popular manga "Luna Heights", and they started dating last summer.
• Talento Hasegawa Rie (33) is tight-lipped about her rumored romance with rapper Rino Latina II (33). Appearing Saturday at a PR event for Pedro Almodovar's latest movie "Volver" in a pink summer yukata, she refused to answer questions about the first reported romance since her split with actor Ishida Junichi (52) at the end of 2005.
• Traditional musicians ZAN recently performed at an event to promote the release of their U.S. debut album "Shiku". Featuring Kominato Akihisa (28) on vocals and shakuhachi, and Ichikawa Shin (31) on koto, the group had to overcome the April 2006 death of its leader Sunagawa Norikazu in a climbing accident. "Making our debut in the U.S. was a dream we all shared. We want the whole world to know about these wonderful Japanese musical instruments."
• Chubby talento Uchiyama Shinji (25) has admitted that he is currently embroiled in a court case with his ex-girlfriend. The 30-year-old woman, with whom he lived for eight years, has sued him for ¥500 million in compensation following their breakup as well as unpaid wages from her job at the company he runs. Their split is said to have resulted from Uchiyama's reported affair in January, though he has denied both the report and that the couple's relationship was a common-law marriage. He has also disputed her claim for wages, saying she was paid for her occasional work for "Mago no Te", a home nursing service.
Interesting story? Then add it to your favorite social site:







| | |
| --- | --- |
| Romance for Nakata Hidetoshi and Yonekura Ryoko? | July 06, 2007 |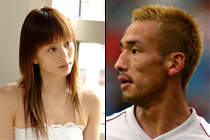 Could there be romance happening between actress Yonekura Ryoko (31) and retired soccer star Nakata Hidetoshi (30)? Today's issue of women's weekly "Josei Seven" has photos of the two enjoying a dinner date in Tokyo late month. They spent about three hours relaxing at an Italian restaurant in the fashionable Azabu district. Yonekura's agency insist they met by chance and were both there with friends. She is currently appearing in the new TBS drama series "Katagoshi no Koibito", which started last night. Nakata, who was previously linked with actress Miyazawa Rie (34), is said to have returned to his home in Paris.
• A comic impersonator has been arrested in a bizarre incident. Eizawa Yosaku (real name Mita Masami, 46), an Eizawa Yokichi lookalike, got into a drunken argument with fellow impersonators at an apartment in Utsunomiya, Tochigi Prefecture in the early hours of Thursday morning. He chewed up the earlobe of Tsuntsuku (Tanaka Kenji, 43), a lookalike of Morning Musume guru Tsunku, leaving a wound that will take several weeks to heal.
Interesting story? Then add it to your favorite social site:







| | |
| --- | --- |
| The Two Princes | July 05, 2007 |
The first half of 2007 has been a tale of two princes. Topping Oricon's new twice-a-year Fresh Star Rankings is young golf sensation Ishikawa Ryo (15), popularly known as "Hanikami Oji" (The Shy Prince). A first-year high school student in Tokyo, he found overnight stardom in May when he became the youngest player ever to win a professional golf tournament. Comparisons to Tiger Woods inevitably followed. But the ranking was the only good news yesterday for Ishikawa, as he failed to make the cut in the Japan Amateur Championship. Second in the rankings is Waseda University baseball pitcher Saito Yuuki (19), known as "Hankachi Oji" (The Handkerchief Prince), who shot to fame with his superhuman performance at last summer's national high school baseball tournament. He also recently led Waseda to its first All-Japan Intercollegiate Championship in 33 years. He earned his nickname at Koshien last summer with his habit of wiping the sweat from his brow with a blue handkerchief as he led his team to the championship. The pitcher he beat at Koshien, Tanaka Masahiro (18), was ranked fourth. He turned pro and now plays for the Rakuten Golden Eagles. Topping the female rankings by a huge margin was actress Nagasawa Masami (20), followed by singer Yui (20) and U.S. import Leah Dizon (20).
Male Rankings
Ishikawa Ryo (15, golfer) - 195 votes
Saito Yuuki (19, Waseda U.) - 141
Moody Katsuyama (27, comedian) - 121
Tanaka Masahiro (18, Rakuten) - 72
Matsuyama Kenichi (22, actor) - 64
Matsumoto Jun (23, singer (Arashi), actor) - 57
Matsuda Shota (21, actor) - 45
Taka & Toshi (comedy duo) - 44
Oguri Shun (24, actor) - 38
Yamashita Tomohisa (22, singer (NEWS), actor) - 35
Female Rankings
Nagasawa Masami (20, actress) - 215 votes
Yui (20, singer) - 109
Leah Dizon (20, idol) - 98
Sawajiri Erika (21, actress) - 78
Aoi Yu (21, actress) - 52
Aragaki Yui (19, actress) - 52
Toda Erika (18, actress) - 44
Asao Miwa (21, beach volleyball) - 42
Tsuji Nozomi (20, ex-Morning Musume) - 41
Nishioka Sumiko (32, comedienne) - 40
• Talento Umemiya Anna (34) has quit her management agency, it was revealed yesterday. Though she had only recently restarted her acting career, it seems she quit Stardust Promotion on June 30, the same day that her ex-boyfriend Haga Kenji (45) was arrested on extortion charges. The pair were a high profile celebrity couple from 1994 to 1999, even publishing a book of nude photos together. A pregnant Umemiya married a businessman in June 2001 but they broke up a year and a half later. Her ex-husband was convicted on illegal gambling charges in July 2004.
Meanwhile, investigators spent three hours searching Haga's ¥300 million apartment in Tokyo's Meguro district yesterday. Ironically, only a couple of days before his arrest, Haga had been proudly showing off the 29th-floor apartment on the TBS variety show "ObirajiR".
Interesting story? Then add it to your favorite social site:







| | |
| --- | --- |
| Sakamoto Issei Stabbed | July 04, 2007 |
Minor talento Sakamoto Issei (36) was stabbed on Sunday morning following a car park argument. While parking his car at a neighborhod supermarket in Inage, Chiba Prefecture, he almost hit another car. This led to an argument with a man described as 60 years old an unemployed (often a euphemism for a yakuza). The man punched Sakamoto and stabbed him in the chest and was arrested on the spot. (Reports failed to mention if the man was further incensed by Sakamoto's cheesy photos!) Real name Itoh Fumio, Sakamoto's brief claim to fame was in the early 1990s when he debuted with the stage name Shin Kase Taishu. The name was a sarcastic move by the Interface Project management agency after they lost a court case to use the name Kase Taishu when that popular talento quit the agency. His showbiz career never really took off and in 1997 he quit only to try out a s pro wrestler in 1999. After that bid failed, he worked as a used car salesman, long-distance truck driver and restaurant manager. He is currently trying his luck again as a talento, but also working a couple of nights a week at a host club in Tokyo's seedy Kabukicho district.
• TV Asahi announced at its regular press conference yesterday how it will handle coverage of the Diet elections if Japan's soccer team reaches the final of the Asia Cup. With both events scheduled for July 29, the soccer would be broadcast live and the election results shown in one segment of the screen. The network also announced that oral proceedings in the court case initiated by "TeleAsa" and managing director Hayakawa Hiroshi against publisher Kodansha and others will begin on September 3. The plaintiffs are seeking ¥200 million in compensation and a published apology for an article claiming financial irregularities at the network that appeared in the "Shuukan Gendai" magazine last month.
Interesting story? Then add it to your favorite social site:







| | |
| --- | --- |
| End of the Road for ROM | July 03, 2007 |
Popular rock band Road of Major are to break up. The quartet announced the decision yesterday, saying they don't plan to hold a farewell concert. The upcoming DVD "Golden Road Films" (on sale July 18) will be their final release. Made up of leader/bassist Matsumoto Kenichi (27), vocalist Kitagawa Kenichi (26), guitarist Kondo Nobumasa (24), and (23) on drums, the band was formed as a project on the TV Tokyo audition show "Hamaraja" in 2002. They played 50 shows in 100 days with the aim of building a big enough fan base that their debut single would make the Top 50 of the Oricon chart. If they succeeded, they'd sign with a major label; if they failed, they'd break up. Things went well, and "Taisetsuna Mono" entered at No.16, finally reaching No.2 and selling over a million copies. They were the first ever independent band to enter the Oricon chart at No.1 with their 2003 eponymous debut album. Although a major label deal followed in 2004, they never managed to reach the same heights again. The artificial nature of the band meant that the members often had different musical ideas and they finally decided to go their own ways.
• The popular TV Asahi period drama series "Hissatsu Shigotonin" is making its comeback after 15 years, with some help from Johnny's Jimusho. Long-time star Fujita Makoto (74) will revive his role as "assassin for hire" Nakamura Mondo in an upcoming special, but the new series will become a vehicle for Shonentai member Higashiyama Noriyuki (40). The special will feature two other Johnny's stars, Tokio's Matsuoka Masahiro (30) and Ookura Tadayoshi (22) of KanJani8, so the show will have pretty boys for all ages. Fujita said, "The Hissatsu series is a brand name. I want (Higashiyama) to take it over and keep it going forever." The special airs on July 7 at 9pm.
Interesting story? Then add it to your favorite social site:







| | |
| --- | --- |
| Okina Megumi Dating Mixi CEO | |
Actress Okina Megumi (27) is giving the IT business one more try. She has been romantically linked with Kasahara Kenji (31), CEO of Mixi, Japan's hugely successful social networking service. A graduate of Tokyo University, the entrepreneur is said to be worth in the region of ¥90 billion. Okina married Fujita Susumu, president of IT company Cyber Agent, in 2004 year but they were divorced by the summer of 2005. That romance was part of a boom in eligible showbusiness women going for high-profile and wealthy IT types. After the split, Okina was linked with a variety of guys, including a stage actor, a surfer from Hawaii, the actor son of a former prime minister, even a handsome Buddhist priest. But it looks like she has returned to the money. Though Kasahara is something of a protege of Fujita, his personal wealth is considerably bigger. So Okina can be said to be moving up the ladder of fortune.
Interesting story? Then add it to your favorite social site:







| | |
| --- | --- |
| Haga Kenji Arrested on Extortion Charges | July 02, 2007 |
Talento Haga Kenji (45) was arrested on Saturday, along with a senior member of the yakuza, a former world boxing champion and one other. Osaka prefectural police arrested Haga, former WBA and WBC super flyweight champion Watanabe Jiro (52), Kawakita Toshikazu (69), a gang leader affiliated with the Yamaguchi-gumi syndicate, and Hatsushika Yuji (57), described only as unemployed. Police say that in 2001, the debt-ridden playboy Haga sold shares in an unlisted Tokyo-based medical consulting company at triple their actual price to an acquaintance, a real estate company president in Osaka. The man was reluctant to pay ¥370 million for the shares but Haga called him hundreds of times with guarantees that the investment would pay out five-fold. In the end, only ¥120 million was used to buy shares in the man's name, the rest of the money being used to buy shares in the name of Haga's company and to repay his debts. The consulting company almost immediately declared bankruptcy and the man started looking for his money back. In June last year the accused, excluding Haga, presented him with a document saying Haga would return only the handling fee of ¥10 million, forcing him to sign under threat of violence or worse. And of that money, Kawakita and Hatsushika are said to have taken more than ¥6 million. Haga claims that the matter is settled as he returned the money as described in the document. Only Hatsushika has owned up to the allegations. Until this incident came to light, Haga had managed to convince the showbiz world that he had repaid his debts through his hard work running a successful jewelry business. He got married in Hawaii in October of last year.
• The career of singer Kahara Tomomi (32) is on the rocks again. A top J-pop star under Svengali-like Komuro Tetsuya in the mid-1990s, she has tottered from one emotional crisis to another since a romantic breakup with the producer in 1999. She was released by her management agency, Production Ogi, at the end of last week after several months of sudden cancellations, drunken collapses and an ongoing history of prescription drug dependency. President Ogi Toru (64) said, "It really is regrettable and heartbreaking. She needs to get medical treatment right away, deal with her addictions, and get back on her feet again as a person. As long as she's dependent on tranquilizers and sleeping pills she won't have a contract with us." Her regular TV slot and concerts planned for this month have been canceled, and her fan club has been disbanded. Her contract with Universal Music has also been canceled.
• TM Revolution vocalist Nishikawa Takanori (36) has admitted his romance with actress Otsuka Chihiro (21). The two appeared together this spring in the stage musical "How to Succeed". Nishikawa was formerly married to Puffy member Yoshimura Yumi (32).
Interesting story? Then add it to your favorite social site: