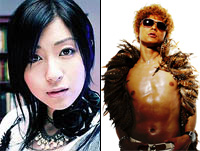 Two big J-pop names are to provide the theme tunes to anime features this summer. "Beautiful World", the upcoming single from Utada Hikaru (24), will be the signature tune for the latest "Evangelion" movie adaptation. Director Anno Hideaki (47) is a big Hikki fan, and he approached the singer directly about taking part in the project. The single is due for release on August 29 and the movie opens on September 1. Meanwhile, "Naruto" fan DJ Ozma jumped at the chance to lay down a track for "Naruto – Shippuden", the latest movie version of the popular TV Tokyo anime series. "Lie, Lie, Lie" will be in stores on August 1, and the movie opens on August 4.
• A wake was held at a branch of the Anrakuji temple in Tokyo last night for actor-comedian Tani Kanichi, who died of a brain aneurism on June 25. He was 74. Real name Nishimura Masaaki, as an actor he was best known for the late-1950s TV superhero series "Gekko Kamen". He was also the only surviving member of Three Pockets, a vaudeville comedy trio that also included legendary "Tora-san" actor Atsumi Kiyoshi (1928-1996) and Seki Keiroku (1928-2006). A funeral is being held this morning.
• It's been a while since we reported on any J-Leaguers here. But now we have a reason, as national team defender Nakata Koji (27) is romantically involved with actress Kato Ai (24). Though Nakata played French team Marseilles in 2005 and transferred to Basel in the Swiss league in 2006, the couple have been dating for three years. Currently in the off season, he was recently spotted with Kato on a dinner date in Tokyo. Their management agencies refused to comment on the story.