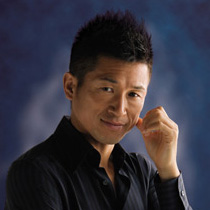 It looks like J-Leaguer "King Kazu" just can't stick to playing on the pitch. Today's issue of the "Shuukan Josei" women's weekly reports that at the beginning of July, Yokohama FC striker Miura Kazuyoshi (40) was spotted taking a week-long holiday in Los Angeles with a 31-year-old TV Asahi employee named only as "A-ko-san". The daughter of a lawyer and a graduate of Sophia University and Tokyo University graduate school, she is also the ex-girlfriend of another renowned playboy, kabuki actor Ichikawa Ebizo (29). Kazu is married to actress and former model Risako (39) and they have two children. He is said to have met his new "bit on the side" through veteran idol singer Tahara Toshihiko (46) at a goukon party in June. As a member of Tokyo Verdy, Kazu was the biggest star on the biggest team of the J-League's heyday in the early 1990s. He and other rampant egos like Ruy Ramos and Takeda Nobuhiro helped glamorize soccer in Japan but set a bad precedent that players have been following ever since.
• Due to popular demand, Johnny's Jimusho boy band Arashi have added four dome dates to their ongoing nationwide tour. With 380,000 fans unable to get tickets for shows at Osaka Dome and Tokyo, two more concerts have been added at each venue in September and October. After yesterday's show at Yokohama Arena, member Ninomiya Kazuya (24) apologized to fans saying, "If we had been given bigger venues to begin with, so many fans wouldn't have been left out. But we're not highly regarded at Johnny's. I guess we rank about 8th!" The modesty may have been tongue in cheek, but the group do share a stable with the likes of SMAP, Tokio, Kinki Kids and V6.
• Okinawan rock band Orange Range have seen their two greatest hits albums enter the latest Oricon chart at No.1 and 2. Titled "Orange" and "Range", the albums' sales have pushed the group's all-time earnings over ¥30 billion. On the singles chart, Otsuka Ai has her first No.1 in almost two years with "Peach/Heart".