Japan Entertainment News - January 2006
| | |
| --- | --- |
| Sports Wedding Rush | January 31, 2006 |
There's been a wave of sports wedding announcements in the last couple of days. Yomiuri Giants star outfielder Takahashi Yoshinobu (30) and NTV announcer Onodera Mai (30) held a press conference at a Tokyo hotel yesterday to announce that they got married on January 29. They have known each other for six years and took the plunge before Takahashi starts spring training. Onodera talked happily about how her fiancee had proposed to her in December, but Takahashi was red-faced and flustered throughout.
• Toritani Takashi (24), an infielder for the Hanshin Tigers, appeared with his new bride Yuko (24) at a press conference at the team's training camp in Okinawa yesterday. He revealed that they have been married since December 20. They have known each other since high school and started dating in college.
• Also recently married were NHK sports announcer Izumi Koji (34) and shogi player Iwane Shinobu (23). The two met when they appeared together on a shogi show on NHK's educational channel. Iwane plays shogi, the Japanese version of chess, at the shoudan or first-grade level, and plans to continue playing under her maiden name.
Interesting story? Then add it to your favorite social site:







| | |
| --- | --- |
| Baka Tono Still Going Strong | January 30, 2006 |
Comedian Shimura Ken (55) is celebrating 20 years of his Baka Tono character with the release of a 3-DVD box set. He held a launch event in Tokyo's Ginza district, along with his most recent sidekicks, comedians Dacho Kurabu. Shimura wryly remarked that the release came "a bit too late for some", referring to Tashiro Masashi, his very first sidekick from the 1970s who was arrested for the fourth time in 2004 for drug possession. Shimura first got his own variety show in 1976 after he and the Drifters comedy group had become a national TV sensation. Baka Tono, which has been shown on TV networks in the US, is one of Japan's most recognizable comic creations.
• The female stars who make up the Hello! Project turned out in force at the Yokohama Arena yesterday to finsih off their national tour. Morning Musume may be the most famous incarnation, but the show included a total of 67 singers who make up 15 different groups. The show also saw the first performance in over three years by Petit Morni, made up of former MM members Yasuda Kei (25), Goto Maki (20) and Yoshizawa Hitomi (20). All 67 young ladies were on stage for the grand finale, a lively rendition of MM's mega-hit "Love Machine".
• Also getting back together, though for the first time in 17 years, were the members of the Sadistic Mika Band. The four musicians, all in their 50s, teamed up with young vocalist Kimura Kaera (25) to record a live version of their 1973 hit "Taimu Mashiin ni Onegai" for a Kirin beer commercial to be aired in February.
Interesting story? Then add it to your favorite social site:







| | |
| --- | --- |
| Okamura Caught by Paparazzi | January 28, 2006 |
Comedian Okamura Takashi (35, photo right) has promised to tell all about his reported romance with pin-up girl Kumada Yoko (23) next week. The romance between the two was revealed in the latest issue of the weekly magazine Friday. Okamura, one half of the comedy duo Ninety-Nine, was quizzed about it on their late night radio show yesterday. He said he had been caught completely by surprise by paparazzi who photograhed him and Kumada leaving his Tokyo apartment by car. He was most disappointed that in the heat of the moment, he hadn't been able to produce a good quote for the reporters.
• The 1976 hit movie "Inugamike no Ichizoku" is to be remade, with the same lead actor and director. Ishizaka Koji (64) will again play Yokomizo Seishi's famous detective creation Kindaichi Kosuke, and veteran director Ichikawa Kon (90) will be behind the camera once more.
• Singer Arashiro Beni (19) recently became the first Japanese artist to appear on a famous Chinese New Year song contest. The show on Guangxi TV is described as the Chinese equivalent of Japan's Kohaku Uta Gassen. Arashiro sang "miracle" and "here Alone" as well as a song in Chinese. Her second album, "Girl 2 Lady," is scheduled for release on February 22.
• SMAP member Kusanagi Tsuyoshi (31) has cancelled his regular appearances on several shows after coming down with a bout of influenza. He missed his regular Friday sot on "Waratte Ii Tomo", the first time he's failed to make the live afternoon variety show since he started on it in 1995. There haven't been any reported cases of people catching the so-called "bird flu" in Japan, but the regular variety seems to be spreading at the moment.
Interesting story? Then add it to your favorite social site:







| | |
| --- | --- |
| Brawling Bobby | January 26, 2006 |
Nigerian talento Bobby Ologun (39) got front page headlines in today's sports papers following a brawl at his management agency yesterday. The K-1 fighter visited the agency yesterday afternoon with questions about his monthly salary, and became violent after the president of the company refused to see him. He got into a fight with the 2.1m tall John Muwete Muluaka (44), a fellow talento from Congo and former assistant to politician Suzuki Muneo. Muluaka and R&A Promotions boss Ito Kazuyuki (55) claim that Ologun and his Bangladeshi manager have been pocketing appearance fees to the tune of ¥10-15 million, in breach of a contract that splits fees 50-50 between the agency and employees. The incident also led to the revelation that Ologun is seven years older than he had previously claimed.
• Actor Fujiwara Tatsuya (23) is to take on the lead role in a movie adaptation of best-selling manga "Death Note". The 9-volume manga, which has sold over 12 million copies, first appeared in the Shukan Shonen Jump manga in December 2003. The first volume became the fastest ever to sell a million copies. The story centers around the smart and cool high schooler Yagami Raito, into whose hands falls the Death Note, a list of names of people due to die, lost by the God of Death. His nemesis is the investigator known simply as L. At a cost of ¥2 billion, the movie will be in two parts, the first scheduled for release in June of this year, the second in October.
• "Tetsuko no Heya", will be celebrating its 30th year on the air with the February 2 edition. The TV Asahi afternoon talk show is hosted by Kuroyanagi Tetsuko (72), who has welcomed a vast range of guests - over 3,900 of them - to her "room". She has interviewed many foreign guests, including Queen Elizabeth II, and says she would most like to meet Sean Connery.
Interesting story? Then add it to your favorite social site:







| | |
| --- | --- |
| Sanada's A 3-time Winner | January 25, 2006 |
Sanada Hiroyuki (45) has become only the second actor to win three times at the 48th Blue Ribbon awards. With the latest award for his role in "Bokoku no Iijisu" (Aegis), he follows in the big footsteps of the legendary Mifune Toshiro. Sanada won in 1994 and 1996. He was in Tokyo yesterday for the local premiere of his latest movie, the Japanese-Korean-Chinese production, "Promise". The Best Actress award went to Koizumi Kyoko (39) for her role in "Kuuchuu Teien", whose director was arrested for drug possession two months before it opened. "Pacchigi!", directed by Izutsu Kazuyuki, won the Best Film award.
• Former Luna Sea vocalist Kawamura Ryuichi (35) has married 2002 Miss Japan, Sano Kumi (26). According to his agency, a representative visited the local city office on Monday to register their marriage. The couple were first introduced through a mutual friend last spring and starting dating in the autumn. They are said to have no plans for a wedding ceremony or reception. Kawamura will be touring the country with his latest band, Tourbillon, from April 14.
• The Tokyo home of actress Matsuda Miyuki (44) was recently burglarized, she revealed this week. The widow of legendary (yes, that's twice in one day I've used that word!) actor Matsuda Yusaku said that about ¥2 million worth of valuables were stolen, including her wedding ring, a rolex watch and a plasma screen TV. The burglary was discovered by son, actor Matsuda Shota (20), last Thursday night. The house is next to Zenpukuji-koen park, just down the road from Japan Zone! We'll be keeping our doors locked...
Interesting story? Then add it to your favorite social site:







| | |
| --- | --- |
| The Harder They Fall | January 24, 2006 |
Livedoor CEO Horie Takafumi (33) was arrested yesterday evening along with three other company executives. The golden boy of the Japanese IT industry had been denying any knowledge of his company's financial misdeeds right up until the end. Investigators from the Tokyo District Public Prosecutors Office have been looking into the firm's creative bookkeeping for the last few months, but a drastic slide in Livedoor's shares in the last week, accompanied by a big drop in the Nikkei Stock Average, led them to go straight to the top and question Horie yesterday. His arrest and transportation to the Tokyo Detention House was covered live on several TV channels. The whole affair has happened so quickly - less than two weeks ago Horie was still a regular on TV and talking about his planned space tourism business - that it has been labeled the "Livedoor Shock". The company was started up as Livin' On The Edge Inc. in 1996 by then Tokyo University student Horie with just ¥6 million in capital. Through a series of aggressive M&A's and Horiemon's self-promotion, that valuation rose to over ¥730 billion just a week ago. The firm's stock price has fallen from ¥696 on January 16 to ¥256 when the market closed yesterday. Also arrested yesterday were Horie's right-hand man and Livedoor CFO Miyauchi Ryoji, Livedoor Marketing President Okamoto Fumito, and Livedoor Finance President Nakamura Osanari. Another top executive, Noguchi Hideaki, commited suicide in Okinawa last Wednesday.
Interesting story? Then add it to your favorite social site:







| | |
| --- | --- |
| The '00 Girls | January 23, 2006 |
Fuji TV is to air a four-night series of dramas next month featuring some of the hottest young female talent. All playing roles quite different from their images, the actresses will portray the hopes and struggles of today's young female Japanese. The first episode will air on February 27 and feature Ueto Aya (20) as an office worker who dreams of the glamourous life and works nights as a hostess. Horikita Maki (17) stars on night two, as a girl who makes money from men in online chatrooms. Personal favorite Yamada Yu (photo, 21) plays an aspiring actress who works as a "cabaret club" hostess. In the final episode Ueno Juri (19), who made her name in the movie "Swing Girls," plays a pachinko parlour worker who has no luck with men. The four episodes, under the omnibus title "Tsubasa no Oreta Tenshi-tachi" (Angels With Broken Wings), are based on stories by writer Yoshi, who is known as an author of online fiction.
• Popular voice actress Mizuki Nana celebrated her 26th birthday at the Nippon Budokan on Saturday. Despite the record snowfall in the capital, 8500 dedicated fans turned out for the show. Mizuki is particularly popular among the "akibakei" set, who frequent the Tokyo "otaku" mecca of Akihabara. She has released over a dozen singles and her voice has featured in many more anime and computer games.
Interesting story? Then add it to your favorite social site:







| | |
| --- | --- |
| Horiemon's Distractions | January 22, 2006 |

Horiemon and Hinano a couple? It turns out that under-attack Livedoor CEO Horie Takafumi (33) and actress Yoshikawa Hinano (26) spent the New Year holiday on the tropical island of Palau. They were in a group of eleven that traveled to the tropical paradise on Horie's ¥3 billion private jet. The IT entrepreneur is hardly in the mood to discuss the nature of the relationship, with the investigation of his company's financial mischief having rocked the business world. In 1999, the ditzy Yoshikawa was briefly married to Izam, the cross-dressing vocalist of visual rock band Shazna, but the couple split after just 7 months. She is hardly the type Horie wants to be connected with as he seeks to re-build his reputation as an honest and serious business tycoon. Japan Zone says: Horiemon, stop the variety show appearances, drop the showbiz girlfriends and stick to making money. (No, we don't own any Livedoor stock!)
• Actress Ito Yuko says she and comedian Watabe Ken are doing fine but have no plans for marriage. She was asked about their relationship at a PR event for the new horror movie, "Akuma no Sumu Ie" (House of the Devil), a re-make of the 1979 hit.
Interesting story? Then add it to your favorite social site:







| | |
| --- | --- |
| Yoshino Says Yokoso! | January 20, 2006 |
Actress Kimura Yoshino (29) donned a striking red kimono yesterday at the famous Sensoji temple, a popular tourist spot in downtown Asakusa. She was dressed up to take part in an event to encourage foreign tourists to visit Japan, in her role as an "amabassador" for the government's ongoing "Yokoso!" campaign. The current event, "Yokoso! Japan Weeks 2006" will take place from January 20 to February 20. She and Transport Minister Kitagawa Kazuo joined visiting Chinese and Korean students in making origami cranes. The "Yokoso!" campaign aims to increase the number of foreign visitors to 10 million a year by 2010. How come they've never contacted Japan Zone!
• TV executives are trying to distance themselves from the ongoing Livedoor scandal, as the investigation of financial irregularities by the IT company continues. Fuji TV chairman Hieda Hisashi (68) was especially critical of Livedoor CEO Horie Takafumi (33) in a press conference yesterday. The two companies were locked in a battle for control of the Nippon Housou radio station for two months last spring. That battle resulted in Fuji buying a large amount of Livedoor stock, whose value has plummeted in the last few days. Also criticizing Horiemon and his company's practices was TV Tokyo president Sugaya Sadahiko (67). He said that his company had cancelled a tie up with Livedoor on an online shopping site.
Interesting story? Then add it to your favorite social site:







| | |
| --- | --- |
| The Last Laugh | January 19, 2006 |

Popular comedian Daita Hikaru (30) announced yesterday that she got married on Monday. According to the Yoshimoto agancy, her new husband is a 30-year TV company employee. Daita revealed the romance last November on her personal blog. She also announced the wedding online, mentioning that Monday was a "butsmetsu" day in the Buddhist calendar, considered the worst kind of day for important events and something the vast majority of Japanese people will avoid. She said it had been the only day they were both free, adding that the atmosphere at the city office had been tense and weird. Daita is known for her "Dou demo ii desu yo" stand up routine (which, to be honest, is not very funny).
• Regular readers will have seen stories about the many silly awards that they give out here. Well the latest one is the "Best Jersey-ist Award," which goes to the celebrities who are considered to look best in a "jersey," or tracksuit top. The inaugural winners of this award are young talento Wakatsuki Chinatsu (21) and actor Narimiya Hiroki (23). Honorable mentions went to others including soccer player Miyamoto Tsuneyasu (28), K-1 fighter Musashi (33), and idol singers Ishikawa Rika (21), Yoshizawa Hitomi (20) and Fujimoto Miki (20).
Interesting story? Then add it to your favorite social site:







| | |
| --- | --- |
| Breaking Up is No Laughing Matter | January 18, 2006 |

Popular comedian Aoki Sayaka (32) revealed yesterday that she has broken up with her boyfriend, named only as "Koji." The 29-year old is said to have returned to his family home of Ishigakijima island in Okinawa last September following the sudden death of his father. He and Aoki continued a long-distance relationship but at the end of last year decided to call it a day. The couple first started going out in 2004, when "Koji" was a part-time worker in a takoyaki restaurant and Aoki was on the verge of a breakthrough in her career. In the autumn of 2004, she visited his Ishigakijima home and secretly filmed her meeting with his parents for the variety show "London Hearts."
• "Memoirs of a Geisha" (Sayuri), the Rob Marshall-directed movie based on the Arthur Golden bestseller, picked up a Golden Globe for Best Original Score, the fourth for composer John Williams. Nominated leading actress Zhang Ziyi failed to pick up an award. The movie also stars Watanabe Ken (46), who won a Golden Globe in 2003 for his role in "The Last Samurai."
• Livedoor CEO Horie Takafumi won't be such a presence on TV for a while, not on the variety show circuit anyway. The high-flying IT entrepreneur and his company are under investigation for various shady deals including cooking the books to hide losses and boost their stock price. The usually ebullient "Horiemon" gave a rather sheepish early morning press conference on Monday, where he nervously tried to reassure investors and the public that business would go on as usual while he and Livedoor cooperated with the investigation. A visibly exhausted Horie continued to answer reporters' questions while members of his staff tried to drag him away. The scandal has knocked the stuffing out of not only Livedoor's stock price but also, with the company being a flagship for the recovering IT industry, the Nikkei Stock Average as a whole. The index has dropped nearly 1,000 points in the last two days.
Interesting story? Then add it to your favorite social site:







| | |
| --- | --- |
| Mino's Back | January 17, 2006 |
Japan's "Mr. Television" is back on the air. Emcee Mino Monta (61) made his comeback to the small screen yesterday and looked as good as ever, after two weeks in hospital following back surgery. He tried to remain cheerful during a press conference immediately before he was released from hospital on Friday, but broke down in tears several times. But he made light of the whole ordeal in typically upbeat fashion during his live TBS morning show "Mino Monta no Asa Zuba!" and NTV afternoon show "Omikiri Terebi", where he dispenses lifestyle advice and listens to the trials and tribulations of housewives across the country. He says he has no plans to cut back on his intensive schedule of eight weekly shows that includes several hours of live TV every day.
• Pop duo Puffy have been named as Friendship Ambassadors to the US. The announcement was made in Yokohama yesterday as part of the government's Visit Japan Campaign. Ohnuki Ami (32) and Yoshimura Yumi (30) are celebrating their 10th anniversary in the business this year, and have developed a big following in America, thanks to the success of their animation show "Hi! Hi! Puffy-AmiYumi" on the Cartoon Network.
Interesting story? Then add it to your favorite social site:







| | |
| --- | --- |
| When the Boys Come to Town | January 16, 2006 |
The long wait is almost over for Japanese fans of the world's biggest and best band. Irish rockers U2 will bring their Vertigo live show to the Yokohama Nissan Stadium on April 4, their first performance in Japan since 1998. The stadium was the venue for the World Cup final in 2002. Tickets will go on sale here on February 18.
• Singer Gackt is making his move into the Asian market. In an interview before a concert in Seoul at the weekend, his first solo concert outside Japan,he announced plans to tour China, Taiwan and other Asian countries within the year. During the show at the Olympic fencing stadium he impressed 8,000 fans with his Hangul language skills for a full 20 minutes. For the show he brought the entire set and crew from Japan at a cost of about ¥120 million.
• Tegoshi Yuya (18), a member of popular Johnny's boy band News, has passed the entrance examination for the prestigious Waseda University. he announced the good news at a PR event for his first movie lead role in "Shissou". Tegoshi is one of eight Johnny's stars to get into university, and the second to enter Waseda. He said he hopes to be able to play for the school's soccer club.
• Former Yomiuri Giants star Motoki Daisuke (34) has become a father. It was announced yesterday that his wife, former talento Ohgami Izumi (36), gave birth to their first son last week.
Interesting story? Then add it to your favorite social site:







| | |
| --- | --- |
| Maruko-chan Comes to Life | January 13, 2006 |

Now in its 15th year on Fuji TV, popular animation series "Chibi Maruko-chan" is to be made into a drama. There have been attempts in the past to put real actors and actresses in the famous roles, but producers have never been able to fill Maruko-chan's shoes. But now in 8-year old Morisako Ei, they think they have found the perfect match, with the perfect combination of cuteness and maturity tinged with cynicism. Morisako was chosen at an audition from 500 hopefuls to play Japan's most famous elementary schoolgirl. Her doting grandfather will be played by Moto Fuyuki (54), her father by Takahashi Katsumi (44). The pair have barely a tuft of hair between them and so will be donning wigs for thie roles. Versatile actress Shimizu Michiko will portray Maruko's mother (45), while Ichige Yoshie (55) will play her grandmother. This week the network started production of a two-hour special to be aired in April.
• Celebrity couple Oshio Manabu (27) and Yada Akiko (27) were not too happy to meet the press after their return from the US yesterday. Yada wore a hat that nearly hid her face, while Oshio glared at reporters and berated them when his girlfriend almost tripped. Wearing matching rings and holding hands all the way through the Narita Airport terminal building, they were bombarded with questions about the trip and whether they were now married. When the couple left for Hawaii before Christmas, making no effort to hide their relationship, the media speculated that they were planning to get hitched, possibly on Yada's birthday. They spent the New Year in Los Angeles, where Oshio lived for eight years as a child.
• Singer Fuse Akira (58) is romantically involved with a 48-year old former actress who bears a strong resemblance to his former wife, British Hollywood actress Olivia Hussey (54), according to Friday magazine. He married Hussey, whose film career ended with the marriage, in 1980 and they divorced in 1989.
Interesting story? Then add it to your favorite social site:







| | |
| --- | --- |
| Another "Fuji Ana" to Wed | January 12, 2006 |
Just yesterday we announced the marriage of Yoshimoto comedian Kimura Yuichi and talento henmi Emiri. Now we hear that popular Fuji TV announcer Uchida Kyoko (29) is engaged to Yoshimoto manager Kimoto Kimitoshi (32). And while Kimura is a member of Downtown's inner circle, Kimoto was managing member Hamada (42) when he met Uchida, his co-presenter on the Fuji TV sports-variety show "Junk Sports," in 2001. The two started going out in March of 2003 and got engaged last December. "Ucchi", who has been one of Fuji's most popular announcers for the last couple of years, says she plans to leave the network in March and go freelance. Of the 12 female announcers who got married or engaged in the last year or so, six have been with the Fuji network, and particularly those with Fuji have developed a reputation for marrying sports stars and high-flying IT company presidents. But despite his ties to one of the best-paid comedy stars in Japan, Kimoto is a ¥7 million-a-year salaryman.
• Former Luna Sea vocalist kawamura Ryuichi (35) is romantically involved with a oman in her 20's. Identified simply as A-san from Shizuoka Prefecture, she and the rock star are said to have been going out since last year. Kawamura, who has been connected with many actresses and models over the years, visited A-san's family's home and met her parents at the New Year. He is currently preparing for a Tokyo show by his latest band Tourbillon, which he formed last summer.
• The opening episode of Fuji TV's version of the classic series "Saiyuki" (Monkey) scored an impressive 29.2% audience rating. It's the 4th best opening for a drama series on the network, and only bettered by three series starring heart throb Kimura Takuya. Saiyuki stars Kimutaku's SMAP colleague Katori Shingo (28) in the lead role, supported by comedian Uchimura Teruyoshi (41), Itoh Atsushi (22) and Fukatsu Eri (33).
• Not doing so well is this year's taiga drama on NHK, "Kohmyo ga Tsuji". The annual historical drama series started with less than a 20% rating for the first time in four years.
Interesting story? Then add it to your favorite social site:







| | |
| --- | --- |
| Kimura, Henmi Wed | January 11, 2006 |
As predicted on Japan Zone a week or so ago, talento Henmi Emiri (29) and comedian Kimura Yuichi (42) have announced their marriage. They held a press conference on Monday and rather than announcing their engagement, they told the gathered media that they had already registered their marriage that afternoon. The couple got romantically involved just last October when Henmi appeared on the "Downtown DX" comedy show, of which Kimura is one of the writers. He said at the press conference that they had "proposed to each other" on their 5th date while driving in the Gaien area of central Tokyo. Henmi's mother, singer Henmi Mari (55), went through her second divorce shortly afterwards, a time when Kimura was a great comfort to his soon-to-be third wife.
• Hollywood star Jodie Foster (43) flew into Narita Aiport on United Airlines yesterday. In town for the first time in four years to promote her latest movie, "Flight Plan," she was welcomed by about 300 fans. She will attend the movie's local premier on Thursday night.
• Sexy pop star Koda Kumi (23) is the first female artist to have three singles in the Oricon Top 10 at the same time. She has released 5 of 12 singles since early-December, one every week. The first one "You" is still in at No.9, while the 4th release, "Shake It Up!" is a No.6 and the 5th, "Lies" is at No.7. Back on top of the singles chart is "Seishun Amigo" from young Johnny's duo Shuji & Akira. Meanwhile, Hamasaki Ayumi has a No.1 album for the 11th time and the 8th year in a row with "(miss)understood". Her string of chart-topping years is the second best ever.
• The all-female Takarazuka theater troupe has staged the 1,500th performance of its classic musical "Berusayu no Bara" (The Rose of Versailles). The production dates back to 1974. It currently has Star Troupe lead actress Kozuki Wataru in the role of a prince who has a fatal romance with Marie Antoinette.
Interesting story? Then add it to your favorite social site:







| | |
| --- | --- |
| Breaking Up is Hard To Do | January 10, 2006 |

Actor Toyokawa Etsushi (43) refused to talk about his divorce during a pre-production PR event for the movie "Hula Girl" on Sunday. He announced the divorce at the New Year but has since ignored questions about it from the media.
• Comedian Yamane Yoshiaki (29) of the duo Ungirls announced yesterday that he and talento Yamakawa Erika (23) have split up. While the lanky duo are very popular with teenage girls, looks-wise neither is considered ideal romantic material.
• An end has also come to the romance between Horie Takafumi (33), CEO of IT company Livedoor, and talento Nishimura Miho (24). Horie talked about the split during the latest edition of the "Sunday Japon" news/variety show, which was recorded in December. So it's thought that the couple split during the autumn. The interview with "Horiemon" took place on his private jet, which he bought last year for ¥3 billion. On his personal blog, he says he is currently enjoying gambling in Las Vegas.
• Pin-up girl Yinling of Joytoy (27) revealed at the weekend that she fractured a rib while practising ballroom dancing in December, and later broke it when she got up to get the TV remote at home.
Interesting story? Then add it to your favorite social site:







| | |
| --- | --- |
| Hollywood Rebirth | January 09, 2006 |
Today is the Seijin no Hi (Coming of Age Day) national holiday. Congratulations to all you 20-year-olds who are adults as of this year.
• "Rinne" is the latest Japanese horror movie to be selected for a Hollywood makeover. Director Shimizu Takashi (33) is considered a hot property in Tinseltown after the success of "The Grudge" - his adaptation of his won film "Juon", and over 20 movie companies were said to be chasing him for the rights to the US version. Shimizu, star Yuka (25) and other cast and crew were in central Tokyo for the opening of Rinne on Saturday night. The title refers to the Buddhist endless cycle of rebirth, and the US version of the movie is likely to be titled "Rebirth".
• Actor and playwright Noda Hideki (50) has re-married, this time to an actress half his age. He sent a fax to the media on Saturday announcing that he and Fujita Yoko (25) had registered their marriage on December 12. They only met for the first time last spring. Noda married actress Takeshita Akiko, a member of his Yume no Yuminsha theater troupe, in 1986 but they split the following year. He was also romantically involved with award-winning actress Ohtake Shinobu, with whom he lived for five years. Fujita has appeared in several movies and can currently be seen in the Vodafone TV commercials.
Interesting story? Then add it to your favorite social site:







| | |
| --- | --- |
| Attention Seekers | January 06, 2006 |
Two shameless attention seekers announced their recording debuts yesterday. Comedian Razor Ramon HG (photo, 30), whose Hard Gay character made probably the biggest splash in the variety circuit last year, said he'll be releasing his first single on February 8. Not too surprisingly, it'll be a cover of Saijo Hideki's "Young Man", itself a cover of the Village People hit "YMCA". He also unveiled his latest catchphrase, "Wasshoi!" Somewhat less appealing is the idea of Horie Takafumi (33), CEO of IT company Livedoor, and his new band. Horiemon likes to use the expression "souteigai" (thinking outside the box) and so has provisionally used that as the name of the band. They are said to be working on a mini-album of 80s-style pop due for release in March. Unfazed by the failure of his attempts to buy a baseball franchise and a major TV network and get elected to the Diet, Horie has become a regular on the variety circuit and seems willing to do anything for publicity.
• Ichiro (32) proved an able villian but was no match for Furuhata Ninzaburo. The Seattle Mariners superstar made his acting debut Wednesday, playing himself in the second segment of a 3-night special that pitted three major names against the popular detective, played by Tamura Masakazu (62). The show got a very impressive 27% audience rating in the Kanto area. Other stars in the special included Fujiwara Tatsuya and Matsushima Nanako. Tamura has said he'll be retiring from the role.
Interesting story? Then add it to your favorite social site:







| | |
| --- | --- |
| Kumi's the Red Queen | January 05, 2006 |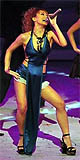 More stats on the recent Kohaku Uta Gassen (Red-White Song Battle) on NHK. The New Year's Eve song spectacular features red and white teams, those being the lucky new Year colors. The white team were this year's winners, and a particularly out of tune SMAP rendition of their latest single "Triangle" pulled in the night's highest rating of 48.6%. But the red team act that got the highest audience rating, and got the audience's pulse racing, was sexy songstress Koda Kumi (photo, 23), who managed 47.2%. Probably because she promised to go bra-less, something that would have been unheard of before NHK started pulling out the stops to reverse the show's - and the network's - dramatic slide in popularity. Koda is called "ero kakkoii," which translates as "erotic cool." And that pretty acurately sums up her often semi-naked, hip grinding style that mimics US female R&B and hip hop acts. Her nearest rival for the red team's ratings crown was "sexy" rival Gorie, actually comedian Gori in drag, with 47%.
• Meanwhile, Kohaku emcee Mino Monta is said to be recovering well following surgery just days after the show. He was admitted to hospital on New Year's Day and underwent almost two hours of surgery on his back yesterday morning. Though he started out in radio, Mino's emcee style is to always stand. And doing so for several decades has taken its toll on his back, especially as he has eight regular shows and does several hours of live TV every weekday. He plans to be back on TV screens from January 16.
• The Hakone Ekiden, a 2-day relay road race featuring teams of university students, had an audience rating of 28.3%, the 3rd highest to date. The annual event, held for the 82nd time and broadcast on NTV, covers a distance of over 100km between central Tokyo and the onsen resort of Hakone and back again. The overall title was won this year by Asia University for the first time.
Interesting story? Then add it to your favorite social site:







| | |
| --- | --- |
| Older Men Still the Rage | January 04, 2006 |
Talento Henmi Emiri (photo, 29) and Yoshimoto comedian Kimura Yuichi (42) are expected to announce an engagement soon. Spokespeople for the two officially acknowledged their relationship yesterday, but said the stars themselves would not be speaking to the media just yet. Henmi, the daughter of singer Henmi Mari and her first husband, actor Saigo Teruhiko, has been the subject of romantic rumors many times. Her mother went through her second divorce just last November. Kimura has been a solo comedian since his partner was arrested in 1990, but is best known as part of the Downtown entourage. For many years, he has been the "brain" behind Matsumoto Hitoshi, considered one of Japan's top comic talents.
• Matsudaira Ken (52) and Yuriko (37), his second wife of three months, headed off for their honeymoon in Las Vegas yesterday. Spotted by reporters at Narita Airport, it was their first public appearance together since their marriage on October 11. The "Matsuken Samba" boom seems to have lost its steam, but his marriage to the former actress has put him back in the spotlight. He said the couple have no plans for a wedding ceremony.
• Comedian Ishii Masanori (32) and his former comedian wife Kamemura Kana (26) have divorced. Ishii, one half of the manzai duo Ari to Kirigirsu, revealed the split on a TV variety show on New Year's Day. Kamemura was formerly a member of the comedy duo Versus. Ishii has recently been a regular on the local Disney Channel.
• NHK's Kohaku Uta Gassen song spectacular on New Year's Eve managed to stop the rot in its audience ratings. The numbers didn't reach the 50% that emcee Mino Monta was aiming for, but at 42.9% was up almost 4 points from last year's record low and stopped a 4-year slide. But the numbers are still low for what was once a national institution that had almost every household in the country tuning in.
Interesting story? Then add it to your favorite social site:







| | |
| --- | --- |
| HAPPY NEW YEAR! | January 01, 2006 |
A very Happy New Year of the Dog in 2006 to all our readers.

Interesting story? Then add it to your favorite social site: