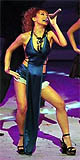 More stats on the recent Kohaku Uta Gassen (Red-White Song Battle) on NHK. The New Year's Eve song spectacular features red and white teams, those being the lucky new Year colors. The white team were this year's winners, and a particularly out of tune SMAP rendition of their latest single "Triangle" pulled in the night's highest rating of 48.6%. But the red team act that got the highest audience rating, and got the audience's pulse racing, was sexy songstress Koda Kumi (photo, 23), who managed 47.2%. Probably because she promised to go bra-less, something that would have been unheard of before NHK started pulling out the stops to reverse the show's – and the network's – dramatic slide in popularity. Koda is called "ero kakkoii," which translates as "erotic cool." And that pretty acurately sums up her often semi-naked, hip grinding style that mimics US female R&B and hip hop acts. Her nearest rival for the red team's ratings crown was "sexy" rival Gorie, actually comedian Gori in drag, with 47%.
• Meanwhile, Kohaku emcee Mino Monta is said to be recovering well following surgery just days after the show. He was admitted to hospital on New Year's Day and underwent almost two hours of surgery on his back yesterday morning. Though he started out in radio, Mino's emcee style is to always stand. And doing so for several decades has taken its toll on his back, especially as he has eight regular shows and does several hours of live TV every weekday. He plans to be back on TV screens from January 16.
• The Hakone Ekiden, a 2-day relay road race featuring teams of university students, had an audience rating of 28.3%, the 3rd highest to date. The annual event, held for the 82nd time and broadcast on NTV, covers a distance of over 100km between central Tokyo and the onsen resort of Hakone and back again. The overall title was won this year by Asia University for the first time.