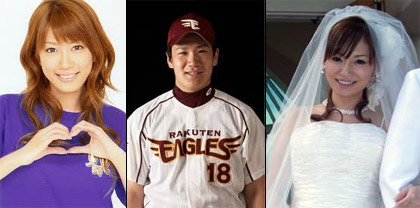 Popular talento Satoda Mai (26, photo left) is romantically involved with young baseball star Tanaka Masahiro (22, photo center). The two first met on the set of a TV show at the New Year. Both are natives of Hokkaido and Satoda performed on the official theme song for Tanaka's team, the Rakuten Golden Eagles. They had enough in common that a relationship started early in the summer. When rumors of their romance broke in the media yesterday, they both updated their blogs acknowledging the relationship.
Satoda passed an audition to become a member of pop idol group Morning Musume in 2000 but decided to go to high school instead. She did become a member of the Hello! Project in 2002 when she assed an audition for Country Musume. She performed in a variety of pop idols groups until 2009, during which time she became a regular on TV variety shows and established a career as a talento and actress.
Tanaka became a national sensation in 2005 when he led the Komadai Tomakomai team to a second successive victory at the Koshien high school championship. The following year saw an epic battle between "Ma-kun," then in his senior year, and Waseda Jitsugyo's Saito Yuki, who became known as the "Handkerchief Prince." Waseda won the showdown over two days and went on to win the championship. When Saito decided to go to Waseda University rather than turn pro, Tanaka became the hottest ticket in the draft. He has had a strong first few years but injury kept him out for much of the recently finished season.
From Hostess to Bride
Club hostess turned TV celeb Tachibana Kurumi (29, photo right) announced yesterday on the live TBS show "Sunday Japon" that she is married. She and the president of a major talent agency (42) registered their marriage on the romantic Tanabata holiday on July 7, and they held a wedding ceremony in Honolulu on November 11. Tachibana, who is famous for having been a top "kyabakura" (cabaret club) hostess and for proudly showing her cleavage on TV, is also a writer and a regular guest on the Sunday show. Indeed it was an appearance on the show last December that drew the attention of her future hubby, who contacted her through her publishing company. Yesterday she showed off her Harry Winston diamond wedding ring and also announced – as if it were an afterthought – that she is seven months pregnant.