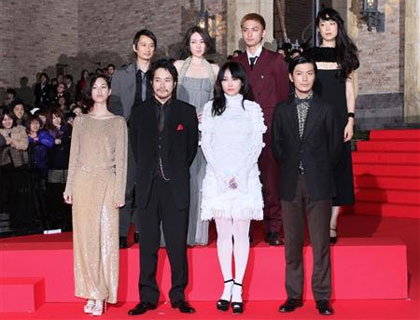 The Japan premiere of "Norwegian Wood" was held on Tuesday, a national holiday. Director Tran Anh Hung (47, photo rear left), stars Matsuyama Kenichi (25, front 2nd left) and Kikuchi Rinko (29, front 2nd right) and other cast members arrived at the event, the first ever of its type held on the campus of Waseda University, in a vintage Cadillac. They walked the red carpet and signed autographs for the 1,00 or so fans who turned out. Speaking about the film, Matsuyama said, "It's a wonderful work, almost too good to express in words. Though I say so myself, I think the acting is perfect." It is the first big screen adaption of Murakami Haruki's international best-seller, which has been translated into 36 languages. Waseda is Murakami's alma mater and also a location in the movie.
The movie, which received a 3-minute standing ovation at the Venice International Film Festival in September, opens in Japan on December 11. It also features the acting debut of model Mizuhara Kiko (20, front left).
Related stories:
Matsuken, Rinko Land Choice Roles (May 15, 2009)
Norwegian Wood to Use Beatles Original (Jul. 14, 2010)
Hirosue Expecting Again
Meanwhile, management for actress Hirosue Ryoko (30), who married candle artist Candle June (36) last month, announced on her website yesterday that she is four months pregnant. The statement also said that she hopes to get back to work as soon as possible after having the baby. She is the mother of a 6-year-old son from her marriage to model/designer Okazawa Takahiro (35), which ended in March 2008. She was also five months pregnant at the time of her marriage to Okazawa in December 2003.